Maritime News
Maritime news articles about every aspect of the industry, including ports, container and breakbulk lines; and ships and ship chartering. Coverage also includes the impact of recent industry mergers and acquisitions, and of emerging new technologies such as blockchain, artificial intelligence, and the Internet of Things.
From the largest container lines such as CMA CGM, MSC (Mediterranean Shipping Co.) and Maersk Line to smaller carriers such as Eimskip and Atlantic Ro-Ro Carriers, JOC.com covers the entire industry with unequaled intelligence, data, insight, statistics, and analysis. JOC.com regularly updates its proprietary data about the activity of largest ports, container lines, breakbulk lines and other stakeholders in the maritime shipping sector,
News & Analysis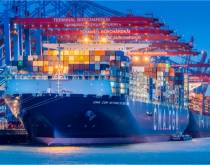 A confluence of supply and demand factors has given the Asia-Med rate a strong boost ahead of Chinese New Year.