Once the United States' dominant international corridor, the centuries-old trade between Europe and North America has stagnated in recent years as recessions struck both continents and as Asia increased its manufacturing prowess. But while analysts would classify the trade as "mature," with little upside or downside, it's also stable, meaning carriers and shippers can plan their strategies without fear of the severe volatility seen in other east-west trades such as the trans-Pacific and Asia-Europe. For many in the trade, anticipation in recent years has centered around preparations for the onslaught of large mega-ships that will begin to pour through the Panama Canal when its decade-long expansion project is complete in 2015. Suddenly, those big ships are arriving early — but from an entirely different direction: through the Suez Canal from Asia. Driving the trend is the introduction of new 10,000-plus-TEU vessels on the Asia-Europe trade, cascading the 8,000-TEU ships that previously plied that trade to the trans-Pacific and, now, through the Suez Canal as carriers seek the economies of scale that they can't find on the 5,000-TEU ships that are the largest that can transit the Panama Canal.
News & Analysis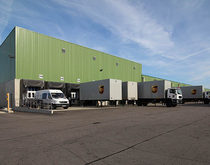 New UPS subsidiary Freightex will work closely with US-based Coyote Logistics.
Commentary

As cargo delays at the Port of New York and New Jersey enter their third month, customers are wondering: When will this end? Terminal operators say they expect things to settle down soon after Labor Day. That's small comfort to port users dreading another month of expensive delays.