Mega-Ships
Seeking efficiency and economies of scale, the world's container carriers are increasingly ordering mega-ships capable of handling more than 8,000-TEU ships, with even larger vessels appearing particularly on the Asia-Europe trade lane. Shippers and carriers looking to reach the North American east coast with these post-Panamax ships must transit the Suez Canal because, as their name implies, they are too big to sail through the Panama Canal.
Expanded Panana Canal broadens mega-ship market
But with Panama's decade-long canal expansion project completed in 2016, many larger vessels are now able to add the Panama Canal to their route options. Ports around the world are preparing for the onslaught of these mega-ships, dredging harbors and investing in super-post-Panamax cranes that can reach across 22 or more rows of containers to expedite loading and unloading operations.
News & Analysis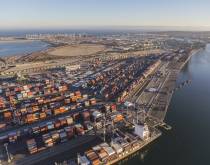 Mega-ships and California environmental regulatory pressure is pushing APM Terminals to automate 100 acres of its Los Angeles facility.
Commentary
The Port of New York and New Jersey will face multiple-port competition for discretionary cargo in the decade ahead and with the head of the seaport departing, that intensifying competition calls out for a leader with operating experience.