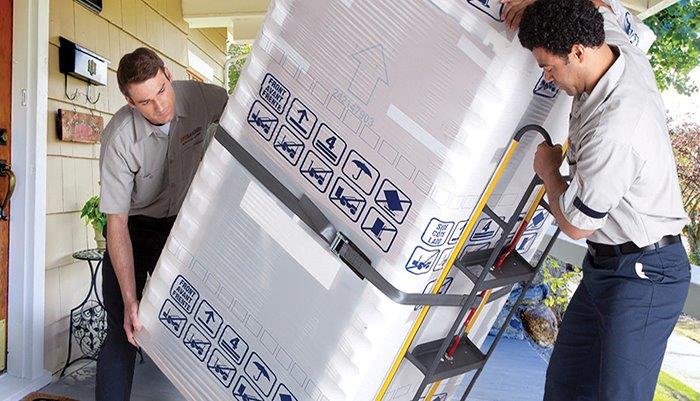 XPO Logistics is doubling its last-mile logistics distribution space in Chicago as demand for bulkier items surges among online shoppers. The logistics and transportation company expanded its last-mile "market delivery center" in Bolingbrook, Illinois, from 50,000 to 100,000 square feet, Charles Hitt, president of XPO's last-mile business unit, said Thursday.
"Volumes in Chicago have doubled in the past year," Hitt told JOC.com. "We were running out of room just trying to expand." The bigger MDC "gives us the ability to continue growing."
Last-mile logistics, the delivery of increasingly varied and bulky goods to consumers' homes, has become the front line in the battle for e-commerce freight. "There's a tremendous shortage" of capacity in last-mile logistics, Thomas Albrecht, president of Sword & Sea Transport Advisors, said at the Transplace Shipper Symposium in Austin, Texas, on Wednesday.
Thousands of contractors are rushing to fill that need, many of them with XPO, which claims to be the largest last-mile logistics operator in the United States, handling more than 12 million deliveries last year. That number is likely to climb much higher in 2017, if quarterly trends continue. XPO last-mile logistics revenue rose 16 percent in the first quarter to $207 million. The company's last-mile logistics revenue jumped 19.5 percent in 2016 to $828 million.
"Our customers are seeing e-commerce business surge," Hitt said in an interview. Chicago is one of XPO's top last-mile logistics markets, but Hitt said rising demand is universal. "It's easy to talk about the major cities, but [demand] is growing in the second-tier cities as well. It's not just in a pocket, it's everywhere. The heavy goods sector is what we notice the most."
Consumers increasingly are ordering items such as gun safes, televisions, appliances, and exercise equipment online and clicking the "home delivery" option on their screens. That helped push e-commerce spending up 15 percent in the United States last year to $394.9 billion, according to the US Census Bureau. Consumers, especially millennials, are getting more comfortable buying large goods online," Hitt said. "They want the same easy, seamless experience as they've had with any online purchase. And they want it on their schedule."
Finding adequate logistics space is a challenge for companies engaged in fulfillment and last-mile logistics, whether they're delivering packages or pallets of paving blocks for a garden to consumers. It's not just a matter of square footage, it's a question of functionality. XPO's 46 market delivery centers are more than warehouses or distribution centers, Hitt said.
"We provide various services for multiple clients in those buildings," he said. "Our customers engage us on a lot of different levels. They're looking for anything from a straight-forward last-mile delivery to turnkey logistics solutions and everything in between." That includes dedicated delivery operations, network design and optimization, and inventory management, he said.  
"A big part of what we do is manage returns, reverse logistics, for customers," said Hitt. "Products come back, and customers want to see that product move quickly. We'll also hold inventory and stage and assemble products" as well as handle installation in homes, he said.
XPO's last-mile business has been able to use the $14.6 billion company's scale and breadth to find space it needs to expand. "We've increased our square footage in a number of cities to take care of customers needs," Hitt said. "We look at it all the time and do it as necessary. We've expanded in major cities and secondary cities, and there are more in the works."
Growth in last-mile logistics is beginning to affect other areas of the supply chain, as the impact of e-commerce cascades back from consumers to vendors to suppliers. XPO is developing an  e-commerce driven service combining its contract logistics, less-than-truckload, and last-mile delivery businesses that will give large online shippers end-to-end control over fulfillment.
"We're still in the planning stages" for broader integration of services, Hitt said. For example, the company is using some of its LTL facilities as staging areas for last-mile deliveries. "We've got a logistics warehouse platform, inbound LTL capacity, and outbound last-mile capabilities," XPO CEO Bradley Jacobs said in February. "Why not design one engineered solution?"
Contact William B. Cassidy at bill.cassidy@ihsmarkit.com and follow him at Twitter: @wbcassidy_joc