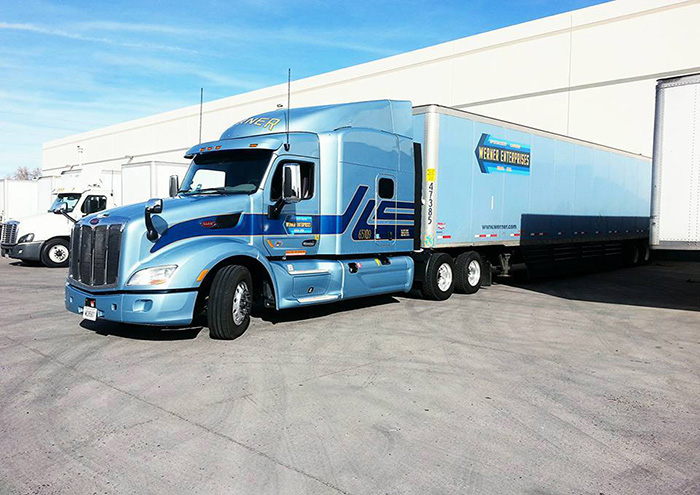 Welcome back to the "soft patch." Freight demand in early 2016 looked much like it did in the first quarters of 2012 and 2013: low, slow-growing and seasonably soft, Werner Enterprises said Wednesday.
The Omaha-based truckload carrier's revenue dropped 3 percent year-over-year in the first quarter to $482.8 million, largely because of lower fuel surcharges.
Excluding surcharges, Werner's truckload revenue increased 2 percent to $336.7 million. The fifth-largest U.S. truckload carrier's net profit dropped 13 percent to $20.1 million. In the first quarter a year ago, Werner increased revenue sans surcharges 6 percent and saw net profit jump 61 percent.
Werner did increase the non-asset logistics revenues of its VAS division by 6 percent to $96.6 million in the quarter. VAS revenues include brokerage, freight management, intermodal and Werner Global Logistics revenue. The division's gross margin rose to 17.8 percent.
The company's truckload operating ratio rose to 90.5 in the quarter from 89.3 a year ago.
Revenue was constrained not just by lower surcharges, but by what Werner labeled a "challenging" rate market in the first quarter. Shippers, under pressure to reduce costs in an uncertain economy, are looking for deeper savings on truck pricing from suppliers.
"Recent customer bid activity trends have been mixed, as some customers are aggressively working to take advantage of the favorable shorter term trends to the detriment of carriers," Werner said in a statement. Other motor carriers and shippers have confirmed the trend.
The bidding season for transportation contracts in 2016 is proving "a constant battle with our shippers," Richard Stocking, president and COO of Swift Transportation, said in March. Swift will release its first-quarter earnings report after the stock market closes Thursday.
Knight Transportation also fought falling rates in the first quarter, with revenue excluding surcharges decreasing 1.4 percent, while freight volumes were relatively stable, the company said Wednesday. Lower spot market prices cut into Knight's revenue and profit.
In the longer term, the rate battle could trend to the detriment of shippers, especially those who seek price cuts most aggressively. The capacity tide that flooded the trucking market last year may already be turning, David Jackson, president and CEO of Knight Transportation, said.
"We think we've hit the bottom, in terms of supply being added to the market," Jackson said Wednesday. "We think supply is coming out of the market. We think we'll see a little bit of progress each month. By the time we get to the fall things are going to feel a little bit different."
That could discomfit shippers who shopped for low rates. As freight demand increases, motor carriers gain more pricing power and discretion over what freight to haul.
In April, however, the truck freight market is still stuck in the slow lane, Werner said. "Based on the current rate and freight market, we believe it may be difficult to achieve rate per total mile increases on a year-over-year basis in the next few quarters," the carrier said.
Werner stressed the importance of "strategic" relationships, as opposed to transactional ones, with its customers. "Strategic customers understand the collective capacity and service challenges facing our industry and their supply chains," the company said in a statement.
"They are supportive of our ongoing initiatives to provide sustainable transportation solutions over the longer term." That's a warning that short-term savings may come at a high cost.
Contact William B. Cassidy at bill.cassidy@ihs.com and follow him on Twitter: @wbcassidy_joc