By JOC Staff | Sep 16, 2016 4:02PM EDT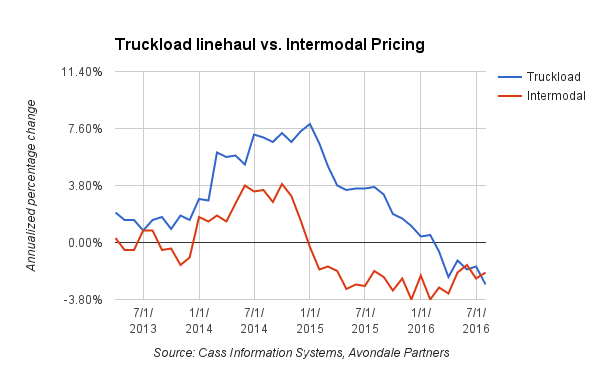 Trucking analysts at Avondale Partners lowered their truckload pricing forecast for the next four quarters after the Cass Truckload Linehaul Index fell 2.8 percent year-over-year in August.
The 2.8 percent drop was the deepest for the truckload pricing index this year and represents six straight months of year-over-year declines in truckload linehaul costs for shippers.
That could spell a longer period of comparatively low transportation prices for shippers, as long as fuel prices also remain low.
Avondale Partners, which maintains the index for Cass Information Systems, dropped its four-quarter forecast for changes in truckload rates to between -3 percent and 1 percent.
"While we have been predicting negative pricing, even we were surprised at how weak the August data point was," the investment research firm said in a statement.
The index first turned from shallow increases in pricing to contraction in March, dropping 0.6 percent year-over-year. In June and July, the index fell 1.8 and 1.6 percent, respectively.
In August, dry van spot truckload rates dropped 6.6 percent year-over-year, according to DAT Solutions, despite a 32 percent increase in dry van truckload spot loads.
On a month-to-month basis, truckload pricing slipped 0.9 percent in August from July. The Cass Truckload Linehaul Index has declined six times this year on a sequential basis.
Lower fuel prices and fuel surcharges continue to depress truckload rates and revenue. In August, the average US retail diesel price was 9.4 percent lower than a year ago.
As truckload rates dropped, intermodal pricing fell another 2 percent year-over-year, Avondale Partners said, following declines of 1.5 and 2.4 percent in June and July.
On a sequential basis, the intermodal pricing index rose 1.6 percent in August, after climbing 2 percent in July from June. The index has only declined sequentially in three months this year.
Year-over-year, however, the intermodal pricing index has dropped for 20 straight months.
The long decline in trucking fuel surcharges "has to challenge demand and pricing power for domestic intermodal, especially in shorter lengths of haul," Avondale said in a statement.