JOC Staff | Dec 17, 2015 3:23PM EST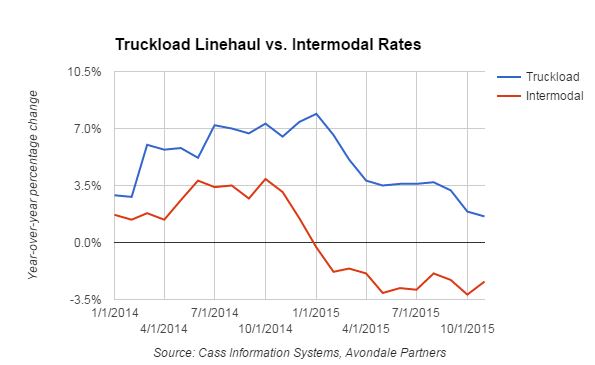 Truckload contract linehaul rates continued to rise in November as intermodal rates fell, according to pricing indices from Cass Information Systems and Avondale partners.
The latest truckload linehaul and intermodal pricing indices reflect trends that began in early 2015, as rising inventories eroded transport demand and put price pressure on carriers.
The freight payment company and investment research firm don't expect the trajectory of either index to change anytime soon, thanks partly to slower demand and low diesel fuel prices.
Truckload linehaul rates were up 1.6 percent year-over-year in November, compared with 1.9 percent in October and 7.9 percent in February, this year's peak year-over-year increase.
Although high inventory levels and truck sales, as well as driver pay increases and the suspension of some hours-of-service rules have led to more available truck capacity, Avondale expects truckload linehaul rates will continue to rise in the 1 to 3 percent range in 2016.
Although truckload rates are rising, the intermodal price index fell 2.4 percent year-over-year in November, which Avondale attributed to low diesel fuel prices. Low fuel prices dampen demand for intermodal services, particularly for short-distance hauls, as shippers turn to trucks.
The intermodal index dropped 2.3 percent in September and 3.2 percent in October.
On average, the retail price of diesel fuel in the U.S. was 32 percent lower in the first 11 weeks of the 2015 fourth quarter than in the same period of 2014.
Cass's Freight Shipment index in November, based on a different set of data, recorded its lowest reading since 2011 with freight shipments down 5.1 percent year-over-year.