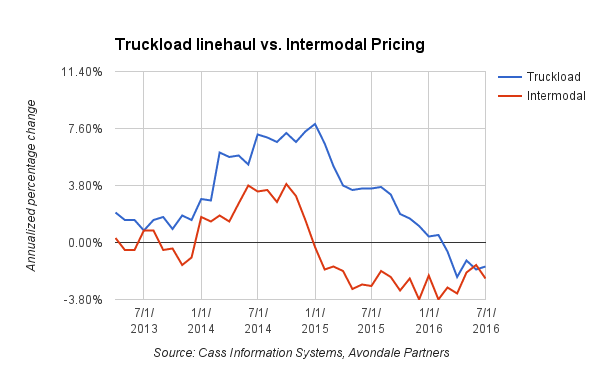 Truckload pricing may have hit bottom in June and rebounded slightly in July, but it is still lower than a year ago, the Cass Truckload Linehaul Index indicates. The same is true of intermodal rates, as measured by the Cass Intermodal Pricing Index for July, released Friday.
That means shippers aren't likely to see significant truck and intermodal rate hikes in the near future, even as the U.S. looks ready to pull out of what some transportation analysts call a "freight recession."
The bottom line? There are still too many trucks chasing too little freight.
On a month-to-month basis, the Truckload Linehaul Rate Index rose 1.1 percent, but the index was still down 1.6 percent from July 2015, Cass Information Systems and Avondale Partners said. The intermodal index rose 2 percent from June but was down 2.4 percent from a year ago.
The Cass and Avondale data supports evidence the freight economy is improving slightly but is still weak compared with 2015, which in turn was much weaker than 2014. According to Cass and Avondale Partners, U.S. shippers should expect soft surface transport rates this autumn.
For the rest of 2016, Avondale predicts truckload pricing, which has fallen for the past five months, will fluctuate between 3 percent lower and 1 percent higher than a year ago. Intermodal pricing has been declining for 19 straight months, on a year-over-year basis.
Truckload carriers such as Werner Enterprises reported an uptick in demand and higher spot rates in July. "Freight demand ... has been better than most comparable July-to-date time periods," the Nebraska-based company said July 22, after releasing second-quarter earnings.
At the same time, Werner wasn't confident a rebound was around the corner. "We believe it may be difficult to sustain rate per total mile on a year-over-year basis, or achieve increases, in the next few quarters," the company said. The carrier even "fired" some of its shipper customers.
"We chose to exit from certain contractual business that would have required significant contractual rate decreases," Werner said, "since we believe that this pricing is not sustainable and that freight market conditions will begin to show improvement during the next year."
North American railroads say they anticipate intermodal pricing will rebound in the second half of 2016, or the first half of 2017, as volumes increase and truck rates rise. Like their truckload competitors, they expect the prospect of new regulations will tighten truck capacity.
"Intermodal continues to be impacted by excess capacity in the truck market, a condition we expect to change next year," Alan H. Shaw, Norfolk Southern Railway's chief marketing officer and executive vice president, told analysts and investors on a second quarter earnings call.
There's no way of knowing just how much capacity will drop out of the market in advance of an electronic logging device mandate, however, or even when and whether that mandate will take effect. A lawsuit could delay the rollout of the mandate, which takes effect in December 2017.
If the ELD mandate were delayed, or ditched, the truck capacity contraction might not happen at all, or develop much more slowly. That would stun truckload and intermodal operators basing much of their hope for stronger pricing not on increased demand, but market constraints.
Contact William B. Cassidy at bill.cassidy@ihsmarkit.com and follow him on Twitter: @wbcassidy_joc.