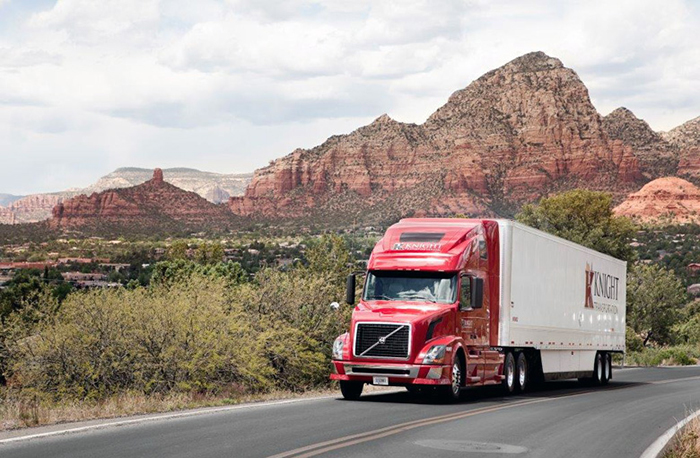 Despite "firm" contract pricing, a drop in truckload spot market opportunities in the fourth quarter worked in tandem with lower fuel surcharges to reduce revenue and profit for Knight Transportation.
The deceleration was rapid, and unprecedented for Knight. With fuel surcharges excluded, the truckload carrier's revenue dropped 2.8 percent year-over-year to $266 million. The Phoenix-based company's total revenue, including surcharges, fell 8.4 percent to $290.7 million. In every preceding quarter in 2015, Knight's revenue rose by double digits, even accounting for the drag from lost fuel surcharge revenue. In the third quarter, total revenue rose 10.5 percent, in the second quarter, 14.3 percent.
Knight's net profit also dropped year-over-year in the fourth quarter, falling 11.2 percent to $29.2 million. That net income slipped 3.5 percent from $30.3 million in the third quarter.
Despite the slide in profits, Knight's earnings of 36 cents per diluted share still beat the Wall Street consensus estimate of 32 cents. Equity research firm Stifel trimmed its earnings estimates for Knight in 2016 and 2017, reflecting slower economic expansion.
Before yelling "freight recession," there are a few important factors to consider when examining Knight's fourth-quarter decline in revenue and profit.
First, 2014 was a much stronger year economically than 2015, and Knight had an exceptional fourth quarter in 2014, with total revenue rising 27.1 percent and net profit skyrocketing 63.9 percent. Such growth creates tough year-over-year comparisons. Compared with the 2013 fourth quarter, however, Knight's revenue was up 16.4 percent in the last quarter of 2015, and net profit rose 45.4 percent. That points to a better long-term trajectory for the carrier.
Second, Knight apparently has more exposure than some competitors to the truckload spot market. Spot market loads and rates both tumbled in the fourth quarter. "In a market not as robust as the same time last year, most of our freight opportunities were hauled at contract pricing compared to 2014," when Knight shifted capacity to capture higher priced spot market loads, Adam W. Miller, Knight CFO, said yesterday in an earnings conference call transcribed by Seeking Alpha. "This led to our rate per loaded mile declining 1.5 percent year-over-year. Comparing our rates to a more typical year such as 2013, our rate per loaded mile has increased over 10 percent over that two-year period."
Third, don't underestimate the effect of falling fuel surcharges. Knight's fuel surcharge revenue dropped $19 million year-over-year in the fourth quarter, a 43.5 percent decline. Knight's gross fuel expenses dropped by $15 million. "Despite lower absolute fuel prices this fourth quarter, the fuel expense net of fuel surcharge was up in the fourth quarter of 2015 versus the prior year," David Parker, president and CEO, said during the earnings conference call.
To be exact, Knight's fuel expenses net of surcharges were up 7.1 percent year-over-year, rising from $4.5 million in the 2014 fourth quarter to $7.7 million, even though the average retail price of diesel in the U.S. was down 32 percent from the same quarter a year ago. For many trucking companies, the benefits of lower fuel prices are proving elusive.
Knight has long been one of the most profitable U.S. truckload carriers, and with a fourth-quarter consolidated operating ratio of 83.6, it still is. Since the recession ended in 2009, Knight has used its profits to sustain expansion, raising its annual revenue 82 percent over six years. In 2014, Knight acquired truckload carrier Barr-Nunn.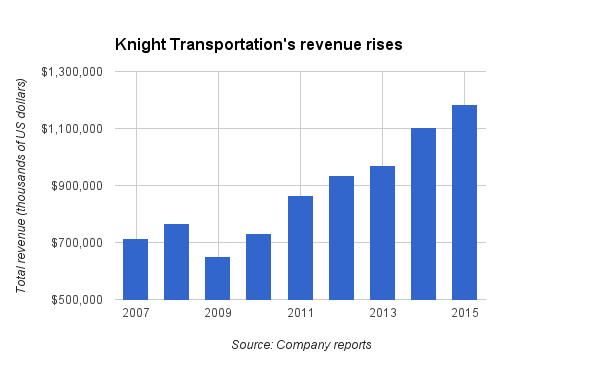 Knight remained profitable through the recession, and has increased profit 131 percent since 2009, when its annual net income dropped 10.1 percent to $50.6 million.
Knight became a billion dollar company in 2014. For the full year of 2015, the carrier increased revenue 7.3 percent to $1.18 billion, while raising profit 13.5 percent to $116.7 million.
Knight's executives expect the headwinds they encountered in the fourth quarter to keep blowing through the first half of 2016. However, they also expect contract rates to rise 2 to 3 percent in that period, even though low spot market rates will drag down aggregate pricing. "We expect to begin to see rates in the aggregate turn positive in the back half of the year," Miller said.
For shippers, that 2 to 3 percent increase in base rates will likely be blunted by low fuel surcharges, which were a major factor in reduced shipper expenditures on transportation in 2015.
The loss of non-contract spot market business "puts a lot of pressure on the year-over-year for us," said Parker. At the same time, he said truckload volumes in January were higher than a year ago. "We're seeing more miles on a per-truck basis right now so far in January as compared to January of last year."
The seven-year U.S. economic recovery has had as many boggy potholes and soft patches as a crumbling stretch of highway waiting for federal funding. Parker and his team at Knight hope the road ahead improves in the second half of 2016.
Contact William B. Cassidy at bill.cassidy@ihs.com and follow him on Twitter: @wbcassidy_joc