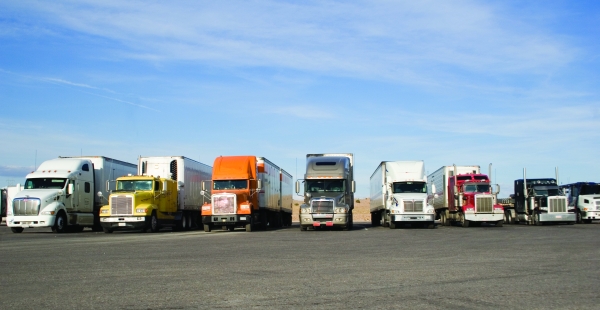 The surge in U.S. trucking capacity, brought on by massive truck orders in 2014 and weaker freight demand in 2015, is tugging at the bottom line at Knight Transportation. Long one of the most profitable U.S. truckload carriers, Knight is lowering expectations for fourth-quarter earnings per diluted share by 3 to 7 cents to 31 to 33 cents per share.
The Phoenix-based carrier blamed excess truck capacity for 3 to 4 cents of that decline, and higher driver wages and lower gains on equipment sales for an additional 1 to 2 cents. "The current freight environment presents some challenges, largely as a result of truckload capacity growth," David Jackson, president and CEO of the $1.1 billion carrier, said in a Dec. 17 statement.
If excess capacity is a challenge for Knight, which has had an truckload operating ratio averaging 79 for the last six quarters, the glut of trucks will certainly affect other, less profitable trucking operations. In the third quarter, Knight's 79.8 operating ratio was 970 basis points or nearly 10 percent better than the 89.5 average OR of its publicly owned truckload peers tracked by JOC.com.
At the end of 2015, has truck capacity finally peaked? Knight would like to think so.
"We are beginning to see indications that capacity has peaked and may be beginning to decline," Jackson said. "These indications include weak new truck orders and the second consecutive quarter of a softening used equipment market."
Class 8 truck orders fell to their lowest level in at least three years in November, plunging 60 percent year-over-year to roughly 16,500 trucks, according to transportation research firm FTR. However, that plunge followed the biggest surge in truck orders in years.
New registrations of Class 8 tractors are expected to reach 250,000-plus units in the U.S. for the first time since 2006, up from about 229,000 units in 2014, according to IHS Automotive, a sister product of JOC.com within IHS. Forty-two percent of those trucks were added to fleets with 500 or more vehicles, IHS Automotive said.
The influx of new Class 8 tractors pushed the JOC Truckload Capacity Index up 1.3 percentage points to 90.4 in the third quarter, the first index reading above 90 since the end of 2008. The number of tractors operated by the truckload carriers in the group tracked by the JOC index rose 9.4 percent year-over-year in the third quarter, with all carriers in the group increasing their actual truck counts.
That compares with a 7.2 percent increase in capacity in the second quarter and a 1 percent increase in the 2014 third quarter.
Although truck counts and registrations have climbed, they're not the only reason for excess capacity. Those new trucks collided with falling freight demand, as consistently higher U.S. inventories depressed the need for inventory replenishment for much of this year.
U.S. inventories began building up last fall, as the West Coast port labor dispute got underway, causing massive port container congestion. Inventory-to-sales ratios remained elevated through at least October this year, and that idled trucks, adding to available capacity.
Shippers should expect truckload carriers to take steps to control or reduce excess capacity until stronger demand puts more freight in trailers, possibly in the spring. Some trucking companies have already canceled orders for trucks, including Swift Transportation.
That may indeed signal that truck capacity, at least as defined by truck counts and registrations, has or will soon peak.
Among many unknowns is how much inventory will be sold this holiday season, and how much restocking will be required. How strong will consumer demand be in 2016 and how much new inventory will be needed to stock stores for spring sales in the second quarter?
The answers to those questions will signal how tight capacity may get in 2016. Many analysts and trucking executives expect capacity to contract as the deadline for installing electronic logging devices in truck cabs approaches in December 2017. 
Contact William B. Cassidy at bill.cassidy@ihs.com and follow him on Twitter: @wbcassidy_joc