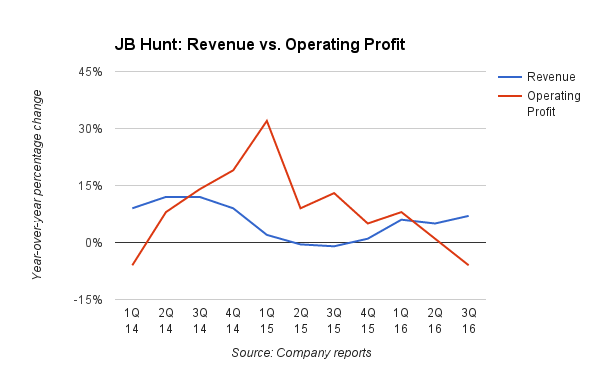 Falling truck and intermodal pricing cut into profits at J.B. Hunt Transport Services in the third quarter, despite increases in freight volume and revenue. The 5 percent drop in net profit to $109.4 million was the first decline in profitability this year for the intermodal trucking firm, which has gained market share in 2016 while competitors cut capacity as their margins narrowed.
The drop in profitability at a reliably profitable large transport operator underscores the intensity and depth of the rate battle between US freight shippers and trucking companies this year. Truckload carriers, in particular, have been pressed to lower rates as weak consumer spending, high inventories, and excess truckload capacity depress freight demand in 2016.
Last week, Chattanooga, Tennessee-based Covenant Transportation Group said it expected its third-quarter net profit to drop between $4.4 million and $5.5 million from a year ago. In the second quarter, most of the large publicly owned truckload carriers experienced profits drop by double digits, with Covenant's net profit falling 67 percent year-over-year in the quarter.
How far have truckload rates tumbled? The Cass Truckload Linehaul Index, a measure of pricing, has declined for six consecutive months, dropping 2.8 percent year-over-year in August. The index surged in 2014 as rates rose, with a peak annualized increase of 7.9 percent in January 2015. The six-month decline is the first since a 16-month downturn in 2009 and 2010.
The Cass Intermodal Price Index has dropped for 20 straight months, falling 2 percent year-over-year in August, as lower over-the-highway rates put pressure on intermodal pricing. Avondale Partners expects intermodal rates to continue their decline through the rest of 2016, pushed downward by lower trucking rates and continued declines in fuel surcharges.
Although some freight operators reported lower-than-expected volumes this summer, that wasn't J.B. Hunt's problem. The company's intermodal volume rose 7 percent, with transcontinental loads growing 8 percent and Eastern network traffic rising 5 percent. J.B. Hunt Intermodal gained freight as intermodal volumes dropped 7 percent at Eastern railroad CSX Transportation.
That's probably a sign that J.B. Hunt, the third-largest trucking operator in the United States and the largest intermodal trucking company, according to SJ Consulting Group, is still gaining market share from competitors who are struggling to cut their capacity as rates drop. In contrast, J.B. Hunt has taken advantage of its profitability and scale to add capacity and pursue business.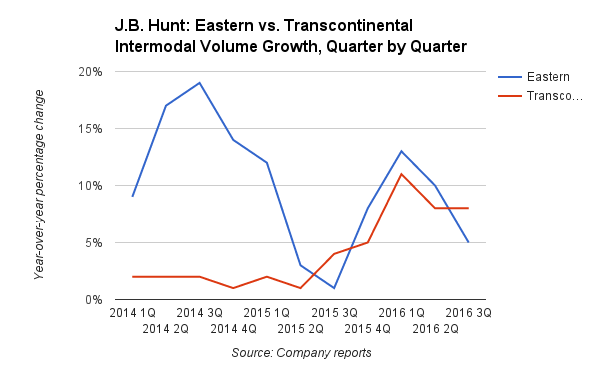 The additional freight helped boost intermodal revenue 2 percent year-over-year to $970 million for the quarter. However, J.B. Hunt's intermodal revenue per load dropped 4.2 percent, thanks to a combination of lower rates, changes in freight mix, and declining fuel surcharges. Excluding fuel surcharges, revenue per load dropped about 2 percent. That helped pull the intermodal division's profit down 7 percent from a year ago to $116.9 million.
The story was similar at J.B. Hunt's truckload and brokerage divisions: they both gained volume but lower rates cut into profits. J.B. Hunt Truck volume rose 5.9 percent, but revenue was flat at $97 million. Core customer rates were flat, but the average truckload rate per mile, excluding fuel, dropped 4 percent. The division's operating profit fell 55 percent to $5.1 million.
The Integrated Capacity Solutions division increased revenue 35 percent to $233 million in the quarter, fed by an 88 percent gain in load volume. However, revenue per brokered load decreased 28.5 percent thanks to lower fuel prices and surcharges, lower customer rates, and changes to freight mix. The unit's operating profit dropped 26 percent to $8.5 million.
The Dedicated Contract Services division, insulated to an extent from the worst of the rate battles, increased revenue 6 percent to $394 million as the number of dedicated loads rose 5.1 percent. The division won rate increases for its customized services, J.B. Hunt said. Improved integration of assets between customer accounts, fewer unseated trucks, and increased customer supply chain fluidity also helped increase productivity, the company said.
The dedicated division's operating profit increased 16 percent to $52.5 million, lifted primarily by increased revenue and improved asset utilization, and partially offset by higher driver wages and recruiting costs, increased salaries and benefits costs, and higher equipment ownership costs. But more stable and higher rates meant more profits for the division, rather than weaker profitability.
The dedicated division added 205 revenue-producing trucks year-over-year in the quarter, making 50 net additions sequentially from the second quarter. Approximately 75 percent of these new trucks represent private fleet conversions instead of traditional dedicated capacity services, and primarily reflect new contract implementations.
That higher-margin business and demand will inspire more dedication to dedicated services at J.B. Hunt and other truckload and even less-than-truckload carriers expanding dedicated services as they pursue opportunities for growth.
Contact William B. Cassidy at bill.cassidy@ihsmarkit.com and follow him on Twitter: @wbcassidy_joc.