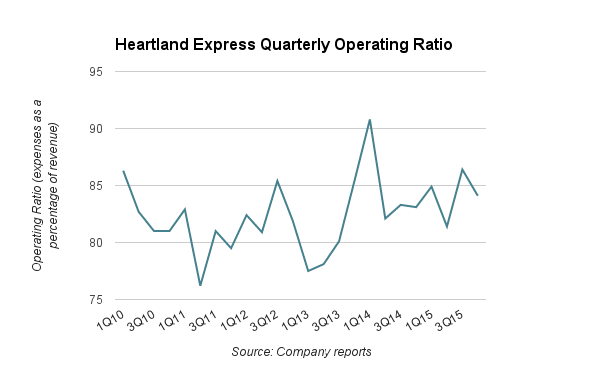 The U.S. economy may be bumpy, but Heartland Express has shock absorbers and is keeping its eyes on the horizon.
Lower fuel surcharges and reduced freight volumes translated to less revenue and profit in the fourth quarter for the Liberty, Iowa-based company, one of the most profitable U.S. truckload carriers.
Heartland's net profit dropped 20.9 percent year-over-year to $17 million on $174.6 million in operating revenue in the last quarter, a 14 percent decrease from the fourth quarter of 2014.
That reflects a slower economy, but not a weaker company. Heartland reinvested in its business, repurchasing stock and paying off debt. Shippers don't need to worry about whether Heartland will be able to provide capacity if the economy gets weaker.
The decline in Heartland's profitability occurred as lower revenue bumped into rising expenditures, especially driver pay and the cost of new tractors and trailers. Heartland also has rejected some lower profit business, lowering revenue, according to Wall Street analysts.
For the full year, Heartland's net profit dropped 13.8 percent to $73.1 million, while operating revenue fell 15.5 percent to $736.3 million.
Compare that to 2013, however, and a different picture emerges. Revenue last year was up 26.4 percent from the $582.3 million Heartland reported in 2013. This year's net income was slightly higher than the 70.6 million in profit Heartland enjoyed two years ago.
The decline in fuel prices proved a double-edged sword for carriers and a boon for shippers last year. At Heartland, fuel surcharges fell 46.1 percent last year, or by $78.6 million, to $91.8 million. In the same period, the carrier's fuel expenses plummeted by $95.5 million to $123.7 million, a 43.6 percent drop that helped the trucking operator's bottom line.
Lower fuel surcharges, however, are stunting the ability of truckers to raise revenue on a year-over-year basis, even when they haul more freight, as J.B. Hunt Transport Services discovered. The intermodal carrier, the largest U.S. trucking operator after UPS and FedEx, increased revenue only 1 percent in the fourth quarter, after seeing revenue drop in two previous quarters.
Swift Transportation, the largest U.S. truckload carrier, also raised revenue just 1 percent in the quarter, compared with 6 percent in the year-ago quarter, but its CEO declared rumors of a recession "significantly overblown."
Even with the drop in profitability for the quarter and full year, Heartland Express reported an operating ratio of 84.1 for the quarter, compared with 83.1 in the last quarter of 2014. Heartland has also been spending now to improve performance and profitability later, notably by raising driver wages twice since 2014 and adding 1,500 new Freightliner and International heavy-duty tractors to its fleet last year.
"At the end of 2015 we completed a two year capital investment campaign equating to approximately $182 million net capital reinvestment," CEO Michael Gerdin said. "We successfully took advantage of a strong used equipment market that has subsequently weakened," he said, to provide late-model equipment to drivers and customers.
"The significant investment to upgrade our operating fleet during 2015 is expected to allow us the flexibility to operate efficiently with our current fleet or take advantage of the changing demand for used revenue equipment during 2016," Gerdin said in a statement.
The company also eliminated debt left over from its $300 million acquisition of Gordon Trucking in 2013, Stifel Managing Director John G. Larkin said in a Jan. 26 investor note.
The acquisition of Gordon, a Western truckload carrier, made Heartland the 12th-largest truckload carrier in terms of revenue in 2014, according to SJ Consulting Group, ranked just below Knight Transportation. The company is now in a good position to consider "its next accretive acquisition" in 2016, Larkin said.
That's called banking for the road ahead.
Contact William B. Cassidy at bill.cassidy@ihs.com and follow him on Twitter: @wbcassidy_joc