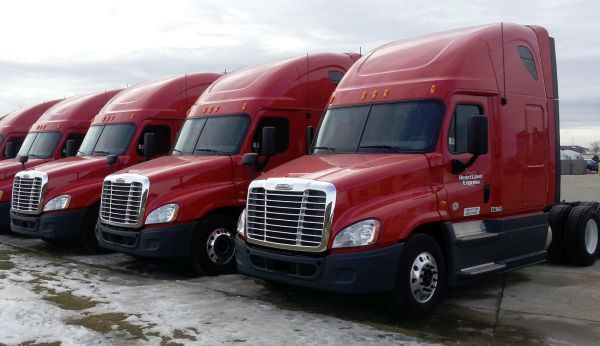 Heartland Express passed the first major mile marker on its route to becoming a billion-dollar truckload operator this year, increasing first-quarter revenue 67.2 percent from a year ago to $224.5 million. Much of that additional cash comes from freshly acquired Gordon Trucking.
The $300 million acquisition of Gordon last November gave Heartland, based in North Liberty, Iowa, significant coverage west of the Rocky Mountains and valuable truck capacity — the two companies combined operated nearly 4,900 tractors and had 5,000 drivers last year.
The company yesterday said it will add approximately 1,000 new tractors and trailers this year, many purchased to replace older equipment. Heartland said it "continues to work towards the full integration of the two companies on a single information technology platform."
That puts Heartland in a good position to benefit from what's widely expected to be a stronger second-quarter freight market, with retail, produce and industrial shipments forecast to increase in May and June, and potentially a stronger peak shipping season in the year's second half.
Werner Enterprises, the third-largest truckload carrier, this week reported "meaningful improvement" in freight demand and what it believes is "a longer-term shift in market dynamics." Werner said it is negotiating rate increases with many customers seeking more capacity.
However, growth comes at a cost: Heartland was not the most profitable publicly owned truckload carrier in the quarter. The company's operating ratio, defined as operating expenses as a percentage of revenue, rose from 77.5 a year ago to 90.8 in the first quarter as operating expenses increased 95.8 percent from a year ago to $203.8 million.
Salaries and wages rose 75 percent to $71 million. Purchased transportation costs, at $14.5 million, were up more than 1,000 percent from a year ago. Operations and maintenance costs rose 86 percent to $10 million, and fuel costs rose 47.1 percent to $63.2 million.
The combined impact drove Heartland's net profit down 28.7 percent from the year-ago quarter to $14.1 million. For years, Heartland has been the most profitable publicly owned truckload carrier, with operating ratios in the 70s and low 80s — amazingly low for trucking.
Some of the higher costs may be blamed on the harsh winter, which drove down truck tonnage, disrupted supply chains and raised operating costs, affecting the profits of many companies. Heartland also said truck utilization took a hit from new driver hours of service rules.
With truck capacity at the tightest level in years, truck rates already rising higher than expected and stronger economic growth predicted for 2014, Heartland should have the opportunity to regain its historic profit levels as it integrates Gordon into its expanded national network.
Contact William B. Cassidy at wcassidy@joc.com and follow him on Twitter: @wbcassidy_joc.