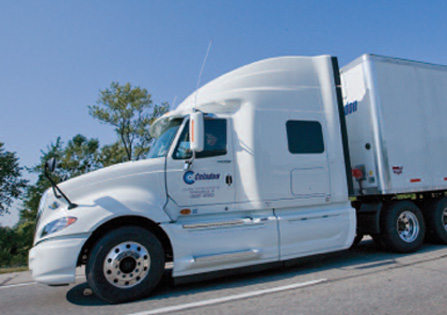 Celadon Group expects to beat Wall Street's earnings forecast in the third quarter as operations the truckload carrier acquired in the last year generate revenue.
The parent of Celadon Trucking expects earnings to range from 34 to 36 cents per share, compared with investment analysts' consensus of 32 cents per share.
The company's stock shot up nearly 7 percent by noon Monday to about $16.30 a share. Celadon's stock price at Friday's close was $15.25 a share.
For the fiscal year that ended June 30, Celadon Group increased net profit 67.8 percent to $25.5 million as the company's revenue rose 5.4 percent to $599 million.
The calendar third quarter is the first quarter of Celadon's fiscal year.
Celadon's acquisitions are expanding its truck driver pool, which means more available capacity for shippers. That's bringing the company more freight.
"These results certainly validate the combination of a sound acquisition strategy ... and a vigilant focus on the cost side," said Paul Will, vice chairman and president.
In a statement Monday, Will cited "a disciplined approach" to managing expenses while replacing older equipment, which cuts maintenance and fuel costs.
Celadon is raising earnings expectations at a time when some competitors, including Landstar System and Werner Enterprises, have lowered their forecasts.
The Indianapolis company is trucking in the same slow-growth economy as its larger competitors, where truck tonnage has been slipping in recent months.
For-hire truck tonnage dropped 0.9 percent in August from July, rising 3.2 percent from August 2011, according to the American Trucking Associations.
When freight tonnage is falling, acquisition can be a route to expansion. Over the past year, Celadon has acquired the assets of at least five companies.
That strategy allows Celadon to sell older trucks and trailers, pick and choose drivers who meet the carrier's qualifications and seat them in new tractors.
Since last October, Celadon has acquired assets of Robinson Transport, USA Dry Van, Hiner Transport, Teton Transportation, American Eagle and Glen Moore.
Those acquisitions increased the Indianapolis-based Celadon Trucking's average seated tractor count by 7.2 percent in the second quarter, the company said.
The Indianapolis-based carrier's average number of seated line-haul tractors rose to 2,808 in the June 30 quarter, compared with 2,620 tractors a year ago.
"When we make an acquisition, we buy the tractors and then sell them off as quickly as we can," Chairman and CEO Steve Russell said in an interview earlier this year.
Contact William B. Cassidy at wcassidy@joc.com. Follow him on Twitter @wbcassidy_joc.