Trucking employment remains at levels higher than the peak numbers reached before the recession, but efforts to expand for-hire trucking payrolls have stalled. In fact, trucking employment reached a plateau in 2015 and has slipped in 2016 as unemployment drops. That's a sign that it's not trucking jobs that are lacking this year, but freight to fill trucks.
In June, the number of employees on for-hire carrier payrolls dropped 0.4 percent on a seasonally adjusted basis, both from May and from a year ago, U.S. Bureau of Labor Statistics data show. The year-over-year drop in the number of trucking employees tracked by the BLS was the first since July 2010, when hiring began to rise after a three-year decline.
The year-over-year decline in June should be a warning light for shippers concerned about truck capacity and the future direction of truck pricing. Weak freight demand, in part attributed to high inventories, has kept truck capacity loose and reversed strong price increases of the past few years. Trucking companies, especially larger ones, are now actively suppressing capacity.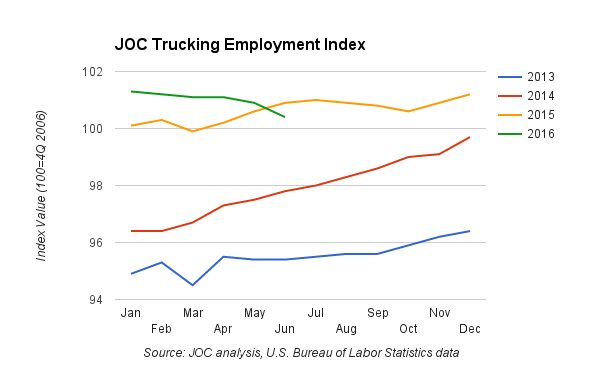 "Pricing is under pressure in trucking, and that's starting to remove more capacity in the trucking market," David Ross, a managing director at investment research firm Stifel, said at the SMC3 Connections 2016 conference in Chicago last month. "The U.S. economy is stuck in low gear for now. We're stuck in this 2 percent growth band and can't seem to grow any faster than that."
Companies such as Landstar System, Werner Enterprises and Covenant Transport reduced tractor counts in the first quarter, as did Knight Transportation and USA Truck, which cut its average number of in-service tractors 16.7 percent while the number of "seated" tractors in its truckload fleet dropped 11.6 percent. Anecdotal reports suggest the trend continues.
Class 8 truck orders plunged 34 percent year-over-year in June to the lowest monthly total since July 2012 and the worst June since 2009, transportation research firm FTR said last week.
On a seasonally adjusted basis, the for-hire trucking industry lost 6,300 jobs in June, the fourth time this year employment at the truckload and less-than-truckload carriers tracked by the Labor Department agency fell. The raw, unadjusted trucking job numbers climbed in June, but at a much slower rate than a year ago, contributing to the seasonally adjusted decline.
That pushed the JOC For-Hire Trucking Employment Index from 100.9 in May to 100.4 last month. That still puts trucking employment slightly above its pre-recession peak in early 2007, however. The index, based on trucking employment levels in the fourth quarter of 2006, has been above 100 for all but one month since January 2015, peaking at 101.3 in January of this year. Since then, the number of trucking jobs, seasonally adjusted, has dropped by 12,300. Trucking employment slipped as the U.S. added 287,000 jobs in June, also seasonally adjusted.
The fact that the index remains so close to its all-time high indicates the bottom isn't dropping out of the trucking market, but that the route to further growth is blocked. The roadblock is likely to remain in place until stronger consumer demand generates more freight demand.
In contrast, warehousing businesses gained jobs for the 30th consecutive month, increasing payroll numbers 0.5 percent from May and 6.7 percent from a year ago. The split between rising warehousing employment and stuttering trucking recruitment reflects tight warehouse capacity and the rapid growth of e-commerce orders. It's a shift in the distribution landscape that transportation providers and their shippers are struggling to cope with in 2016.
With the U.S. unemployment rate at 4.9 percent in June, businesses report an increasingly difficult time hiring new employees. Trucking companies apparently are having more difficulty finding qualified drivers and other workers, as a smaller number of job seekers turn to more attractive, higher-paying industries, including construction, for employment.
The impact of the "gig" economy, in which workers take part-time, often contract jobs such as driving for Uber, is another unknown. Such jobs, which allow drivers to work locally and set their own hours without needing a commercial drivers license, may appeal to some potential truckers, especially those who don't qualify for the highest-paying trucking jobs.
Wages in the transportation and warehousing sector are climbing, according to BLS data. Hourly wages in the sector were 38 cents higher than a year ago in June, at an average of $21.07 per hour, the BLS data show. Transport wages rose 19 cents from May after dropping 8 cents that month. However, construction wages on average were 19 percent higher, at $25.97 an hour, a 14 cent increase from May and a 68 cent jump from a year ago.
As for long-haul trucking, "There are some people who won't do it at any price," Ross told SMC3. "The carrier is going to have to work hard to make it as driver friendly as possible."
The American Trucking Associations noted a significant reduction in truckload driver turnover in the first quarter, meaning more drivers are staying put rather than leapfrogging from one job to another for a better pay rate or more miles, another sign of weak freight demand. Turnover at large truckload fleets fell to its lowest levels since the second quarter of 2015, the trucking lobbying group reported.
At smaller fleets — carriers with less than $30 million in annual revenue — turnover dipped 1 percentage point to 88 percent, the lowest figure since the third quarter of 2015, the ATA said. "The decline in turnover is reflective of the softening in the freight economy during the first quarter," Bob Costello, ATA chief economist, said last week. That freight economy may not get much better until late this year, if then.
The U.S. economy will probably expand 2.5 percent in the third quarter, and 2 percent to 2.5 percent in the fourth quarter, Don Ratajczak, consulting economist at Georgia State University, told the SMC3 conference. "I would have said 3 percent for the third quarter, but Brexit probably slows us down a bit," largely by strengthening the dollar and discouraging exports, he said.
Contact William B. Cassidy at bill.cassidy@ihs.com and follow him on Twitter: @wbcassidy_joc.