William Cassidy | Jul 20, 2017 12:17PM EDT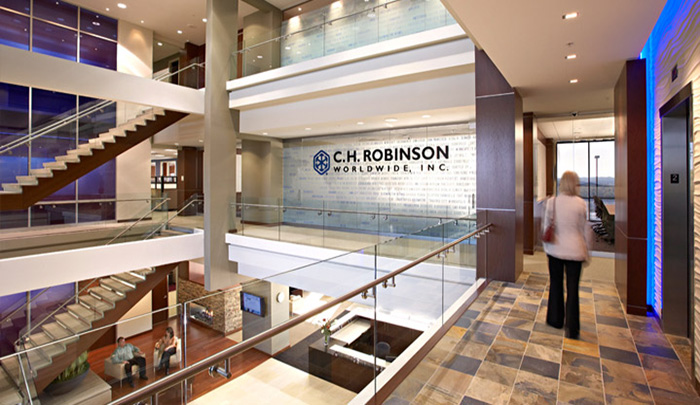 A surge in truckload pricing cut into second-quarter profits at C.H. Robinson Worldwide, despite a wave of fresh revenue from its ocean and air freight forwarding businesses.
Higher spot truckload pricing and tighter spot and contract capacity constricted the $13.1 billion logistics company's net revenue and sent net profit down 22.4 percent to $111.1 million.
"Our results were significantly impacted by truckload margin compression," John Wiehoff, chairman and CEO of Eden Prairie, Minnesota-based C.H. Robinson, said Wednesday.
"Purchased transportation costs increased significantly during the quarter, while much of our customer pricing is committed at relatively flat prices," Wiehoff said in a statement.
In a recent meeting at C.H. Robinson headquarters, Wiehoff and Bob Biesterfeld, president of North American transportation, said the rumored tightening of truck capacity, truckload and less-than-truckload (LTL), is real. So is the impact on pricing and profit currently being felt by transportation intermediaries.
"We've experienced a general tightening of capacity over a broad base," Biesterfeld said. "Shippers are starting to feel some volatility in the marketplace for the first time in a while."
At this point, that volatility is tied to demand, more than a sudden reduction in actual capacity. And that should raise warning flags for shippers concerned about the potential impact on capacity of a US electronic logging mandate scheduled to take effect Dec. 18.
C.H. Robinson anticipated truck pricing battles earlier this year. Expectations of "meaningful bid and price activity" may have been delayed, but they are being fulfilled, and more activity is likely to come.
"The next three or four months are going to be really interesting," Wiehoff said July 14. "We'll see if the tightening [of capacity] in the last couple months continues, and if this foreshadows what's going to happen in December," when the electronic logging mandate takes effect, he said. "In that supply-demand relationship, probably the biggest variable is the demand."
Volume and price volatility is reflected in the difference between C.H. Robinson's gross revenue, which rose 12.4 percent year over year, and net revenue, which shrank 3.4 percent.
Total revenue rose by $410.3 million to $3.7 billion in the first quarter, buoyed by fresh ocean and air freight forwarding business, and customs and logistics management revenue. Total global forwarding revenues increased 48.2 percent in the second quarter to $528.8 million.
C.H. Robinson's ocean freight forwarding revenue rose by $13.3 million year over year to $73.4 million, a 22.3 percent increase, and air freight revenue rose 28.3 percent to $25.8 million.
Revenue from customs service jumped 40.6 percent to $16.3 million, and revenue from other logistics services, including managed transportation, climbed 14 percent to $29.8 million.
On US highways, however, where C.H. Robinson gets the majority of its revenue, truckload costs rose faster than rates, and truckload revenue dropped 14.3 percent to $282.7 million.
That decline hit despite an 8 percent jump in truckload volume in the quarter. Excluding fuel costs, truckload rates rose 4 percent in the quarter, and C.H. Robinson rates were flat.
LTL revenue, another growth market for C.H. Robinson, rose 2.4 percent to $102.2 million in the quarter and was up 4.6 percent in the first half of 2017, at $199.8 million.
Total North American surface transportation revenue, including truckload, LTL, and intermodal sales, rose 10.8 percent to $2.4 billion, but net revenue after payments to motor carriers and intermodal suppliers dropped 9.8 percent to $359.9 million, the company said.
Other third-party logistics operators are struggling with the same combination of higher truckload charges and higher volumes while trying to adjust their contractual rates.
The second-quarter surge in truckload demand — evident in the US spot market — apparently came faster and harder than anticipated after two quarters of milder but steady growth.
At J.B. Hunt Transport Services, total operating revenue rose 7 percent from a year ago to $1.73 billion, but operating profit dropped 7 percent to $164 million as operating costs rose. The intermodal trucking company's brokerage unit increased loads 20 percent, and revenue 9 percent, but suffered a $200,000 second-quarter loss on $222 million in revenue.
Third-party transport margins are being squeezed on the international front, too, with Kuehne + Nagel reporting a "fierce competitive environment" as volumes rose in the second quarter.
LTL and intermodal volumes in North America also rose for C.H. Robinson. Intermodal revenue decreased 6.3 percent to $7.8 million, however, even as truckload costs climbed higher.
Contact William B. Cassidy at bill.cassidy@ihsmarkit.com and follow him on Twitter: @wbcassidy_joc.