ODFL CEO David Congdon rededicates the company's renovated headquarters. Photo courtesy ODFL.
THOMASVILLE, North Carolina — Old Dominion Freight Line understands utilization, not just of tractors, trailers and containers, but terminals, warehouses and office space.
The less-than-truckload carrier rededicated a completely rebuilt corporate headquarters here yesterday, creating 300 new workspaces, a 50 percent increase in "capacity" for a workforce of nearly 900 full and part-time employees, and adding 11 conference and meeting rooms.
And yet the headquarters is anything but cramped. High ceilings help create plenty of open space in the 166,000 square-foot building. Common design elements, bright LED lights, open conference areas, and large wall murals provide a sense of continuity and unity. A high-tech command center helps track freight, trucks and drivers as they move across the U.S.
CEO David Congdon and North Carolina Gov. Pat McCrory tour ODFL's renovated headquarters, Photo by JOC.com.
You might think this is not David Congdon's grandfather's trucking company — but it is; ODFL is a less-than-truckload carrier founded in Richmond, Virginia in 1934 transformed and transfigured for the 21st Century, with plenty of room to grow in the U.S. and beyond.
"Today, going forward, I think our opportunities for continued profitable growth are tremendous," David Congdon, CEO, said in an interview after rededicating ODFL headquarters Nov. 4.
That growth will come from U.S. domestic demand and increasingly from cross-border trucking opportunities and international shippers importing and exporting containerized goods.
"I want to take the company as far as we can go," Congdon said. "There's no set limit to what we become or how large we can become. We have 6 or 7 percent of U.S. LTL market share, and there's no reason why we can't double our market share within our OD domestic network."
That may seem outrageously optimistic at a time when the U.S. economy is sputtering, inventories are overstocked and freight demand is slow. But ODFL has demonstrated the ability to grow in good times, mediocre times and even bad times.
In 2001, when ODFL moved to its Thomasville headquarters from nearby High Point, the company's annual revenue totaled $502.2 million, with an $11.9 million net profit. In 2014, ODFL reported a net profit of $267.5 million on $2.9 billion in revenue.
It took ODFL 71 years to become a billion-dollar company, a milestone achieved in 2005. The trucking operator passed the $2 billion mark in 2012 and this year, Congdon says, the 81-year-old carrier will top $3 billion in revenue for the first time.
Last year, ODFL passed UPS Freight to become the fourth-largest U.S. LTL trucking company, according to SJ Consulting Group, and $3.2 billion YRC Freight should see ODFL clearly in its rear-view mirror. ODFL is the ninth-largest trucking company in the U.S., ranked by revenue, on the Top 50 Trucking Company list published by JOC.com and SJ Consulting Group.
In 2001, ODFL was an interregional carrier operating about 2,500 tractors and had 115 service centers. By 2014, the company had extended its coverage throughout the continental U.S., offering next-day and second-day service in six regions with 226 service centers, about 6,900 tractors and 27,000 trailers, all doubles units. ODFL has about 19,000 employees.
Also, ODFL continues to add shipments. The volume of shipments hauled by the company has climbed by double-digit percentagess every quarter since the start of 2014. In the third quarter, ODFL shipment volume climbed 11.7 percent year-over-year. That increase, at a time when many carriers reported lower volumes, signals a gain in market share. Shipments at ODFL increased 14.2 percent last year, after rising 6.6 percent in 2013, according to the company's annual reports. 
To an extent, ODFL's rapid expansion since the early 2000s parallels growth among the largest U.S. trucking companies in general. Since 2004, the number of U.S. trucking companies with more than $1 billion in annual revenue, has more than doubled, rising from 12 to 25, according to SJ Consulting Group data. But since its last major acquisition in 2006, ODFL's growth has been organic. Many of its competitors have grown through acquisition, and many have smaller networks post-recession.
Over the past 10 years, annual revenue growth at ODFL has averaged 15 percent — even factoring in a 19 percent drop in revenue in 2009. Perhaps most impressive is the company's record of sustained profits. ODFL is one of only two publicly owned LTL carriers that didn't report a loss in 2009, during the worst recession in seven decades (the other was Con-way Freight, now XPO Logistics).
Profits did decline in the three-year slowdown that culminated in the 2008-2009 recession, but ODFL never detoured into financial losses.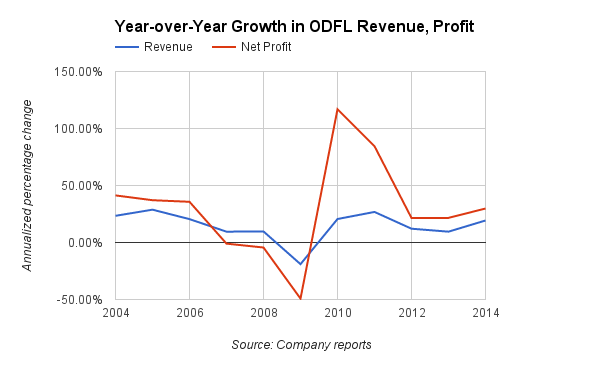 ODFL has enjoyed double-digit percentage growth in net profit in seven of the last 10 years, with net profit increasing between 21 and 30 percent in each of the last three years. In the third quarter, ODFL grew more slowly, but still faster than its peers, increasing revenue 4.8 percent year-over-year to $779.5 million, while net profit rose 8.3 percent to $84.4 million.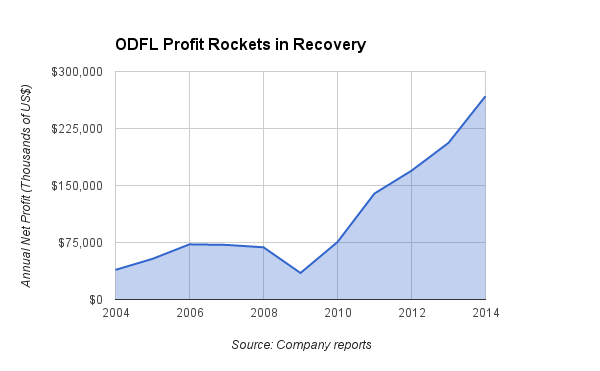 The company's operating ratio, a measure of profitability before taxes and other charges, dropped from 94.3 in 2009 to 84.2 last year. In the third quarter, ODFL's OR was 82.1. Comparable publicly owned LTL carriers have ORs in the mid-90s. "We continue to operate nearly 1,000 to 1,100 basis points better than the competition as a whole," Congdon said. "There may be a couple of traditional good private LTL carriers (with operating ratios) that have gone below 90 recently, but we're down in the low 80s, and we don't have much company."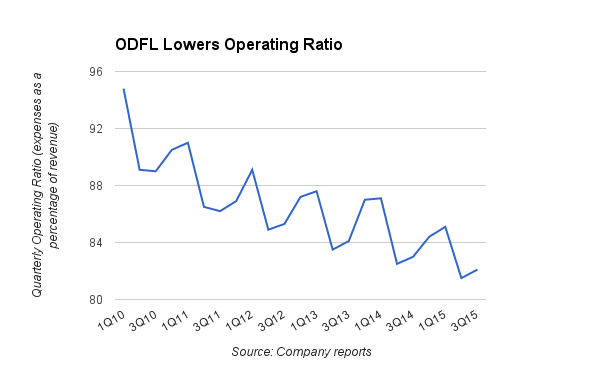 Congdon's recipe for sustainable profitability is simple and straightforward. "You've got to know your costs, and you've got to put the cost into the pricing and service equation to determine how much you need to charge to get an adequate return on investment," he said. As simple as that sounds, it's been difficult for many companies to replicate the success of ODFL.
That's partly because ODFL has been following this formula a long time, but also because many carriers have only recently come to grips with the relationship between their actual costs and the prices they charge shippers off base rate tariffs. Although its rates dropped during the recession, ODFL avoided the LTL price war of 2009, when some carriers offers discounts as deep as 80 and 90 percent off base rates. It's taken many LTL carriers years to recover from those price cuts, years in which ODFL expanded.
The big screen in ODFL's Command Center can track equipment, drivers and freight. Photo by JOC.com.
ODFL also invests in technology needed to determine costs and control them. The renovated headquarters includes major technology upgrades that help support strategic and tactical decisions. A Command Center includes a map composed of 12 large-screen TVs capable of displaying the location of all ODFL equipment, drivers and customer freight across the U.S. The map also displays data such as wind speeds and temperatures, and can be tailored to track one customers' freight nationwide.
That technology underpins the systems used to provide high level service and to control costs.  "Everything has a date and time stamp on it in our system," Congdon said. The goal, he said, is to offer high-quality service at a fair and equitable price that is both the best price for the shipper and a profitable rate for the carrier.
Sustained profit is the fuel that drives reinvestment and expansion at ODFL. Over the past five years, ODFL added 12 terminals to network, expanding coast-to-coast as it builds freight density. ODFL "pushed the walls out" and added doors at many existing terminals. One of the biggest expansions was in Memphis, one of ODFL's busiest hubs, where the carrier opened a 267-door terminal in October 2014, replacing an older service center. So far this year, ODFL has opened or expanded terminals in eight states from Arizona to Wisconsin.
"Over the past 14 years, we've probably spent $1.5 billion on real estate," Congdon said. "We look to buy and expand our facilities while planning for five- to a 10-year growth horizon. We may be operating out of 30 doors and need 45, but we just don't go and buy a 45-door terminal. We try to find a 60- or an 80-door terminal. You can't buy just for what you need right now."
Currently, the company is building an 85-door terminal in Wallkill, New York. "It took us 10 years to find some suitable land in the Newburgh, New York, area and finally build," he said.
In the meantime, ODFL serves the area through long pedal runs, trips using city pickup and delivery trucks, from other facilities. "We have six or eight drivers every day that run 50 miles to get there and 50 miles back to those service centers," Congdon said. "They're primarily delivering inbound freight, but once you put a service center there and you can get a truck to a dock quickly, you begin to get outbound freight."
ODFL's expansion doesn't stop at the U.S. border. "I think we've got an awful lot of room for global growth," Congdon said. The company is working with partners in Canada and Mexico, has a door-to-door delivery service linking the U.S. and China, and last month signed a contract with global freight forwarder Mallory Alexander.
"We've got a lot of room to grow in those transborder markets. We've reached out to China, we've reached out to Europe. We have outlets to move freight globally to and from the U.S."
Will U.S.-based LTL carriers need to become more global in their outlook, if not in their footprint, to succeed in coming years? "I would say yes," said Congdon. "We recognized that when we first branded OD Global. We saw opportunities to marry LTL and ocean container drayage and the relationships we had with shippers of ocean containers, to bring their imported product straight into our network." ODFL has a small but growing drayage operation.
"Developing those value-added services that support the LTL business I think is important," said Congdon. That doesn't mean, however, that the core LTL business will take a back seat. "I believe we will always have a market segmentation between parcel, LTL and truckload," Congdon said. "Parcels are handled differently, and LTL will always be there because the buyers of goods don't always need a 53-foot trailer full of goods. So the market segments are still there, although there's been some shift one way or the other. But I think LTL is a segment that is here to stay and should at least grow with the growth in the economy."
As for ODFL, "we have a unique company, a unique structure and culture, and we think we can continue to thrive in the LTL business and perhaps one day be the largest player."
If necessary, ODFL has room to expand in Thomasville. "There's a big front yard on this 26-acre site, and we could build another 150,000-square-foot building to complement this one," Congdon said. If ODFL can sustain long-term double-digit growth, he may need to start digging sooner than rather than later.
Contact William B. Cassidy at bill.cassidy@ihs.com and follow him on Twitter: @wbcassidy_joc