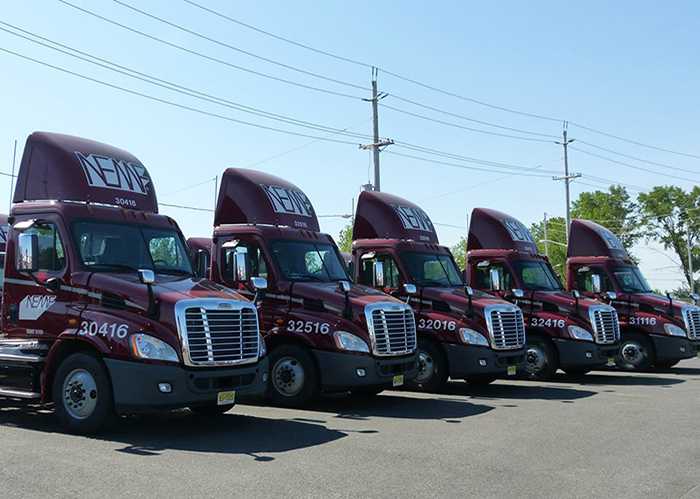 By many accounts, the U.S. is in a freight recession. So why are regional less-than-truckload carriers building terminals, expanding into new territories and adding customers?
"Because they're taking market share," Michael Scheid, senior analyst at SJ Consulting Group, said. "They're hitting capacity ceilings" in core markets "and there are new markets they can get into," he said.
New England Motor Freight, the largest Northeastern LTL trucking company, is opening a terminal in Belle, West Virginia, that will give the New Jersey-based carrier full-state coverage.
Dayton Freight Lines is relocating its Springfield, Missouri terminal to nearby Strafford, opening a 52-door, 27-acre facility built in response to increased demand from Missouri shippers.
Old Dominion Freight Line, a national LTL carrier, is expanding its network as well, building new terminals to add density in key freight markets such as Charlotte, North Carolina.
ODFL opened a 61-door terminal this month in Kings Mountain, North Carolina, about 100 miles from its North Carolina headquarters. The terminal is ODFL's ninth facility in the state.
Like its smaller regional competitors, ODFL has been gaining market share from larger LTL carriers with extensive national terminal networks that have seen freight volumes fall.
Some of those larger carriers have been purposefully scaling back some freight volume, refusing loads that don't provide the right return or lower lane-by-lane operating ratios.
However, that freight might prove more profitable for a shorter-haul regional carrier with a different operating cost structure. And smaller carriers may find it easier to scale operations.
"There are a few of them (regional LTL trucking companies) that are still growing quite significantly," despite the slowdown in the U.S. industrial economy in the past year, Scheid said.
In 2015, U.S. LTL revenue shrank 1 percent, but ODFL increased revenue 6.8 percent, Averitt Express 4.6 percent, Estes Express Lines 4.5 percent, NEMF 4.3 percent and Dayton 3.8 percent.
"They're outperforming the market," Scheid said. "And if they get close to maximum capacity in one location, they open another nearby," building freight density terminal by terminal.
Increasing network density also helps LTL carriers provide faster and more consistent services and build out new premium services, such as last-mile delivery to residential homes.
Dayton's new terminal in Strafford adds 37 doors. "The extra room will allow us to provide more efficient service," said Service Center Manager Mike Jones. "With added capacity, we will be able to take on much more business and create more job opportunities."
Dayton, based in Dayton, Ohio, has 45 terminals in 13 Midwestern states. At $462 million in revenue in 2015, Dayton is the 16th largest U.S. LTL carrier, according to SJ Consulting Group.
NEMF, which now offers business-to-business and residential services is responding to shipper requests for more service in West Virginia, said Ed Generous, senior vice president.
"The West Virginia market has been under-served," Generous said. "We think now is the right time to take advantage of this opportunity. NEMF, the 18th-largest U.S. LTL carrier, has 40 terminals in 18 states and had $388 million in revenue in 2015, SJ Consulting Group said.
Contact William B. Cassidy at bill.cassidy@ihs.com and follow him on Twitter: @wbcassidy_joc.