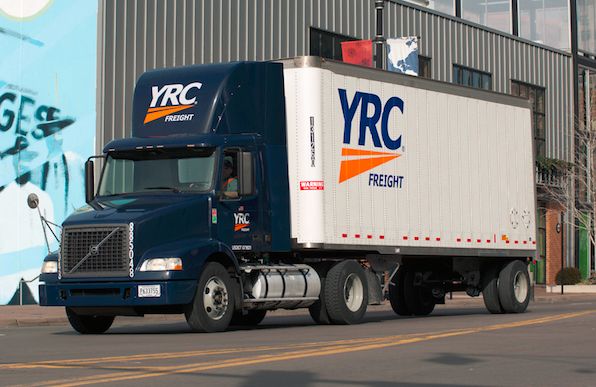 After five years of economic growth, less-than-truckload carriers are making progress toward rebuilding their profitability, a review of LTL carrier operating ratios shows.
 

LTL Operating Ratio Improvements

 
 
 Company Name
1Q 2014 OR
Worst OR
Worst Quarter
Improvement
 
 
YRC Freight
104.3
129.3
1Q 2009
25%
 
 
YRC Regional
98.3
120.9
1Q 2009
22.6%
 
 
FedEx Freight
97.9
110.3
1Q 2010
12.4%
 
 
ODFL
87.1
96.6
1Q 2009
9.5%
 
 
Saia
94.9
103.6
1Q 2009
8.7%
 
 
ABF
102.8
110.7
1Q 2010
7.9%
 
 
Con-way Freight
97.8
104.1
1Q 2009
6.3%
 
 
UPS Freight
99
104
1Q 2009
5.0%
 
 
Roadrunner (LTL division)
95
98.1
1Q 2009
3.1%
 
 
Source: Company reports, SJ Consulting Group estimates
Prepared by SJ Consulting Group
 
However, the LTL companies that were the most profitable in the first quarter of 2014 weren't necessarily those that made the biggest reduction in their ratios over five years.
"Since the downturn, some companies have been more successful than others in focusing on their business and driving margins," said Michael Scheid, senior analyst at SJ Consulting Group, Pittsburgh.
The most successful in the study were Old Dominion Freight Line and Saia. SJ Consulting reviewed the operating ratios — operating expenses measured as a percentage of revenue — of nine LTL trucking operators, comparing their worst ratios from early 2009 or 2010 with this year's first-quarter performance. Many trucking companies use operating ratios as a standard measure of profitability before taxes, interest and other charges.
In a sign of improvement, only two of the nine LTL carriers — YRC Freight and ABF Freight — had operating ratios above 100 in the first quarter. Five years ago, only two had operating ratios under 100 — Old Dominion Freight Line and Roadrunner Transportation Systems.
However, the first quarter this year was not the best quarter since the recession for any of the companies. Most of the carriers reported their lowest or best operating ratios in the second or third quarters of 2012 or 2013 and have seen costs, and their ratios, climb since, while revenues rose slowly. Many LTL truckers are struggling to pull their ratios down from the high 90s.
And progress, overall, has been slow and uneven. Since the first quarter of 2011, the JOC LTL average operating ratio has oscillated between 100.6 and a low of 93.7 in the second and third quarters of 2013. The average ratio climbed 1.8 percent to 97.3 in the 2014 first quarter.
Of all the carriers included in the study, YRC Worldwide made the biggest gains, lowering operating ratios 25 percent at YRC Freight and 22.6 percent at YRC's regional carrier group since the first quarter of 2009. That's largely because the YRC carriers suffered extraordinary losses during the recession and have had the hardest route back toward profitability.
FedEx Freight, the largest LTL trucking company, improved its operating ratio 12.5 percent over the past four years, after hitting its nadir in terms of operating ratios in early 2010. Con-way Freight, the second-largest stand-alone LTL carrier, improved its ratio a more modest 6.3 percent, but didn't recover from losses as deep as those at YRC Freight or FedEx Freight.
As the recovery progressed, operating ratios at FedEx Freight, Con-way Freight and YRC's regional group closely tracked the JOC LTL average operating ratio — which climbed to 97.3 in the first quarter. Operating ratios at YRC Freight and ABF Freight System ranged above the JOC average for the sector for most of the period. ABF saw its operating ratio dip below 100 in eight of the last 17 quarters, and YRC Freight in only four of those quarters.
However, ABF's operating ratio is now 7.9 percent lower than in the 2010 first quarter. UPS Freight brought its operating ratio down 5 percent, according to SJ Consulting.
Old Dominion Freight Line and Saia placed fourth and fifth in terms of operating ratio improvement in the SJ Consulting review, cutting their ratios 9.5 and 8.7 percent, respectively, but had the best profit margins among the nine carriers.
Roadrunner Transportation Systems cut its ratio 3.1 percent over five years. The company is not a traditional LTL carrier, which makes comparison with the other companies SJ Consulting reviewed difficult, but its LTL operations have been consistently profitable.
"Saia and ODFL have shown you can generate a decent margin in this LTL market," despite rising operating costs, Scheid said. "There's no reason why companies should have these 98 or 99 operating ratios."
Contact William B. Cassidy at wcassidy@joc.com and follow him on Twitter: @wbcassidy_joc.