Asked why they came to a panel discussion on less-than-truckload procurement, shippers and logistics operators had a clear, concise answer: "to save money." The route to savings, they learned, doesn't always run through lower LTL rates and certainly not through simply larger discounts off LTL base rates.
Shippers seeking lower LTL costs need to start not by seeking lower rates but by sharing "cleaner" shipping data, speakers told the SMC3 Jump Start 2013 Conference on Jan. 21. Incomplete, inaccurate data on shipments and distribution operations is a constant roadblock to transportation savings.
"You want to have a good set of historic data at the shipment level, starting with weight, class and density," said Art Nourot, vice president of carrier procurement for Unyson Logistics. "You want to get that data as clean as possible and tell the carrier exactly how your product is shipped."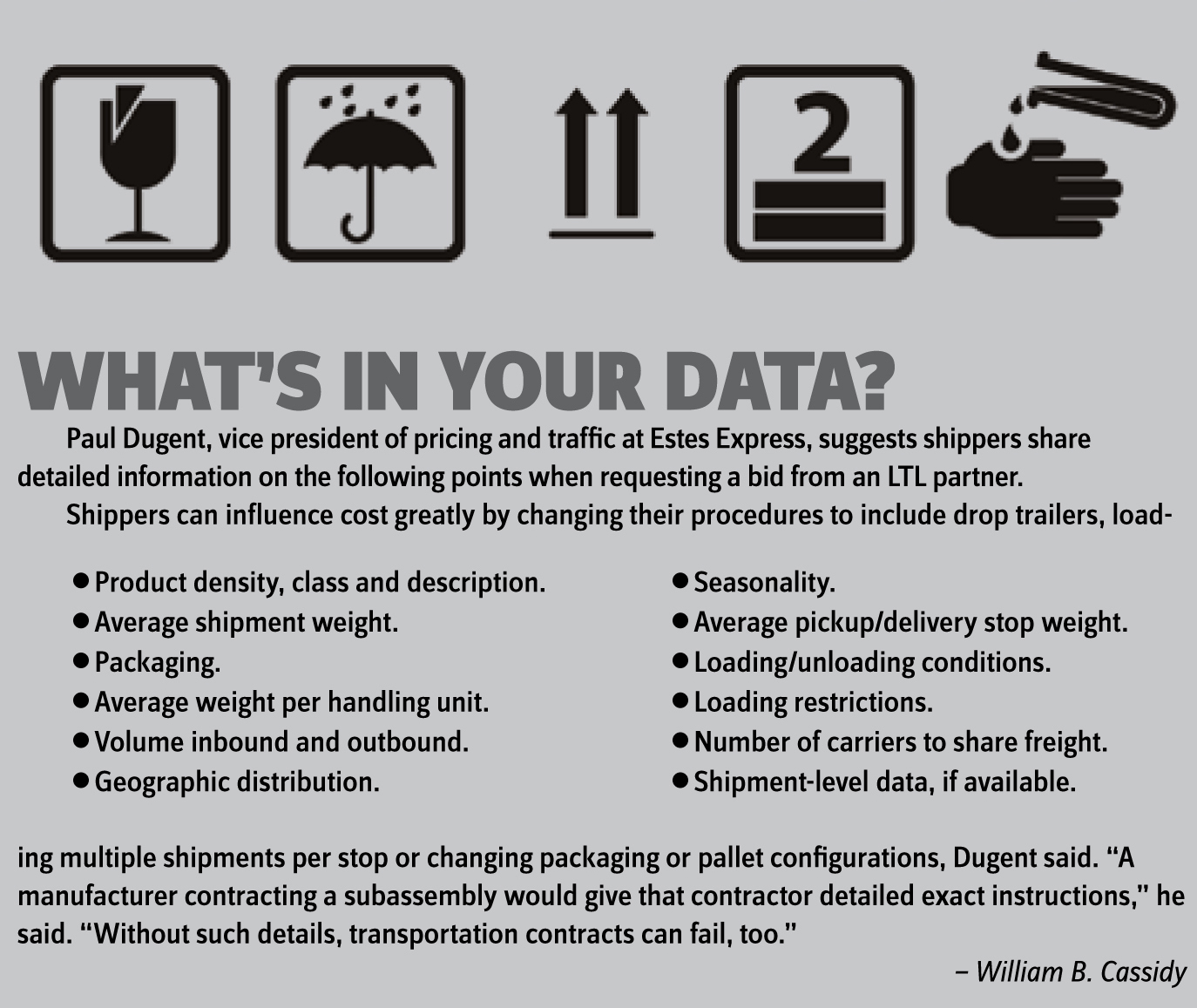 The problem is that "many shippers don't have good processes to capture that detail," Nourot told shippers, carriers and logistics providers at the conference in Atlanta. That makes it harder for carriers and 3PLs to forecast their own costs, determine appropriate pricing and bid for shipper business.
"There's a disconnect between what shippers think an LTL carrier needs to put together a good response to an RFP and what we do need," said Paul Dugent, vice president of pricing and traffic at Estes Express. "When we get good information, we can put together an aggressive pricing program."
Dugent got no argument from a shipper on the panel. "Not understanding actual classification characteristics or your business requirements can have disastrous results," said Joshua Dolan, director of transportation for Dick's Sporting Goods, a $5.7 billion retail chain with more than 500 stores.
This is the age of data, and shippers, 3PLs and LTL carriers are swamped with information streaming from an array of sources that increases exponentially each year. But that data often is stored in disparate, disconnected systems where it's not easily accessible or interpretable.
The problem is similar to the challenge technology specialists refer to as "big data" — though the amounts of data carriers and shippers are dealing with aren't measurable in exabytes. But as more data pour in from automated devices at loading docks or in truck cabs or containers, and more processes and systems are automated, capturing, validating and sharing that data becomes more difficult — especially when dealing with a legacy system, antiquated procedures and paper bills of lading.
Making sense of that data requires not just improved technology and more collection points at the retail store, warehouse or cross dock, but also better underlying processes and management. And understanding data is the key to improved efficiency and lower shipping costs, not just lower rates.
Better processes and data management are also key to improved carrier profitability, a point that wasn't lost on the LTL trucking companies and technology providers attending the SMC3 event.
Collaboration may be an overused word, but collecting, keeping and sharing accurate shipping information with logistics suppliers and carriers is key to lowering overall costs, Dolan said. "We're sharing information with these guys to make sure they understand our business thoroughly," he said.
That information starts with shipping characteristics such as density used in freight classification and moves up to include all aspects of distribution and transportation planning. "We want to make sure we're leveraging every piece of information we possibly can," Dolan said.
In his case, that includes working closely with management at Dick's Sporting Goods retail locations to better understand "the needs of the network" and to focus on cost-saving initiatives "beyond service commoditization" — something most LTL carriers are working hard to avoid.
Post-recession LTL rate increases peaked in 2011, and although rates still rose in 2012, they increased at a much slower pace, Dolan pointed out. The average annualized increase in LTL yield among public carriers tracked by The Journal of Commerce dropped to 3.5 percent in the third quarter.
Equity research firm R.W. Baird expects LTL rates to rise 2 to 4 percent in 2013, as truckload rates climb 1 to 3 percent and rail rates, 2 to 4 percent. A stronger economy could bring about the capacity crunch shippers have feared since the recession ended in 2009.
That's all the more reason for shippers and their transportation partners to work more closely to develop better data sets that can meet the budgetary needs of all parties. "Shippers complain about surging rates in produce season," Nourot said. "Carriers say you need to forecast better. It's mutual cooperation."  
Contact William B. Cassidy at wcassidy@joc.com and follow him at twitter.com/wbcassidy_joc.