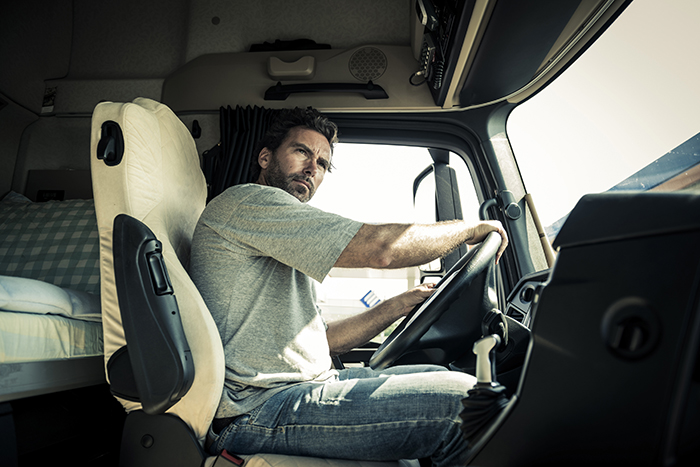 The U.S. government's truck safety agency is pursuing plans to study whether the way truck drivers are paid leads to unsafe driving habits, rule-breaking and deadly crashes.
The study could draw a line connecting truck driver pay methods in the U.S. and highway safety, opening a route for regulators to determine how drivers are paid, if not how much.
Most interstate truck drivers in the U.S. are paid by the mile, and some safety advocates argue that compensation model encourages drivers to violate federal hours of service rules that limit driving time and work while fatigued in order to rack up miles and earn more pay.
Trucking interests fear the study could lead to "an unnecessary intrusion into the business relationship between motor carriers and drivers," and a "reversion to the long since rejected era of economic regulation,"  the American Trucking Associations said last year in comments on an early version of the proposed Federal Motor Carrier Safety Administration study.
The FMCSA said this month it would submit a new plan for a study on "the impact of driver compensation on commercial motor vehicle safety to the U.S. Office of Management and Budget, and asked for comments on its proposal, published in the Feb. 4 Federal Register.
"The study will evaluate the relationship between property carrying motor carriers compensation methods and incidences of unsafe driving," the FMCSA said in its Federal Register notice. "In particular, the research team will determine if there is a potential relationship between method of driver compensation and safe driving behavior."
The federal agency plans to survey managers at more than 2,000 trucking companies using an online questionnaire. "This study will assist motor carriers and other stakeholders engaged in commercial vehicle safety by enabling them to make informed decisions regarding driver compensation as it relates to safe driving performance," the FMCSA said.
One group the agency doesn't plan to survey immediately are truck drivers, a gap noted by the Owner-Operator Independent Drivers Association in comments the group filed last year. OOIDA suggested the agency conduct a study in phases, with the second phase focusing on drivers, both contractors and employees, rather than trucking company managers.
Regulators in the U.S. aren't the only ones interested how truck driver pay — both the method and the amount — may affect truck safety. In Australia, the Road Safety Remuneration Tribunal, a regulatory body created in 2012, is pursuing a broad review of truck driver pay in several industries, including long-haul trucking, waste hauling and port drayage.
Australia already is much farther down the road the FMCSA seems to be considering with its study. The RSRT has the authority to issue orders that set terms for driver pay and even levels of compensation. Last year, the RSRT imposed an order that requires trucking companies to pay owner-operators within 30 days, according to Australasian Transport News. The tribunal drew a direct connection between late payments, fatigue and safety.
Some of the steps taken by Australia, including requiring truck drivers be paid for non-driving, on-duty work time, have been considered by the Obama administration. The White House included language requiring drivers to be paid at least minimum wage for non-driving work hours in the "GROW America" infrastructure spending bill it sent to Congress, Earl Eisenhart, principal of Government Relations Services, noted in his InsideFMCSA e-newsletter.
In its Feb. 4 Federal Register notice, the FMCSA responded to some "themes" or points raised in the 47 comments filed last year on its initial proposal to study driver compensation.
In response to a claim of FMCSA bias against per mile pay in favor of hourly wages lodged by the ATA, the agency stressed the study is designed to capture information on all pay methods, including hourly, per mile, and per load and other methods "independent of the type of operation and (to) assess its potential relationship to safe driver behavior."
And although the FMCSA study won't survey drivers directly, it will use "driver specific data" from roadside inspections and other sources "to compare safety performance to compensation methods," the FMCSA said, in response to OOIDA's concerns.
Some U.S. trucking industry executives have been arguing for several years that the industry needs to raise driver pay substantially and improve working conditions before the federal government decides to step in and regulate how or how much truck drivers should be paid.
John White, chief marketing officer of U.S. Xpress Enterprises, the sixth-largest truckload carrier in 2013,  warned of potential federal action as long ago as 2012 and urged carriers to raise annual pay for truck drivers from the low $40,000s into the $50,000s and even $60,000-plus range. U.S. Xpress last year raised driver pay by 13 percent.
"The fact that they might start telling me how much I have to pay my drivers is pretty scary," White said at the 2012 NASSTRAC Logistics Conference. "That's very concerning to me."
Contact William B. Cassidy at wcassidy@joc.com and follow him on Twitter: @wbcassidy_joc.