As U.S. freight shipping picked up in June and July, for-hire trucking companies began hiring again, reversing a five-month decline in trucking employment. For-hire trucking companies added 1,700 jobs in July, after losing 11,500 since January, Labor Department data show.
The uptick in trucking jobs is a sign the trucking market may have hit bottom after freight volumes, truck rates and revenue slipped in the first half and now is stabilizing. Less-than-truckload and truckload carriers reported higher freight volumes in June and July.
The Cass Freight Index caught that month-to-month increase in June, when its shipment volume index edged up 1.7 percent and the shipper expenditures index increased 3.9 percent. The Cass indices, however, were still well below year-ago levels for volume and spending.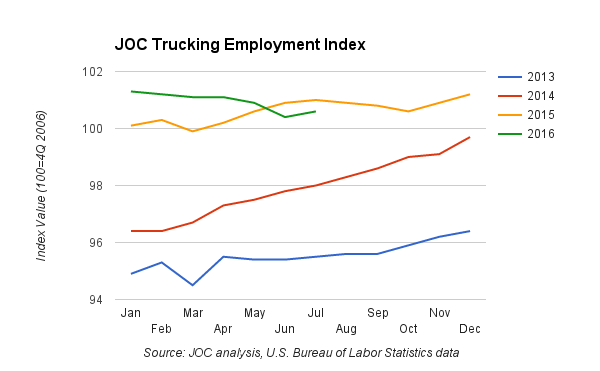 The BLS trucking employment numbers for July were down year-over-year for the second month for the first time since 2010, falling 0.4 percent. Trucking employment hit a post-recession peak in 2015, with the monthly BLS trucking job numbers peaking in January this year.
The decrease in trucking employment for five straight months in the first half of 2016 coincided with a widespread drop in freight demand and trucking rates that was evident in the truckload spot market and in the earnings reports of publicly owned trucking companies.
Truckload spot market capacity got a bit tighter in June, and pricing climbed higher, as a seasonal increase in freight volumes, coupled with the produce season and a nationwide roadside truck inspection program, filled more trailers. Truckload spot rates are still rising in July, though they remain below levels from a year ago, according to data from DAT Solutions.
The number of available loads on the spot market rose 3.5 percent in the last week of July. Excluding fuel surcharges, the monthly average van spot rate rose from $1.41 to $1.43 per mile. That's unusual in that June typically experiences stronger demand than July, DAT Solutions said.
The load-matching company also noted a 5 percent drop in the number of dry van tractor-trailers posted to its load board in late July, although the number of shipments posted rose 6 percent. That's evidence capacity tightened, from preceding months if not year-over-year.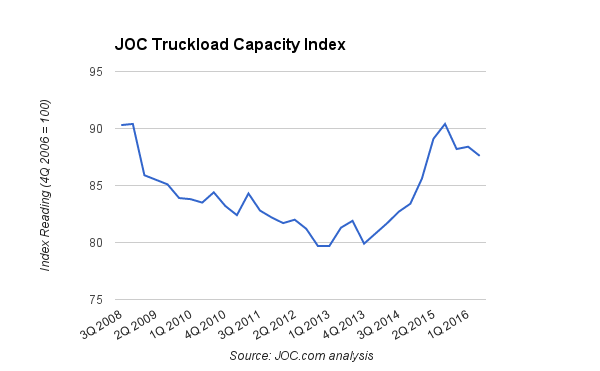 Weak freight demand, in part attributed to high inventories, has kept truck capacity loose and reversed strong price increases of the past few years. Trucking companies, especially larger ones such as Swift Transportation and Landstar Systems, are actively suppressing capacity.
The JOC Truckload Capacity Index dropped from 88.4 in the first quarter of 2016 to 87.6 in the second quarter, and was down from an eight-year peak of 90.4 in the third quarter of 2015. That indicates large carriers are pulling back capacity, though it's harder to cut capacity than to build it.
More freight to haul, however, means more drivers are needed behind the wheel. The JOC For-Hire Trucking Employment Index rose from a revised 100.5 in June to a preliminary reading of 100.6 last month, still lower than its 100.9 reading in July 2015, but moving higher again.
The index shows that although trucking employment has declined since 2015, it is still slightly above its pre-recession peak. The index is based on fourth quarter 2006 trucking employment data. The fact that the index remains so close to its all-time high indicates the bottom isn't dropping out of the trucking market, but that growth has been blocked by weak demand.
Continued improvement in the U.S. economy could put trucking employment numbers back on a growth track, especially as the peak pre-holiday shipping season approaches this fall. Trucking employment increased from July to August in five of the last six years of economic recovery.
The U.S. economy created 255,000 jobs in July, a higher number than expected, keeping the unemployment rate at 4.9 percent. Stock market indices have hit record highs, and the Nielsen consumer confidence index for the U.S. climbed three points in July.
Those indicators raise hopes that the gap between the freight economy and the overall U.S. economy is finally closing after a long "correction" from an overheated 2014. That may depend on whether and when consumers shift spending from services to purchasing goods, driving more freight shipping and reducing the large inventories hanging over retailers and their suppliers.
Contact William B. Cassidy at bill.cassidy@ihsmarkit.com and follow him on Twitter: @wbcassidy_joc.