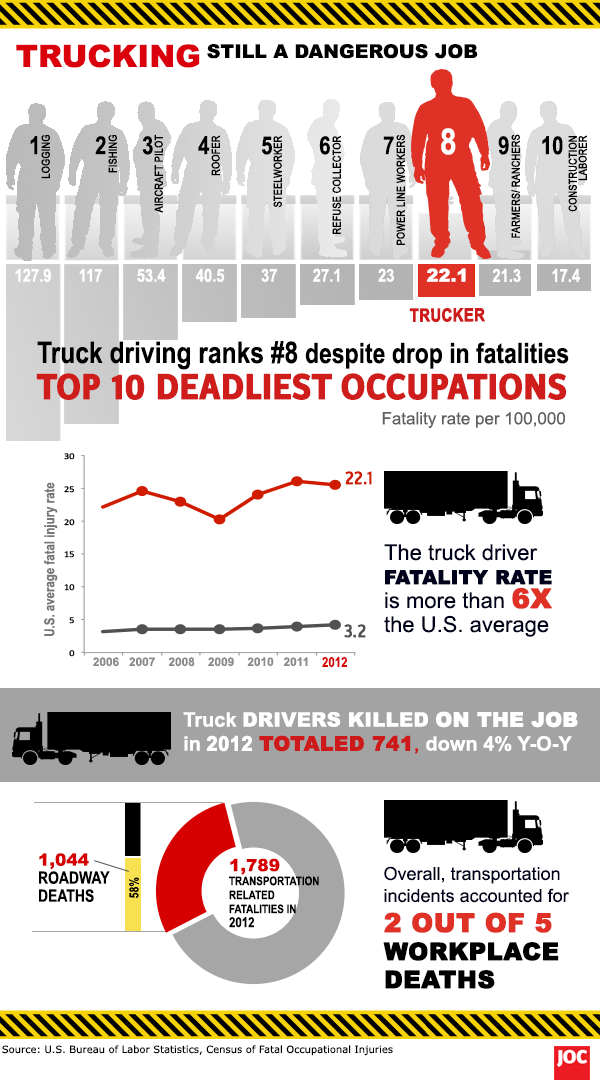 Truck driving is the eighth most dangerous occupation in the U.S., based on fatality rates per 100,000 workers.
Truck drivers had a 22.1 fatality rate in 2012, according to preliminary data from the Bureau of Labor Statistics.
That compares with workplace fatality rates of 127.9 for lumberjacks, 117 for fishers and 53.4 for aircraft pilots.
Roofers, structural iron and steel works, refuse collectors and power line workers also had higher fatality rates.
Truck drivers were followed by farmers and construction laborers, though construction-related deaths climbed 5 percent in 2012.
Truck drivers have a workplace fatality rate six times higher than the U.S. average of 3.2, according to the BLS data.
The number of truck drivers killed on the job dropped 4 percent in 2012, but that toll was still high — 741 people.
The total number of U.S. workplace fatalities dropped 6 percent in 2012 to 4,383 — the second lowest number since 1992.
Overall, trucking accounted for 10 percent of workplace fatalities. Construction accounted for 18 percent.
For all workers, transportation was dangerous. Transportation incidents accounted for two out of five workplace deaths in 2012.
Road accidents accounted for 24 percent of all on-the-job deaths last year — 1,044 fatalities, compared with 1,103 in 2011.
Contact William B. Cassidy at wcassidy@joc.com and follow him at twitter.com/wbcassidy_joc.