JOC Staff | Oct 24, 2018 2:45PM EDT
1:15 PM CDT update: Panel "Reinventing the Truck" -  Will New Technologies Reshape the Truck and Shipping?
A new study released by IHS Markit this summer predicts diesel will be the dominant fuel for trucking for some time to come, but electric and natural gas-powered trucks will come down in price and gain market share. Just how much market share depends on the regulatory environment and shipper desire to reduce carbon emissions to meet sustainability goals.
Daniel Evans, vice president and head of global refining and market research for IHS Markit, shared the results of Reinventing the Truck, a multi-discipline study examining the future of alternative power trains and diesel fuel in trucking, with JOC Inland. How trucking will source its power in the future is a key concern of oil companies and the energy sector, he said.
"Two topics dominating discussions with our energy customers,"  Evans said, "the change in marine fuel standards in 2020, and the future of oil in transportation. Oil has enjoyed a monopoly and for the first time that monopoly is being challenged." Battery-powered commercial trucks will make inroads in global markets over the next 20 years, he said.
"Trucking accounts for half of diesel demand globally, or one-sixth of oil demand, making the future of trucking critically important for the oil industry," said Daniel Evans, vice president of downstream practice at IHS Markit. In the Reinventing the Truck study's "base case" scenario, change is slow and diesel is "resistant" to disruption by electrification, Evans said.
***
"Battery vehicles aren't going to solve everybody's problem immediately," said Giordano Sordoni, co-founder and COO of Thor Trucks, which he described as a trucking "technology lab" producing a variety of battery-powered vehicles. "Anything travelling under 250 miles, working in a stop and go environment, that's a sweet spot for us. Regional trucking, local drayage."
Bill Bliem, senior vice president, fleet services at NFI Industries, and Chris Nordh, senior director, advanced vehicle technology and energy products for Ryder System, both saw compressed natural gas trucks as a transitional step from diesel to electric. "The technology is there," Bliem said. The question is, will the total cost of ownership eventually match diesel?
***
The adoption of electric commercial vehicles speeds up under an alternative scenario that IHS Markit labeled "autonomy." In that scenario, government policy helps drive faster and broader adoption of electric trucks by penalizing diesel operators. Autonomous trucks also could play a role driving acceptance of electric powertrains, if we can overcome hurdles to autonomy.
"Driverless trucks are coming," Evans said. "Take the driver out of the equation, and you take 50 to 70 percent of cost out and increase utilization." But even if the technology is close to being ready, society and government policy are miles behind. True autonomous trucks are most likely to be seen in closed-loop operations, such as hostlers at port terminals, Bliem said.
***
When asked whether the goal of electrification was to save money or reduce emissions, Bliem said the answer was "yes," but the ultimate goal is to satisfy the desires of shipper customers who want their transportation providers to help them meet increasingly stringent sustainability goals. "This is what the customer wants us to do, and that's why we're doing it."
12:15 p.m. CDT update:

The JOC Inland Innovation Jam wraps up. This has been a fascinating competition — seven technology firms presenting solutions to shipper judges or "adjudicators." Great questions from the judges, Joseph Delussey of Target Stores and Brian Reed of Geodis. Thoughtful and exciting presentations from all.
The winner is: Matchback Systems.
**

11:55 a.m CDT update: 
Daniel, Serewicz, co-founder, Doc411:

"We developed an app to help truck drivers find out information about their stops before they made them. We work with shippers to put information in for drivers to find. They can give the shipper a 1- to 5-star rating before they leave the dock. You can see how you're own facilities are doing." 
Joseph Delussey, Target Stores: (one of the Innovation Jam's judges): "My reputation as a shipper is now in the hands of drivers who generally don't take the time to thank me for being great. They're going to put things up when they're unhappy. How do I manage that with the ways you filter drivers who complain all the time, or I change my behavior?"
Serewicz: "There are reviews out there that sometimes aren't friendly as you'd like them to be. We don't take them down, but we allow the shipper to respond back to some of those situations and we work with them to try to make that better, to show what they've changed."
**


11:40 a.m. CDT update:
The bell rings to start the second round of the "Innovation Jam" -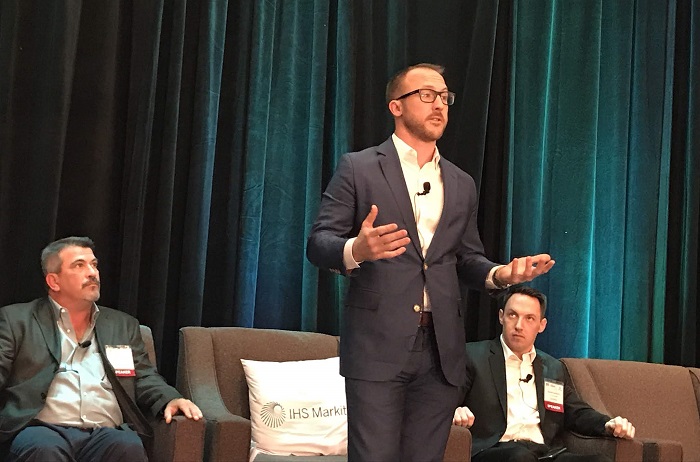 Brad Hollister, CEO, SwanLeap:
"There's a lot of good ideas out there, a lot of people really thinking. Why isn't innovation hitting mainstream?"
Innovation in our industry will happen when we fix the infrastructure. And the infrastructure can't be fixed given the state of technology today. We don't even have 'I' in our industry today let alone 'AI.'"
**
11:15 a.m. CDT update:

Bell rings to start second round of the "Innovation Jam." Jim Endres, general manager of Paragon Software Systems is first before the judges.
**

 10:55 a.m. CDT update:
"Innovation Jam"
Phillip Marlowe, founder and president of Acuitive Solutions, is next at bat. Discussing container management and auditing container fees. "You have to know the story of the container to know whether fees should be applied or should be considered for an audit in the first place."
"People are acutely aware of the cost of chassis. Capacity shortages are driving things higher. In the Charleston market this past winter you couldn't find a chassis anywhere. ELD is changing the perception of how people make certain moves. If you're taking a container from Savannah to Alabama, it's not a slam dunk that driver can pick up and deliver in the same day."
"Our solution is an automated prepayment freight audit platform for dray, based on our ocean platform, which we've had since 2006. In 2014, our largest customer, Home Depot, said we need help. We don't want to do this prepayment dray audit manually any longer. It's costing us too much time and money."
10:45 a.m. CDT update:

Now up at the "Innovation Jam" - Lanehub.
(Note: the "Innovation Jam" 'Judges' are - Brian Reed, Laguna Consulting; and Joseph Delussey, Target Stores.)
"Lanehub is a collaborative transportation network. Most shippers source truckload capacity by looking only at their own network without considering the impact others shipper's networks have on the service and capacity available to them, resulting in poor asset utilization and higher costs. "We're not the Tinder of transportation, but the eharmony, or lane harmony if you will."  — Chandler Hall, executive vice president and COO of Lanehub.
"We've had about 100 shippers load shipments on 80,000 lanes that represents $14 billion in truckload spend. A lot of shippers talk about being a shipper of choice, but we believe these shippers are really doing that by helping their carriers find backhaul freight." — Chandler Hall, Lanehub.
Delussey: You mention you're the eharmony not the Tinder of transportation. What are the attributes you define to create valuable lane pairings?
Hall: "We start a little differently. While changing your eharmony attributes might incur expensive surgery, changing transportation can be done more quickly. We try not to put to many in place early in the process. We want to cast a wide net at first to not exclude possibilities."
"Transportation is not going to stop changing. We believe we offer a nimble alternative to help shippers quickly find carriers find alternative backhauls so they don't have to pay a higher rate."
**

10:25 a.m. CDT update:  
"Innovation Jam" -

Shipper judge Brian Reed: "How do you differentiate yourselves?"
Gollapalli: "The biggest differentiator is we're not an Uber. We're not trying to disrupt other players, but to add value to the supply chain. We focus on the most fragmented side of the supply chain, the small carriers and owner operators, by bringing them on a platform that helps them improve their utilization. That's the key to our success so far.
We started out with a mobile app for independent operations and small carriers. We have close to 550,000 drivers now on our platform. That drives the data and helps us separate ourselves from everyone else."
Delussey: "One of my struggles is getting drivers to do the little things that matter. I struggle to get a driver to run the same trip every day and use his ELD to tell me where he is. How do you get compliance at a high level? 70 percent of the drivers being onboard is not enough.
"We built an app that's hands-free, that uses the GPS data from the phone, and we're not dependent on the driver to do this. When you depend on the driver to open the app, give you permissions, the more manual intervention, the more hurdles you have to jump. By default we assume that drivers won't do anything with the app and it has to work seamlessly, automatically. We also believe digital one size fits all. We work with small and large carriers, and we give them the option to share ELD data, as well as information from the smartphone. Each carrier is different."
**
10:10 a.m. CDT update:
Next up at Innovation Jam — Prasad Gollapalli, founder and CEO of Trucker Tools. He's presenting his Smart Capacity platform to the shipper judges and audience at #JOCInland2018.
"What is Smart Capacity? It's a platform that allows shippers to build carriers relations and secure capacity days in advance. We have built automated tools within the platform that help brokers or shippers reach out to a wide net of carriers based on their lane history. That results in finding capacity sooner and more efficiently. By bringing in truck information days in advance we're helping shippers and brokers move their freight and reduce costs. When a driver picks up a load, we track the freight using the GPS on a driver's smartphone."
**

9:50 AM CDT update:
 Todd Ericksrud, executive vice president and COO of Matchback Systems, is first up in Innovation Jam:
"Each matchback saves $150-$400. Matchbacks are so compelling, why aren't they more mainstream? Shippers don't have all the pieces of the puzzle. There are big data gaps all over the industry. When they do find the needle in the haystack, they're doing it manually."
Matchback Systems matches up container capacity and export demand. System uses AI and algorithms to understand customer patterns and trends. Out of thousands of shipments or potential matchbacks, "we tell you which ones you need to spend time focused on."
 **
9:45 a.m. CDT update:

The first JOC Inland Innovation Jam gets underway, moderated by JOC Senior Editor Eric Johnson. The "big idea is not who wins, but putting innovative ideas in front of you."
**

9:25 a.m. CDT update:

KEYNOTE ADDRESS: THE DIGITAL IMPERATIVE
Jim Tompkins, CEO, Tompkins International:
"Disruption is the issue. When we're addressing what we're trying to accomplish in our jobs, it's critical we understand the digital imperative and the impact that has on the disruption cycle. When I think about the digital imperative, I see us in a new era. We had the agricutlural era, the manufacturing era, and then the tech era, and now the digital era, where ther eare new products, services and business models invented every day.
We need to move beyond continuous improvement and get into the innovation thought process to have supply chains in sync with supply chains.
What is the disruption cycle? It starts with the S curve, which is about the acceptance of technology. Then there's the hockey stick curve, the impact on revenue brought about by innovation. It starts by dipping down, and when it comes out of the negative stick, investment turns to prosperity. We have the business cycle, the ebbs and flows of growth and decline."
9 a.m. CDT update:
KEYNOTE ADDRESS: THE DIGITAL IMPERATIVE
Jim Tompkins, CEO, Tompkins International:
Supply chain authority Jim Tompkins of Tompkins International is discussing why adapting digital technology, riding the "disruption" cycle is an imperative, not an option.
"Transformation isn't enough because we're traveling so quickly around the business cycle we find ourselves out of step. We don't have the choice of just doing our job well and 10 years from now still existing.
My mom and dad taught me success breeds success. That's not true. Success breeds failure. You're successful until you decline. You need to plan from peak to peak."
Why does success breed failure? Because we resist the new. If you resist the digital imperative, you breed failure.
The big guys live in denial. They say they'll exceed last year's performance by doing everything exactly the same as they did before the disruption. Rest in peace."
TUESDAY , OCT. 22, 2018: 
5:30 p.m. CDT update: 
Shippers face many of the same logistical challenges across US inland markets, with issues of driver, tractor-trailer and chassis availability and rising costs leading the way, but their problems do vary by region as well. A series of Inland Market Think Tanks that focused on specific regional markets gave them the opportunity to share those challenges with their peers and transportation providers, discuss potential solutions, and, when necessary, vent some steam.  
ATLANTA: Labor costs
 "We're all doing more with less," said Joseph Delussey, logistics director for Target Stores, who helped steer the Atlanta Think Tank. "In the Southeast in general, we're dealing with wage pressures. In some places, we're seeing people paid $52,000 a year to drive a forklift." Locating the necessary labor, especially drayage drivers, near freight locations is a problem everywhere, but especially in rural areas with dispersed populations, such as much of the Southeast.
-- 
LEHIGH VALLEY: Labor scarcity
Shippers and carriers in the Lehigh Valley area — a critical hub for freight moving between the Northeast, Midwest and Mid-Atlantic states — have similar problems. The region's distribution footprint is growing, with more than 400 million square feet of warehouse space built in recent years, but finding labor and capacity is increasingly tough, said James Osborne, manager of logistics and process improvement for Hanover Foods, based in Hanover, Pennsylvania.
"Truck parking is a major problem — there aren't enough truckstops on the (Pennsylvania) turnpike," Osborne said. That's especially problematic as Pennsylvania employs the fourth-largest number of truck drivers of any state in the US —  80,810 in 2017, according to the US Bureau of Labor Statistics. I-76, I-80 and I-81 are vital truck routes through the region. The question from shipper: Will carriers pay drivers to relocate closer to freight hubs?
-- 
CHICAGO: ELD, Reliable service
The electronic logging device (ELD) mandate has had a national impact, but regionally, it's effect has varied, especially its effect on drayage. While the "ELD effect" helped put a chokehold on drays from Chicago to markets such as Detroit last year, it had little impact on drayage in Southern California, said Jason Hilsenbeck, president of Chicago-based Drayage.com. In Los Angeles-Long Beach, many dray operators can operate in a 100-mile radius, he said.
"A major problem in Chicago is consistency and reliability of service," said Andrew Nutting, an independent consultant  who helped steer one of two Chicago Think Tanks at JOC Inland. "The availability of chassis is certainly a constraint," he said. So is congestion. Chicago-area drivers spend an estimated 57 hours a year stuck in traffic, according to a recent report from analytics company INRIX. Chicago is the eighth-most congested city in the US, INRIX said.
- - 
MEMPHIS: Chassis splits
Chassis are a problem everywhere. "Logistics in Memphis came to a screeching halt in February 2018," said Donna Lemm, executive vice president of sales for drayage carrier IMC and a leader of the Memphis Think Tank. "You can blame the ELD or the weather, but the single biggest problem is chassis, and especially chassis splits," which occur dray drivers arrive at a rail ramp to pick up a container and are told to go to across town to get a specific chassis.
"A possible solution to this would be a single gray pool (of chassis)," Lemm said. "This is costing us drivers."
**
4:05 p.m. CDT update: 
From the conference's "Trucking in the ELD Era" panel….
Jeff Tucker, CEO, Tucker Company Worldwide, on pricing:
"Our market is a living breathing market, as alive as the stock market. I challenge shippers and other folks to be thinking about pricing, as long as we continue in this economic condition and with the data we have. We have spot market pricing, contract pricing, and dedicated pricing. Challenge yourself to think about this. Dedicated might be the only thing left that's not, on some spectrum, a spot [price]. When you hear about three price increases in one year by three carriers, you've got to be thinking that you might be playing the market. Now we are hearing about freight futures coming in to the market. In terms of what you are selling in the market place, it might be more alive than we've had before."
**
1:55 p.m. CDT update:

Jason Hilsenbeck, CEO of Drayage.com:
"Data shows that the impact of the ELD [electronic logging device] was most severe in certain key markets such as Chicago, where Detroit suddenly was out of reach of legal driving hours, or Atlanta, where because of time spent in port to pull containers, making the drive to Atlanta became impossible within hours of service. But other markets, such as Memphis, were less impacted, as the drive time to key markets fed by Memphis, such as Nashville, Tennessee, or Jackson, Mississippi, stayed within the legal hours of service."
**
12:30 p.m. CDT update:

On obstacles to collaboration between carriers and shippers:

John Janson, director of global logistics, SanMar:

"Money is an obstacle. Collaboration is great until you get to point of last several months, certain amount of contracts I have to keep on an etch a sketch. Rates are changing constantly. I know we have a contract , but you need to pay this much more if you really want to move that load. Those things drive a wedge in the relationship."

Ed Burns, president, Burns Logistics Solution:
 
"Anytime I bring a new piece of business to the carrier – they want to know what does it pay and how does it operate?
 
How does the freight operate – the more we peel back this is what it is at origin and this is what it is at destination and this is why it pays what it does – if everyone is in harmony and not beating each other up, that's the collaboration.

We worked hard to become transparent to carriers and key suppliers. Where is it, where is it going, key characteristics. Capacity demand model has changed so much. Used to be taxi cab model – just hop in and tell them where to go. That's not the case anymore.
 
Another way to look at it is sharing risk. We don't know when the next downturn is. We're prepared to shoulder that risk if the marketplace goes higher or goes soft. Looking at long-term contract."
 
--

On the challenges of collaboration:
 
Rachal Snider, vice president, customer supply chain, AFN Logistics:
 
"If the carrier has the ability to be choosy and pricing is tough, and customer wants more and more, the only way shippers will be able to execute to the level demanded is to be 100 percent transparent with providers. No gaps, nothing hidden." She said that data sharing is a major hurdle, as customers view it was a competitive advantage or a core competency, but once you build the trust that the data is secure, people are more open to share things like their total spend and their shipping playbook.
**

11:45 a.m. CDT update:

Craig Callahan, Werner Enterprises, on multimodal collaboration:

"We work hand-in-hand with key LTL companies. Generally big and heavy freight doesn't move through LTL all that efficiently. We've deployed a final-mile solution where big and heavy orders come out of the LTL network and we provide a final-mile solution for those guys, because we can provide a platform for freight that they can't handle as efficiently."
Andrew Fuller, Canadian National, on the need for multimodal collaboration:

"Every day we are looking at shared measures to find the best ways for the port to operate and the railroad to operate. We're expanding that to customers on the grain side, we've done projects with customers like Lowe's and Walmart to help them load (more efficiently)."
10:55 a.m. CDT update:


Matthew Gordon of Anheuser-Busch InBev on digital brokerage:

"In terms of digital brokers, we have seen some success working with the Convoy and Uber-type models in matching some of the fragmented capacity out there with the demand side. Rates, especially with all the volatility now, are quickly outdated. Rates that were good a month or a week ago are often outdated and we have trouble getting freight covered." Using the pricing systems offered by the digital brokers helps mitigate that problem. In addition, "With the data from the digital brokers, we're able to garner insights into why the rate is up and why we needed to tender the load three days earlier. We're better prepared to take tactical action." Digital brokerage is "not the answer to everything, but it's a way to tap into capacity that might otherwise not be available."

Overall, Anheuser-Busch has had to bring more brokers on board, this year, "but we're pretty much at a limit as to what we can support, because of congestion and not being able to keep things turning in a productive and efficient way," Gordon said. "There are times we'll have inventory backed up and could shut a line down because we can't load someone. The more we can do to harmonize trailer pools, that's a big opportunity. Uber's Powerloop program is a first step in that connection. I'll be excited to see how that evolves over the next year."
Gordon on volume:
"Volumes have been 'flattish' for Anheuser-Busch, but its supply chain is rapidly becoming more complex. We see a massive increase in complexity. There's growth in craft [beer], in addition to traditional shipments of Budweiser and Bud Light. Trying to deal with complexity with external pressures is a fun problem to go after, but technology is the solution in both cases.

There's more data available than ever. Working with carriers to get insights into what are the chinks in the armor that we as a shipper can work with on a tactical level … when you can leverage data and turn it into insights you can put a tactical action plan together," he said, noting that consolidating volume or going to dedicated volume is not a silver bullet, and "it takes a lot of different approaches to move the needle in a significant way."
Gordon on being a shipper of choice:

"I think it means different things to different people. The meaning has evolved over time. To me it means a shipper who can help keep drivers moving and handle their problems in a productive way. We invested 18 million back into our domestic supply chain with two new DCs to make sure we had the right inventory in the right pace and generate consistent volume. … Create more stable volumes, reduce turn times. A lot of times where we get in trouble is one-off loads, where the larger carriers are unable to work with us."
**
10:55 a.m. CDT update:
Al Toliver, chief logistics officer, Redwood Logistics:
"People are looking for a more stable environment. We saw a lot of turmoil with our shippers. A lot did not plan appropriately and are significantly over-budget. They are looking to 2019. We are now looking at cost containment. It's tough from a pure containment perspective, and now the question is how can we do things different. 
You have to listen to your customers these days because they're the ones who will tell you where your business is going. You can't just point it in the direction you want to go."
We saw a lot of tightness in flatbed. We had customers paying drivers even if the freight wasn't ready just to keep that driver for that load." 
--
"After a real slow 2016, we saw a significant rebound in demand across CN's customer groupings in 2017, its continuing in 2018, and we are quite bullish for 2019 as well. What we've seen is double digit growth in coal, frac sands...Intermodal volumes up about 20 percent over the last few years.
Our biggest source of growth on the intermodal side has been transborder, especially transborder east. That's grown 20 to 30 percent this year alone. On the Western side, we have to do all that building. We'll do construction in western Canada in 2019 as well.
I've been with CN 25 years, and I've never seen so much spending before. We are investing around $3 billion. 
We have three training shifts night and day to make sure we have the crews in place for this quarter and next year as well.
That includes 11 sidings, 360 locomotives, 2,500 crews."
**
10:25 a.m. CDT update:
View from the Top: A discussion with industry leaders -   
Craig Callaghan, executive vice president and chief commercial officer, Werner Enterprises:
"In the transportation space for us, it starts and end with labor. There's not a shortage of truck drivers, there's just a shortage of really good ones."
"Rates are on the move. That's going to have to continue to happen. Our guidance for rates this year was to be up 9 percent to 11 percent year over year, we'll hit the higher end of that. We're spending all that money in the form of higher driver wages and capex to buy new tractors."
--
Matthew Gordon, director of transportation engineering, Anheuser-Busch InBev:
"How can we get the most out of our labor? How can we extract more value? Uncertainty in price, looking at spot, we need to do a better job of keeping drivers moving. I think technology is a big part of that. 
If drivers are losing time loading, or driving through a metro area, we can work on that and keep the mouse trap moving."
--
Dr. Noel Hacegaba, deputy executive director/COO, Port of Long Beach, California:
"We're ground zero. Our challenge is how do we handle cargo in an era of consolidation. What's important to us is to be able to optimize operations on the ground so our partners can be more efficient and drive velocity. … We will leverage the technologies that are emerging."
**
9:55 a.m. CDT update:
"For the first time in many many months, trailer growth went negative year over year, citing most recent AAR data.
There is as seaonsality to this east vs west situation. East usually has its best share in Q1, West Coast has its best in peak season. 
"No growth in revenue despite the growth in the container fleet, because of the decline in velocity, which has offset the larger fleet. This led to a tension (as truck capacity tightened) and 53' containers filled the gap." 
**
9:30 a.m. CDT update:
Lee Klaskow Senior Analyst, Transportation & Logistics, Bloomberg Intelligence: 
"We're extremely bullish on the freight markets. Low unemployment - will benefit transportation companies. Expectations were to grow revenue almost 18% in '18. Expected 8% in '19. Integrated LSPs (FedEx and UPS) , LTL carriers and railroads are all strong.
People think that we have peaked in trucking rates. We don't think that we have peaked yet. We think we will peak in 2020.
When we talk to trucking companies, small companies, large companies, they are still getting those high single-digit contract increases.
The contract market is 90 percent of the market, spot market is only around 10 percent.
The biggest issue [trucking] carriers face is wage inflation.
Railroads only mode outperforming the S&P. This tells me market believes we've past the peak. We believe from the fundamentals of freight is that market remains tight through 2019 and pricing power remains."
**
9:15 a.m. CDT update:

Daniel Hackett, Hackett Associates:

"Back to school and holiday shopping creating "double peak." Some retailers see back to school as a bigger peak than holiday. But peaks have become flatter than they used to be. 8 out of last 10 years, August has been the peak season."

There is a shift from the West Coast to the East Coast and a little bit to Gulf Coast. Prince Rupert is only West Coast port to increase import market share.

On the East Coast - NY/NJ and Savannah gained import market share.

Trade partners - Despite all talk of tariffs, imports from China increased by around 5 percent, about on par with Southeast Asia. Growth slowed down '17 to '18 compared to '16 to '17 but it's still there."
**

9 a.m. CDT update:
Chris Christopher, IHS Markit:
"Growth will be decent this year. Chinese economy slowing down, going through transformation. Europe doing okay, but not handling the oil prices well. Issues in Italy and Spain, an no-deal Brexit. Stronger euro having downward pressure on exports.
Japan not seeing GDP growth rate of more than 1% anytime soon. Exposure to trade protectionism. Overwhelming thing to notice in our forecasts - until 2000, the global economy driven by advanced economies. China and India drove globalization and parity between advanced and emerging economies. We live in a more integrated world - the idea of decoupling were put to bed.
The US economy doing well, but there are waning effects of fiscal stimulus.
Take US monetary policy, which is most aggressive - expects fed rate to be 3.75% by 1H2020. Then Bank of Canada and England raising rates less aggressively. Then Japan and Central Eurozone bank aren't raising rates, but will eventually have to in 2019. Don't have liquidity.
This divergence causing turmoil in emerging markets. Those companies that have debt in dollars have a harder time paying those debts off.
Trade policy uncertainty compelled retailers, wholesalers and to lesser extent manufacturers to front load cargo flows into US.
Increases price of durable goods and some of the consumer and intermediate goods take the strongest hit from tariffs. Real disposable income takes a longer hit than GDP.
Don't think Fed will react to the impact of tariffs - they realize this is a temporary thing.
Clothing will take a hard hit."
TUESDAY, OCT. 22, 2018: JOC INLAND DISTRIBUTION CONFERENCE
8:30 a.m. CDT update:
The JOC Inland Distribution Conference (JOC Inland for short and #JOCInland2018) is getting under way. This year JOC Inland brings nearly 400 shippers, carriers, logistics providers, and technology developers to Oak Brook, Illinois, for two full days of discussion, education, and problem solving.
After a year of strong US and global economic growth, surging freight demand, and skyrocketing transportation rates, everyone is looking for solutions to supply-chain disconnects and disruption and nervously watching the horizon, as new US tariffs on Chinese goods threaten to further change import patterns and inland deliveries.
The conference kicks off with a detailed look at the North American Freight Market Outlook. This blog will provide an up-to-date report on the conference, including quotes, observations, ideas, and perspectives from participants. Check back regularly for updates, which will be logged by date and time. — Bill Cassidy, senior editor, JOC.com, co-chair, #JOCInland2018.
**