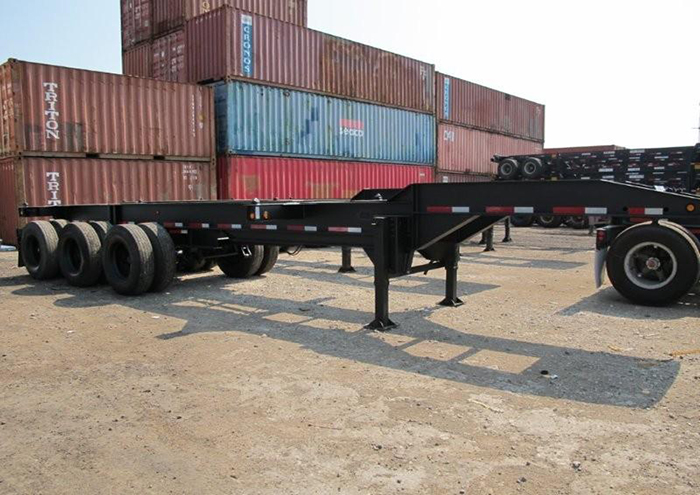 International Longshoremen's Association leader Dennis Daggett said the ILA isn't to blame for delays in launching a universal port chassis pool at the Port of New York and New Jersey, and that intermodal equipment providers don't seem committed to the idea.
"I don't believe the IEPs, and TRAC in particular, are sincere about wanting a pool," said Daggett; the ILA's international executive vice president and head of Local 1804-1, which represents more than 1,600 mechanics in the port area.
Discussions have been under way for two years to combine equipment providers' three competing pools into a single "gray" pool that would allow truckers to freely use any of the 30,000 chassis in the East Coast's largest port.
Those efforts have stalled over equipment providers' refusal to sign a contract committing them to honor ILA jurisdiction over chassis maintenance and repair. Though meetings continue, no progress has been reported in months.
"The problem is not the ILA," Daggett told JOC.com. He questioned whether TRAC Intermodal, which controls two-thirds of the port's chassis through its regional Metro Pool, wants to put its chassis in a port-wide pool that its competitors would share.
He also noted that DCLI, a distant second to TRAC in size at the port, has exclusive agreements to provide chassis for 2M Alliance partners Maersk Line and Mediterranean Shipping Co.
Keith Lovetro, CEO of TRAC, and Bill Shea, CEO at DCLI, could not be reached for response Friday.
The third major lessor is Flexi-Van Leasing, with about 4,000 chassis in the port. Unlike the TRAC and DCLI, Flexi-Van directly employs ILA labor at its off-dock repair and refurbishment center through a contract with Local 1804-1.
Daggett said the ILA has always supported a gray pool as a way to improve port efficiency and reduce delays for trucks. Because the existing pools don't share equipment, truckers often must make unproductive trips to switch chassis between hauls for different customers.
But while the ILA is committed to a gray pool, the union wants an "ironclad guarantee" that preserves the union's decades-old jurisdiction over chassis maintenance and repair in East and Gulf coast port areas.
M&R jurisdiction has been a top concern of the ILA since container lines, which are signatories to the union's coastwide contract, began transferring their chassis to leasing companies about six years ago in a cost-cutting move.
The lessors are not contract signatories, but have pledged to respect ILA jurisdiction. Daggett said the ILA wants that pledge put into an enforceable contract covering port areas coastwide.
Daggett said TRAC and DCLI have used non-union labor for chassis M&R in port areas, creating "major trust issues." He said TRAC has opened non-ILA repair centers at Houston and Jacksonville. "In Jacksonville, we caught them taking chassis out of Savannah to be maintained and repaired by non-ILA workers," he said.
Though the ILA isn't demanding that lessors become joint employers under the union's coastwide master contract, the New York-New Jersey jurisdictional issue has implications for exploratory talks to extend the ILA's coastwide contract past its Sept. 30, 2018 extension.
Daggett said ocean carriers have stood by while ILA's M&R jurisdiction has been threatened. "The carriers haven't stepped up to the plate," he said. "If baffles me that they want to talk about an extension when they can't live up to the terms of the current contract."
The ILA is preparing to seek damages or fines from carriers it believes have violated contract provisions with the sale or transfer of their chassis, Daggett said.
He said the ILA is seeking an agreement, separate from the master contract, that requires the lessors to respect ILA jurisdiction in port areas where the union historically has operated. He said the ILA isn't seeking to use such an agreement to expand inland.
"What we want is something that is legally enforceable and that secures the jurisdiction we have had in our historic port areas since Day 1," Daggett said. "I hope we can get that labor agreement and put it in a file cabinet and let it collect dust, and that we can all move forward."
Contact Joseph Bonney at joseph.bonney@ihs.com and follow him on Twitter: @JosephBonney.