By William B. Cassidy, Hugh Morley and Bill Mongelluzzo | Apr 03, 2017 4:23PM EDT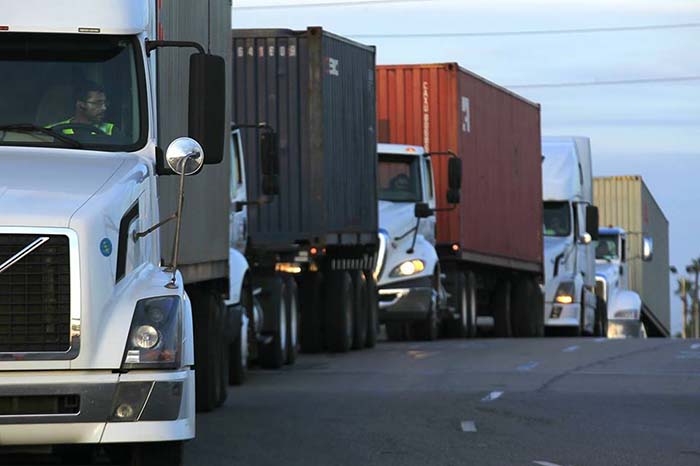 Shippers already concerned by the potential for rising US truckload and intermodal pricing this year have another front to worry about — drayage.
The electronic logging mandate for commercial truck drivers that takes effect in December is expected to drive up drayage costs, as available driver hours collide with mounting delays at US ports and rail yards. Those delays are costly now, but they could become even more costly after Dec. 18, when the mandate takes effect. Everyone from motor carrier executives to drivers worries the rule will have a big, unexpected impact on drayage.
Shippers moving international and domestic intermodal containers should be worried, too, as the final rule mandating the use of electronic logging devices or ELDs in place of paper logs could cut into drayage capacity in more than one way, pushing up rates.
The ELD requirement will compound current problems drayage operators face when searching for chassis, or waiting at terminal gates. ELDs and tighter regulatory enforcement of driver hours rules will run smack into terminal congestion made worse by the "bunching" of containers accompanying port calls by larger and larger ships.
"Those delays could be the difference between a $100 and a $400 rate," Jason Hilsenbeck, president of Drayage.com and LoadMatch, an intermodal directory and container matching service based in the Chicago area, said. "A lot depends on how ELDs are enforced."
As in the over-the-road truckload sector, an unknown number of drayage drivers are expected to hang up their keys and seek other driving work if the unyielding precision of an ELD means they are unable to "squeeze out" the turns they need.
The ELD requirement won't just affect the habitual scofflaws who run hot and long because it's the only way they know how to make money. With an ELD, there's no flexibility for truckers running 15 minutes over their daily 11-hour driving limit thanks to unexpected delays.
Those drivers may simply not be able to do the number of turns at port terminals or rail yards they're accustomed to handling each day. That may make it harder for them to stay in business, create demand for additional capacity, and raise costs for shippers.
Transloading a response
More drayage operators may be forced to divide driver pools between local shuttle and long-haul operations to ensure they can get a container to its destination. And there will be fresh impetus to address long-term port congestion problems.
The advent of the ELD-era could accelerate a trend toward container transloading closer to the ports, a trend already noted in Southern California, where freight is flowing to domestic intermodal containers and 53-foot trailers.
"All these inefficiencies that have developed in this intermodal supply chain are going to come back and bite the industry in the tail because drivers won't have the effective hours they need to do their runs," Ken Kellaway, CEO of nationwide dray carrier RoadOne IntermodaLogistics, said.
Why won't those drivers have the hours they need? Because those hours will be measured with greater precision, and recorded digitally. Drivers won't be able to break the 11-hour driving/14-hour on-duty time rule and conceal violations in "fake" paper log books.
There's a reason many drivers refer to paper logs as "comic books." The overall number of high-volume hours-of-service violations by truck drivers declined in fiscal year 2016, dropping 13.7 percent, but violations issued to drivers for falsifying logs rose 9.6 percent to 36,818.
"There are a number of small operators who could wash out of the market, that's the first impact," said Tom Connery, president of New England Motor Freight (NEMF), a less-than-truckload (LTL) carrier with a growing drayage business at the Port of New York and New Jersey.
"Will smaller drayage companies meet the mandate? Are they going to invest in ELDs?" Connery asked. "I don't think anybody can say with certainty how much of a percentage of the drayage industry is going to feel the impact, but it's definitely going to be there."
"We have guys that say, 'I can't make money with ELDs, and those guys have sold their trucks," Rob Moshvin, Northeeast regional manager at ContainerPort Group in Newark, New Jersey, said. "We have terminated drivers, and they have gone elsewhere, if they refuse to go ELD."
In the heartland intermodal hub of Chicago, container haulers have plenty of questions. "Drayage drivers are asking whether they need to log delays at terminals as on-duty time," Hilsenbeck said. The answer, according to those familiar with the rules, is yes, they do.
Those hours waiting outside the gates or waiting for a container to be loaded onto a chassis could push drivers planning longer runs over the hours of service (HOS) limits, he said. Drivers that currently pencil in "off-duty" time while waiting won't be able to do that with an ELD.
Estimates vary widely as to how much container-hauling capacity will be lost either to drivers leaving drayage or to a reduction in productivity. "When I said we could lose up to 15 percent of drayage capacity at a port conference, people thought I was out of my mind," Kellaway said. "Certainly there are a lot of people who aren't complying with the HOS rules," he said.
The ELD mandate won't change the rules under which drivers do their jobs, but it will enhance the ability of authorities to see what is happening, and enforce the rules, Edisson Villacis, an independent drayage operator in the Port of New York and New Jersey, said.
"It is changing because before no one was looking," said Villacis, who runs the Port Driver Facebook page for dray truckers working the New York and New Jersey terminals. "Now everybody can look. There is no way to hide. That is how it is going to change."
He said about 85 percent of the drayage truckers he knows will adopt ELDs, but added that trucking companies will likely create two classes of drivers: those who drive without logs under what's known as the shorthaul HOS exemption, and those who keep logs.
Depending on the market, some dray operators will work under the federal short-haul exemption that allows them to avoid logging daily and weekly on- and off-duty time. Those drivers operate within a 100 air- or nautical-mile radius of their starting location, for up to 12 hours a day.
Increasingly, those drivers are likely to shuttle containers from a port terminal or rail yard to a nearby depot. From that point, the container and chassis would be picked up by a long-haul driver currently using a logbook or ELD for delivery outside the 100 air-mile radius.
That will make it more difficult for both drivers to make money, because the payment for taking a box will be divided between the two — the one who goes to the port and collects or drops off the container, and the second driver who picks it up, does the long distance and drops it off.
"What does that mean? It will drive costs up dramatically," Kellaway said. "You now have two drivers handling what used to be done by one, and there is an inefficiency that eats up capacity."
Despite the inefficiency, and higher costs, this type of solution will become more common if roads, rail yards, and ports become more congested and volumes remain unpredictable. Tight importer and retail delivery windows will clash with more precise management of driver hours.  
At Fox Intermodal, a Kenilworth, New Jersey, trucking company, Safety Manager Percy Smith said the impact of the ELD would be "minor" once the carrier adjusts to the situation, but would require changes. Changes almost always spell higher drayage costs for importers.
"When a driver gets stuck for three to four hours inside the pier, there is a chance he will run out of hours on the road," Smith said. To avoid that situation, Fox can charge customers to pre-pull containers, Smith said. "However, it becomes difficult to pre-pull when we are busy."
Hilsenbeck sees this happening in the Chicago area. "I know one drayage operator who runs containers out of Chicago to Detroit using a drop lot in southwest Michigan," he said. "The shuttle driver takes the box from Chicago to the drop lot, and the road driver picks it up."
That's become necessary, Hilsenbeck said, because "you can't count on running to Detroit and back in one day. I think next year at this time, dray rates for cities in the 70 to 90 mile range from the loading point and any distance that's four to five hours away will be affected," he said.
Hours-of-service gray zones
The Los Angeles-Long Beach port complex generates more than 30,000 truck moves each day, most to warehouses and rail yards within a 60-mile radius of the harbor. However, farther-out markets such as Las Vegas, San Diego, and Fresno generate an increasing number of hauls.
Shorthaul drayage truckers will be exempt from the ELD requirement if they are within that 100 air-mile radius of their headquarters, driving from Long Beach to Ontario, California, and other warehouse sites in Southern California's Inland Empire, and back, for instance.
However, importers are building distribution centers (DCs) in Phoenix and in Henderson, Nevada. More and more import containers from the ports of Los Angeles and Long Beach are being shipped directly to those more far-flung DCs for deconsolidation and transloading.
Fred Johring, president of Southern California drayage carrier Golden State Express and chairman of the Harbor Trucking Association, said many drivers like to vary their routine, remaining local on some days but opting for longer "get out of town" trips other days.
Those truckers will have to decide by December if they want to drive locally, or if they should buy ELDs in case they want to take longer assignments, Johring said. Drivers who make fewer than eight trips requiring a log in 30 days will still be able to use paper logs.
With ELDs, delays take on an added dimension. Truckers at the ports of Seattle and Tacoma may serve destinations farther than 100 miles away, such as the agricultural region of central Washington, Jim Tutton, vice president of the Washington Trucking Association, said.
However, even if the drayage trip is shorter than 100 air-miles, an unexpected event such as an excessive wait time at a Northwest Seaport Alliance marine terminal or snow delays in the Cascade Mountains could cause a driver to exceed the daily driving limit, Tutton said.   
The proliferation of distribution facilities, especially e-commerce fulfillment centers, on the rim of the 100 air-mile radius from many ports means short-haul exemption drivers increasingly have trouble keeping within the 12-hour start-to-finish time limit.
"If you go to eastern Pennsylvania, the number of DCs that have popped up to service the Northeast market has grown dramatically," said NEMF's Connery. "Go to Cranberry, New Jersey. Newburgh, New York, has big DCs that get a lot of cans," he said.
"In some cases, it's going to be hard to hit these areas [from the Port of New York and New Jersey]," he said. Runs to outlying DCs might look good on paper, but throw in a delay at the port or a customer, an accident that slows traffic, and hours can run out quickly."
"There are a lot more containers being drayed locally," in the Northeast, Connery said. "That's grown dramatically over the past five years, largely driven by the advent of online retail, by people who want to stock product close to the customer and offer next-day delivery."
Connery sees increased demand for deconsolidating containers at the port and moving freight inland by tractor-trailer, even within the 100 air-mile zone. "Transloading is definitely getting hotter, especially for companies putting up DCs around population centers," he said.
"They don't want to have to return the cans to New York from Pennsylvania or Ohio," said Connery. Those "cans" are almost always empty, he said. "We're transloading for customers as far away as Maine who used to dray containers all the way up to Maine from New Jersey."
It makes more sense for a retailer with a DC in Newburgh, for example, about 75 miles from Elizabeth, New Jersey, to transload near Newark than pay to move empty containers back down to the port, Connery said. Otherwise, "the importer is paying for a round trip."
NEMF is unusual, for an LTL company, in that it's based right at the docks in Port Elizabeth. "We have a 110-door facility in the port," he said. "We pick up a can around the corner, strip it, load the freight into a 53-foot LTL or truckload trailer, and move it on the next part of its journey."
As driver hours come under greater scrutiny in the ELD era, drayage carriers will have to significantly step up how they dispatch drivers and manage their assets in motion.
"They'll have to do what they should be doing, using technology to optimize the movement of freight and better utilize their assets," said Satish Jindel, president of transportation research firm SJ Consulting Group. Other types of carriers face the same problem, he said.
Productivity upsides?
The device some drivers view as the problem is also the potential solution. The ELD, when tied to a fleet management system, will feed dispatchers precise truck locations, estimated times of arrival, and hours remaining to drivers. The result over time: improved utilization.
RoadOne decided to provide its drivers, employees and owner-operators, with more than a digital log. "We developed an entire driver communications portal," Kellaway said.
RoadOne drivers can complete pre-trip vehicle inspections, log their miles, and accept and decline loads via the portal. That's attractive to the driver, Kellaway said.  
Employee drivers are required to use the device and portal. For owner-operators, who make up about 75 percent of RoadOne's drivers, it's an option. That's important to avoid running into worker classification issues, Kellaway said. "We give them incentive to use it."
All of that data helps RoadOne provide more detail on inbound shipments to customers, Kellaway pointed out. Even if shippers wind up paying higher drayage rates, they'll get better service, with the type of visibility they demand in other segments of the supply chain.
Kellaway believes the ELD mandate also may give ports, rail operators, drayage carriers, and shippers more incentive to finally come to grips with decades-old problems. "It's important we get more fluidity getting into and out of the terminals," he said.
"We're all operating in heavily congested areas with high traffic volumes. We have to be cognizant of lengths of haul. You may have to realign and optimize your network. The biggest challenge we run up against is the availability of chassis," he said.
If those problems aren't addressed, and drayage rates don't rise, good luck keeping drivers in the dray cab seat, he said.
"If the rates don't get adjusted, we'll lose these drivers. They'll go to other sectors of trucking." Many "final-mile" drivers "can make more money than drayage drivers," he said, without hours-of-service restrictions. "This will be one more nail in the coffin."