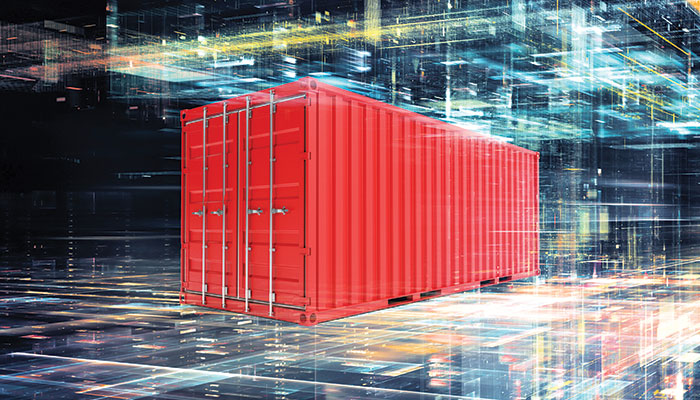 Two decades after the arrival of the internet sparked a wave of largely unsuccessful technology-fueled startups designed to cut costs or improve efficiency in container shipping, there is a sense that technology will propel the industry beyond incremental gains. 
The confluence of changing demographics, an industry stressed by physical and financial volatility, and the rise of cheaper and faster technology just as logistics providers and carriers are struggling to shake off dated processes and embrace digitalization has created an environment ripe for dramatic change. Armed with millions of dollars of venture capital, a wave of startups has emerged, offering products that variously promise to remove the kinks in the supply chain, improve efficiency, enable shippers to more easily track their cargo, and, ultimately, reduce cost. Major shipping companies are responding by beefing up their own capabilities, creating technology sister companies, or both. 
Not all industry analysts agree that a digital revolution, a significant jump forward, is at hand. Some see it as more of the latest stage in a slow evolution. How successful the new technology proponents will be is unclear, given the industry's past resistance to adopting technology, such as online booking marketplaces, and the continued use in some companies of paper, phone calls, and faxes. Yet there is a growing sense in the industry that change is coming.
"It has been slow to embrace it," said Mike Simon, principal consultant for New Jersey-based DefinedLogic, who has been watching technology startups since the late 1990s. "I sense that it is accelerating now, maybe fairly dramatically."
That could mean a major step for shippers in the form of a supply chain that is easier to negotiate, more reliable, and carries greater transparency and reduced costs. 
The tantalizing future these startups offer draws on technological developments such as artificial intelligence (AI), blockchain, WiFi connections, or big data analysis techniques in a bid to improve a variety of container shipping functions. In the technology-transformed world offered by the startups, shippers could make reservations through an online marketplace, such as Freightos and iContainer, and communicate and manage the shipment entirely through a digital portal. Large parts of the freight forwarding process could be done digitally by a company such as Flexport, and shippers could get the best price by tapping the vast database of contracts compiled by Xeneta, in the process getting more transparency in the largely opaque business of freight forwarder pricing.
Shippers and shipping companies could better forecast the progress of cargo through the supply chain using the services of ClearMetal and its AI techniques. Beneficial cargo owners (BCOs) would regularly track the location and movement of chassis with offerings such as American Intermodal Management's GPS-driven software.
Making that vision a reality would depend on the industry taking a different tack. In some ways, the technology surge echoes the frenetic activity of the dot-com boom of the late 1990s that looked set to reshape a variety of industries, including container shipping. The technology sparked the creation of GoCargo, an online exchange, and more than a dozen other online reverse auctions or marketplaces through which shippers could place cargo bookings.
Almost all of them failed or morphed into other products, and any industry transformation was modest. Instead, the technology has since penetrated the industry in fits and starts, with some advances — such as INTTRA's reservation technology created in 2000 — but no wholesale embrace, and a pace of acceptance that some observers say has been slow.
Ken Bloom, CEO of INTTRA for 13 years until 2013, said he believes some of the current technology upstarts could bring about a new wave of innovation. "I think there are these little breakthroughs, and then there is a long period of evolution," he said. "And we have just gone through a little period of breakthrough ... So there is another wave of these guys, and they have a new value proposition. It's ripe for innovation."
That wave forms the bulk of 95 of the most prominent — new and older — companies focused on providing technology to the shipping and logistics industry. The list of companies, compiled by industry insiders including JOC.com, assigned them to clusters by function or which task in the industry they seek to address. The goal was to better understand what sectors of the industry are seeing the most attention by technology companies looking to bring about change. 
Of the 95 companies studied, the largest group — accounting for at least part of the work of one-third of the companies — does enterprise technology, or the digital organization and analysis of information to help decision making and manage aspects of the shipping process, such as assets, rates, and finances. 
The next largest group, accounting for part of the work of just more than one-quarter of the technology companies, uses big data and analytics to provide insights for faster, more-informed decision making, sometimes through automated methods or AI and machine learning techniques. 
About the same number of companies harness the so-called Internet of Things to track logistics equipment and gather information that can enhance visibility and efficiency. The fourth-largest group was the latest wave of marketplaces.
Industry analysts cited a variety of reasons why the innovations offered today would be accepted on a larger scale than in the past 20 years since the internet emerged as a central element in the global economy. 
One reason is the strong economy, which, coupled with low interest rates, offers a pool of cheap money available for startup investments. A JOC analysis of startup funding reported by Crunchbase.com, which tracks venture capital and other early stage investments, revealed that investors in the last five years have pumped more than $430 million into 29 companies focused on bringing technology into the shipping and logistics industries. About 90 percent of that money was invested from 2015 to 2017, with the largest yearly investment total occurring in 2016, according to Crunchbase.com, which offers a significant, although not comprehensive, picture of early stage investments, in part because it does not include investments made in companies that choose not to publicize their investments.
Another key difference from past eras of past technology surges in the industry is the financial position of carriers. Whereas in 2000 the industry was riding high amid a period of steady volume and rate growth, the industry is now emerging from several years of deep fiscal problems. Only recently has the picture improved, with Drewry Shipping Consultants predicting that 2017 global container volumes will be the highest in years, and more than tripling its forecast of the industry's annual profit to $5 billion in 2017. 
"Carriers of today have a completely different mindset," said Gordon Downes, CEO of the New York Shipping Exchange, a digital marketplace that uses a contract system to reduce the problem of shippers sending fewer containers to the ship than they committed to, and carriers leaving cargo behind on the dock that they had committed to take. He sees the industry's acceptance of technology as "another step" rather than a "watershed moment."
"They realize that there is not much they can do to improve the topline," he said of the carriers. "But what they can control is the bottom line, through managing their costs. So, they are spending a ton of money on trying to streamline all of their processes, to try and leverage technology as much as possible so that they can have less headcount costs, [have] less margin of error."
Harry Sangree, executive vice president of CargoSphere, a North Carolina-based rate management system that in the late 1990s launched a short-lived marketplace, said the steady growth of carriers has created a "critical mass" of activity that makes it easier to embrace technology. 
Where carriers in the past did not have an information technology (IT) platform or operated several regional platforms that often had been accrued during the consolidation of different companies, they now increasingly have a single global IT platform companywide that is much easier to hook up to new, digital initiatives, Sangree said.
"When you have that kind of centralized IT platform, it's much, much easier to do things than it was before," he said, adding that he is aware of "proprietary" ideas in the industry "that are going to make huge impacts for carriers, for forwarders, for BCOs, that are now possible because the infrastructure platform is there." Sangree said he expects there to be "a lot of technology rolling out in ocean shipping in the next two to three years."
Other analysts see demographic shifts as a big technology trigger in the industry, with changes in the age and digital experience of the workforce meaning that far more industry employees are not only more comfortable with technology than in the past, but take it for granted.
Simon said the relatively younger carrier executives, increasingly in their 40s and 50s as opposed to the older corporate heads of the past, have grown up with the technology and are more likely to steer the company toward adopting it. Other analysts say millennials working in the industry — loosely, those born from the early 1980s to the early 2000s — who have lived almost their entire lives in a digital world, are propelling the industry toward a digital embrace.
That has been accelerated by the rapid penetration of technology into daily life — through Facebook and other social networks, the growth of e-commerce, and the multiple functions offered by smartphones — that has increased people's comfort with technology, prompting them to expect it at work.
"This time around, the workforce is more knowledgeable and tech-savvy," Bloom said. "So we are doing things on our iPhone that we feel ought to be possible at work. There has been a consumerization of technology."
In a white paper released in May, INTTRA argued that the industry has reached a "tipping point," and companies now will find that digitization is necessary to compete. The paper outlined three technology trends that the company expects to converge in the near term and move the ocean container shipping industry forward — including network integration across systems, applications, and partners, with technology such as blockchain simplifying transaction processes and reducing costs.
Other technological advances also have stepped up the possibilities. The radio frequency identification tag, which first appeared in the supply chain in the mid-2000s, has made it easier to track cargo and equipment. The ready availability of cheap memory and cloud services makes it easier and cheaper to store and access data, and install and use new technology, analysts say. The development of the smartphone, meanwhile, brings a wealth of functions to logistics providers and carriers, such as mobility, easy communication, and the ability to scan and send information from the field.
The consolidation of the industry and the growing pressure on industry players to move cargo faster, cheaper, and more efficiently, means increased adoption of technology is "most definitely happening, and it is inevitable," said Robert Maidman, director, North America for TIM Consult, a German transportation consultant that has sought to harness technology in client solutions for 25 years. "The level of shipper complexity is much greater than ever before. With the compression of the industry, there are very clear leaders and very clear laggards in the technology sense. And the ones that have embraced it are really creating a separate identity from those that haven't."
That is a contrast from the past, when efforts to develop technology were slower than expected, as was its uptake. Well before the dot-com boom, for example, some in the industry were eying the possible benefits of AI — loosely described as the use of computers to simulate human intelligence — to transform the industry. Although the interest dates back at least until the 1980s, the technique only now is starting to be incorporated into usable applications in the industry. A somewhat prescient headline for a story that ran in The Journal of Commerce in 1988 read: "Artificial intelligence firms: too much promised too soon."
Other technology initiatives have struggled to gain acceptance because of a mixture of industry suspicion and an inability to convince industry players of the benefits of using the technology.
Several observers said one reason the marketplaces failed in the late 1990s was that carriers did not believe it was in their interest to participate. The marketplaces, many of which offered an auction system in which shippers could bid down rates, emerged in the maritime industry as the internet offered the opportunity to connect vendors with numerous consumers, as Priceline.com and Expedia did for travel services. A Journal of Commerce story in 2000 listed two dozen such marketplaces, including GoCargo, Eraterequest.com, and Celarix.com.
"Marketplaces died in the ocean industry, and a lot of other industries as well, for a lot of good reasons," said John Urban, who founded GT Nexus after running an unsuccessful marketplace called Tradiant. One reason was that carriers saw marketplaces as a threat to the "years of momentum around large contracting," he said. "Shippers had real concerns about moving over to spot [pricing] because they really needed consistency in pricing."
Urban said he moved on from Tradiant to create GT Nexus, a platform on which carriers and shippers could manage cargo and was sold in 2015 for $675 million to enterprise resource planning software company Infor. Despite that success, GT Nexus also had initial difficulty overcoming the concerns of the maritime industry, which was unfamiliar with the idea of storing sensitive information and completing tasks online, and was accustomed to installing software on company servers, Urban said.
"There was all this talk about how the internet was not safe and you need to keep data behind your firewall," he said. "So we were fighting against a lot of paradigms, and most of it was based on people not understanding the technology and its implications."
Bloom said the marketplace sites did not work because they focused on money, and how to price and book a cargo movement. Although that was not really a major problem shippers needed to solve, and the marketplaces did not address how to book more complex cargo movements, rather than simple port-to-port movements, he said.
INTTRA instead focused on another problem. It was created by a group of carriers who feared that "Silicon Valley startups" would intervene in the booking process, and the carriers would lose control of it, Bloom said. So they created a digital platform that was "about standardizing the process," and for which the benefits to the carriers were clear, and they did not feel threatened, he said.
"There was a huge value proposition," Bloom said. "Everyone realized that the booking process itself is not a competitive advantage." So the carrier felt, "Let's give that to INTTRA. Let's stay away from the dollars and cents." 
In doing so, INTTRA showed that information could be "digitized, standardized, and centralized," paving the way for the latest wave of startups, which focus heavily on gathering and analyzing data, he said.
Lars Jensen, now the CEO of consultant SeaIntel Maritime Analysis. previously ran an innovative — but unsuccessful — platform called YouShip that was owned by Maersk Line and through which shippers could book space on carrier vessels. The site, he said, was an example of having the right technology in the wrong market.
YouShip.com was a website in which shippers could book space on a Maersk ship, much like buying an airplane ticket on Expedia. The shipping site sought to address the problem of cargo getting rolled, or left on the dock. The shipper would pay up front for a specific number of containers to be shipped on a specific date, and if the cargo was not shipped, the shipper would get its money back.
That worked for a brief period after the website's creation in 2008, Jensen said. "But shortly after launch, the market tanked, and we had a massive overcapacity," he said. That meant shippers were reluctant to pay extra, and upfront, when they could easily book it, cheaper, elsewhere, he said.
Nearly a decade later, a "changed attitude" among carriers may make the industry more likely to accept technology, Jensen said. In the past, they saw technological platforms as a "competitive differentiator — leading to a path where everyone wanted their own 'system' to offer the customers something better," he said. "The change I have seen now is that carriers appear much more willing to try to engage in pilots where multiple carriers are onboard, which is good from the perspective of getting better customer buy-in."
In addition, whereas carriers in the past wanted to create the best platform on their own, they are now more willing to "engage in multiple different test pilot projects … and then later choose the one[s] that the market prefers, based on actually using it," Jensen said.
That understanding of the market, and the essence of the problem to be addressed, is key to understanding what initiatives will work, and which ones will not, he said.
"Any upstart in this industry that believes they will win due to superior tech has not learned from history," Jensen said. "The tech clearly needs to work, but it is the business case and, importantly, the change management process related to new ways of doing business that will make or break them."
Contact Hugh R. Morley at Hugh.Morley@ihsmarkit.com and follow him on Twitter: @HughRMorley_JOC.