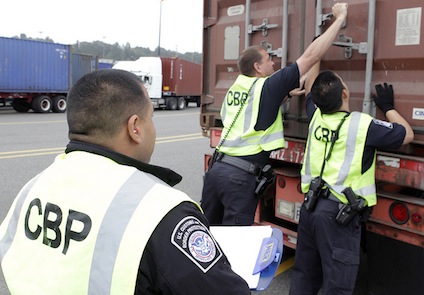 Expectations that exports will lead the U.S. economic recovery are increasing the burden on exporters and freight forwarders to update their internal compliance programs to abide by commercial regulations and security requirements.
The U.S. Department of Commerce, traditionally the lead federal agency in dealing with exports, has doubled the number of enforcement officers in Los Angeles-Long Beach, the nation's largest port complex, according to Keith Sanchez, division vice president of Avalon Risk Management.
Commerce's Office of Export Enforcement this year has placed 4,729 target holds on export shipments in Southern California, Sanchez told Wesccon, the Western Cargo Conference of freight forwarders and customs brokers, in Coronado, Calif., last month.
Customs and Border Protection, long considered an import-oriented enforcement agency because of the government revenue implications involved in imports, also is making exports a priority. Daniel Baldwin, Customs' executive director of cargo conveyance and security, told exporters and forwarders at Wesccon that the agency's renewed interest in exports is making the advanced filing of documentation just as important for exports as it is for imports.
Customs is looking for accurate data, filed by exporters or forwarders, at least 24 hours before cargo is loaded on to vessels so the agency can target sensitive or prohibited exports before they leave the country, Baldwin said.
Knowing which data elements to file, which exports require special licenses and which countries the U.S. bans from receiving certain products isn't the type of information exporters can collect on the day when their shipments are scheduled to load aboard vessels.
This detailed and ever-changing information must be gathered meticulously by company compliance officers, and their forwarders, that have special expertise in the products being exported. They also should spell out their processes in a compliance manual that is readily available for review by government agents when they perform the inevitable audit of an export operation.
The government takes export compliance seriously, and there are stiff penalties in place, especially for companies that exhibit gross negligence or willfully violate export regulations. Fines can be $1 million or more, and executives convicted of willful violations can be sent to jail for 10 to 20 years, Sanchez said. Companies also can have their export licenses revoked.
Even less serious violations or first-time infractions can tarnish an exporter's reputation and bring added scrutiny to the company, so it's important to have thorough compliance programs and manuals in place and available for scrutiny by government agents. These measures also can help to mitigate penalties when infractions occur.
Professionally designed exporter compliance programs cover a variety of issues, often involving products with direct or indirect military or terrorist uses. Exporters must ensure that these products aren't shipped to denied countries or parties. The products and the denied parties and countries are available from the U.S. Census Bureau, Customs and the dozens of other agencies with regulatory involvement in exports.
Demonstrating compliance to the government requires a secure supply chain, Sanchez said. A company with multiple offices must show it has consistent operations at headquarters and branch offices. Global ports in such countries as Singapore, Malaysia and Dubai are major transshipment centers. While shipping to those ports is legal, special care must be taken to ensure products shipped aren't transshipped to denied countries, he said.
Likewise, when using an overseas agent that has a contractual relationship with the exporter, it's important to perform the necessary background checks to ensure the agent has no prior violations of U.S. regulations.
A company's official compliance program is normally detailed in an export compliance manual. Susan Kohn Ross, international trade counsel at Mitchell Silberberg & Knupp (and a regular contributor to the JOC), said the basics of the compliance manual are to professionally develop the document, update it regularly, verify compliance procedures on a regular basis and have everything in writing. "It must be a living document," she said.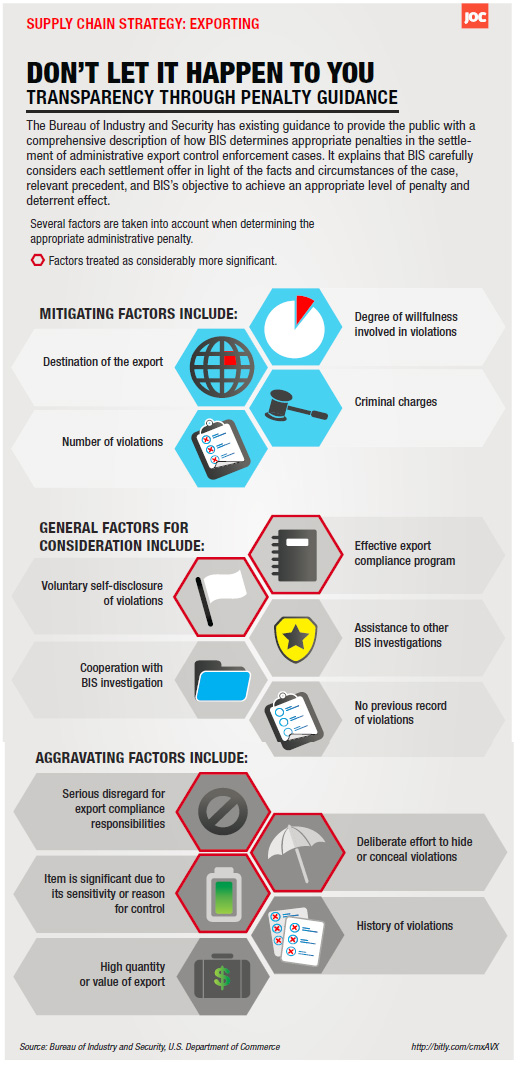 To demonstrate compliance, though, it isn't enough just to have a manual. The company must be able to demonstrate that top executives and the board of directors stand behind the compliance procedures.
Companies normally designate a manager with authority to run the compliance program, and No. 2 and No. 3 compliance managers so there is never a void when the lead manager is on vacation or traveling on business, Ross noted. All employees also should be trained to understand the fundamentals of compliance. Company policy must be clear that employees should feel comfortable reporting potential compliance issues.
That said, an exporter shouldn't panic when government agents visit, especially when the agents show up unannounced, as they sometimes do, Ross said. When the government makes an unannounced visit, the company has no obligation to immediately produce all of the records and information the government seeks, she said.
The appropriate company manager can tell the agents the company pays its legal counsel a lot of money to handle these issues, and the company and its lawyers will cooperate fully with the government when the agents return with a formal request for information, she said.
Forwarders often file export documents on behalf of exporters, and share many of the same requirements as their clients. Although companies are supposed to share all relevant information with the forwarders they hire, forwarders are expected to ask the right questions when they suspect the information they're given is inaccurate or incomplete, Sanchez said.
Customs doesn't have sufficient resources to achieve the goals of its increased efforts, so the agency needs the help of exporters, forwarders and other professionals, Thomas Winkowski, assistant commissioner of Customs, told the Wesccon meeting. "Our strategy will not be successful if I don't get you to buy into it," he said.
Contact Bill Mongelluzzo at bmongelluzzo@joc.com and follow him at twitter.com/billmongelluzzo.