Susumu Naruse, Secretary-General | Jan 30, 2013 2:16PM EST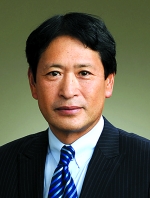 Sparked by the eurozone crisis, we have had enough of a gloomier picture of the global economy presented by IMF and others, forecasting a sluggish 3 to 4 percent growth in 2013. International trade must be sustained as a lifeline, of which ports are a vital link.
In 2012, some ports experienced a decline in their cargo volumes, while others saw an increase in volume over the previous year. At country level, emerging countries' economies are rather robust, and trade among them is expected to grow rapidly in 2013. In terms of port development, we have heard about big projects at such ports as Hambantota, Sri Lanka; Mombasa, Kenya; and Ngqura, South Africa. In a nutshell, we should not be too pessimistic and we should certainly look to the bright future ahead in 2013.
I would like to see the issue of overweight containers resolved to some extent in 2013. IMO's Subcommittee on Dangerous Goods, Solid Cargoes and Containers (DSC 17) met in September 2012 to discuss a new scheme to verify container weights. IAPH, along with other industry organizations and governments, submitted to the meeting a proposal on amendments to the International Convention for the Safety of Life at Sea, presumably governing the issue.
Unfortunately DSC 17 failed to reach a conclusion on these amendments and will continue to discuss the issue through a correspondence group established in the interim.
As each mode of transport in the international supply chain is exposed to serious risks posed by incorrectly declared and stowed overweight containers, IAPH continues to address this critical issue internally and externally in cooperation with IMO and other stakeholders.