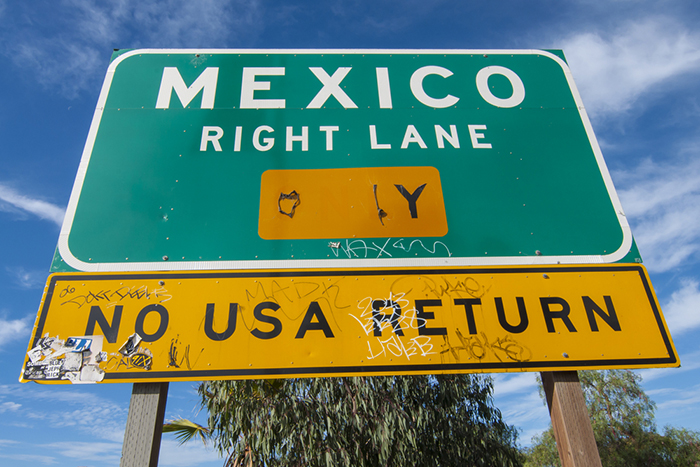 WASHINGTON — U.S.-Mexico cross-border trade experts say it will be nearly impossible for U.S. presidential hopeful Donald Trump to pursue many of the cornerstones of his trade platform: including his now-infamous wall and severe tariffs on Mexico imports.
Such moves would require Trump, whose business has benefitted from outsourcing production to Mexico, to scrap the North American Free Trade Agreement, ending the pact with Canada as well, experts said Wednesday at a Brookings Institution panel in Washington, D.C. But perhaps more damaging to U.S.-Mexico relations, they said, is the Republican Party frontrunner's protectionist rhetoric that may only strain trade beneficial to both countries.
While Mexico has remained the U.S.'s second-largest export market and third-largest overall trading partner, according to 2015 data from the U.S. Census Bureau, for the first time since the recession, U.S.-Mexico trade has declined from the previous year's level. U.S. imports from Mexico held steady last year, growing from $294.1 to $294.7 billion. Exports, on the other hand, dropped some $3.8 billion. It's a drop that has less to do with NAFTA and more to do with depressed energy prices and a historically strong U.S. dollar, experts say.
"NAFTA is a treaty. It's been ratified. Trump, even if he were elected, is bound by the laws of the United States. A treaty is the supreme law of the land," said Michael Camuñez, president and CEO of consulting firm MannattJones Global Strategies.
Trump has said he would break or renegotiate NAFTA and institute tariffs on imports to discourage outsourcing U.S. manufacturing. It's a move that could restore the whole lot of the tariffs that NAFTA historically removed between the U.S., Canada and Mexico more than 20 years ago. But speakers at the Brookings Institution Wednesday said the candidate's promises are "as loose as his lips" — in the words of former Mexican ambassador to the U.S. Arturo Sarukhan.
"We'd do well to take to heart as Americans just how deeply offensive that rhetoric is. The fact that it's even out there is insane," said Camuñez, who served as a special assistant and counsel to the Obama White House and was key to forging the U.S.-Mexico High Level Economic Dialogue in 2013 during his tenure at the International Trade Administration.
While announcing his candidacy last June, Trump called for a 35 percent tariff on Mexican auto imports. Experts Wednesday, though, questioned whether the executive office has the unilateral power to repeal the now-22-year-old NAFTA.
"He could choose, I suppose, to abrogate that treaty, but whether he has legal authority to do so is a different matter," Camuñez said.
Doing so wouldn't just hurt North American trade, according to Chappel Lawson, an associate professor of political science at the Massachusetts Institute of Technology.
Lawson, who served as executive director and senior advisor to the commissioner of U.S. Customs and Border Protection from 2009 through 2011, said "tariffs would shred NAFTA up to the detriment of the United States and destruction of millions of jobs that depend on this cross-border trade."
Camuñez, however, said he is confident it will never come to that. "I don't believe there will be unilateral tariffs. I don't believe there will be a trade war. I don't believe there is any political constituency in the United States, in Congress or otherwise to support it, notwithstanding the campaign rhetoric."
Camuñez said he's come to that conclusion, in part, because he doesn't honestly believe Trump even supports his own policy platform.
"This is a guy who is hypocritically manufacturing in Mexico and taking advantage of NAFTA just as he is criticizing it," Camuñez pointed out.
In 2014, Trump signed a deal to produce his own clothing line with Phillips-Van Heusen, which manufactures apparel in factories in 85 countries around the world, including Mexico. It should be noted that PVH, which is also behind other name brands such as Calvin Klein and Tommy Hilfiger, has since said it is "in the process of winding down" that licensing agreement after Trump announced his candidacy last year.
But, what's more dangerous to U.S.-Mexico cross-border trade isn't Trump's tenets, but his tone and the tone of every other candidate in the race for the White House, experts said Wednesday.
Trump is not the only candidate who has proposed major trade shakeups.
Sen. Bernie Sanders (D-Vt.), has also called for repealing NAFTA. Meanwhile, Sanders' Democratic challenger and former secretary of state, Hillary Clinton has had a difficult time challenging NAFTA, since her husband championed the treaty while president. Clinton, though, has come out strong against the Trans-Pacific Partnership — a recent, broader and potentially more historic treaty — to which the U.S. and Mexico belong and has become the cornerstone of the Obama trade initiative.
"The TPP is the next extension," said Camuñez. "Especially as more candidates are talking about repudiating NAFTA, it's becoming a contagion effect."
While anti-NAFTA rhetoric might play well in states like Ohio, where union workers are a major presence and the manufacturing economy is hurting, in border states — even border states with a strong Republican presence — the treaty is still popular.
"NAFTA is not a dirty word in Texas," Sen. John Cornyn (R-Texas), said Wednesday at the Brookings Institution.
Cornyn said that he believes Trump's surge in popularity among American voters has less to do with fact-based concerns over cross-border trade and more to do with insecurity fueled by protectionist and nativist zeal. Trump's supporters are, in a word, "insecure," he said.
"Insecure in their person and their job," he said. They're asking, "Who can I hold accountable for establishing some order in this chaos?"
But U.S. presidential candidates and U.S. voters should understand the impact they could have just by discussing a trade war with a neighbor as close as Mexico.
"I worry, frankly, that this rhetoric is going to give rise to something domestically in Mexico," said Camuñez. "How would Americans feel if in response to this candidate (Trump) a radicalized candidate rose to power in Mexico?"
Contact Reynolds Hutchins at reynolds.hutchins@ihs.com and follow him on Twitter: @Hutchins_JOC.