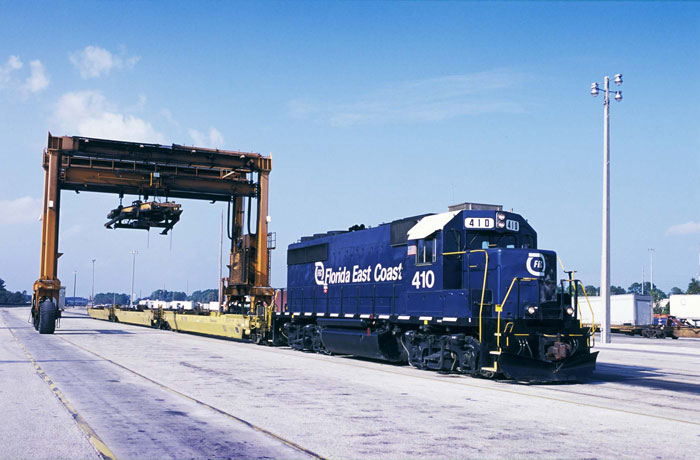 Florida East Coast Railway launched at 53-foot domestic container service two weeks ago, giving North Carolina shippers a new option to ship goods to South Florida for either domestic consumption or to transload for export.
The five-day-a-week service, known as the Piedmont Express, runs from Charlotte to Jacksonville, Florida, on the CSX Transportation line, and the loads are then transferred to FEC's 351-mile line connecting to the ports of Miami and Everglades. The service is similar to CSX Transportation's Threads Express service but will use domestic containers instead of marine units, said Jim Hertwig, FEC president and CEO. FEC is currently talking to major shippers, including T.J. Maxx and Haines, that currently have their goods trucked to the FEC terminal in Jacksonville to see whether they will transition to the all-rail service.
The launch of the service comes after the July opening of FEC's intermodal container transfer facility at Port Everglades. The $72 million terminal allows FEC to build 9,000-foot unit trains within the facility without blocking any city street, and enable the railroad to ship cargo from the port to Atlanta and Charlotte in two days, and Nashville and Memphis, Tennessee, in three days.
The terminal has also helped FEC capture new cargo moving to Central Florida, as freight from the Port Everglades can be railed to Cocoa, Florida, from which there is a roughly 30-minute truck haul to Orlando, Hertwig said. He expects double-digit volume growth in intermodal freight originating from and destined for points on FEC's network. Total freight volume growth this year will be in the single-digit range because interline traffic with CSX Transportation and Norfolk Southern Railway hasn't been as robust.
Contact Mark Szakonyi at mszakonyi@joc.com and follow him on Twitter: @szakonyi_joc.