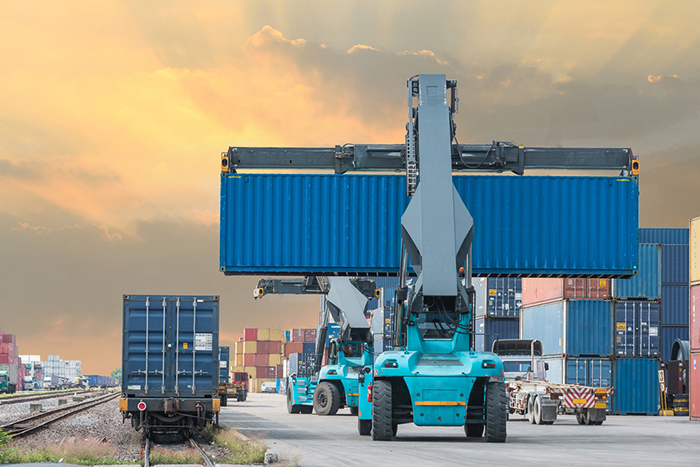 After a slow year, the outlook for the North American intermodal industry is brightening as service improves, truck capacity tightens and international trade patterns return to normal, according to the Intermodal Association of North America.
The first half of 2015 was not a smooth ride for the intermodal industry, but third-quarter volume may be a sign that the sector is back on track, the group said. Despite month-to-month variations, third-quarter intermodal volume, both domestic and international equipment, grew 3.4 percent, in line with year-to-date results, according to IANA's most recent quarterly report. The figures are, nevertheless, well below 5.1 percent growth during the same quarter last year.
The scale of port disruption on the U.S. West Coast earlier in the year and the decline in fuel prices and increase in truck capacity has understandably offset the benefits of intermodal, IANA said. So, the year-to-date comparison did come as a surprise. Trends in the third quarter, however, show those factors are diminishing in strength and will continue to ease their impact on the industry into 2016.
"Overall we are seeing international container trends approaching pre-recession levels and domestic volume gains returning to numbers that are comparable to international," Joni Casey, president and CEO of IANA, said in a statement.
International volume, which was pushed higher in the second quarter to catch up with first quarter congestion, fell back to a more typical 4 percent gain, almost even with the 4.1 percent growth in domestic containers. While domestic container volume improved in the third quarter, it still fell short of its recent trend of 5 to 6 percent.
On the international side, gains trailed behind nearly 7 percent import growth, in part because more imports have moved to U.S. East Coast ports, a lingering effect of West Coast port slowdowns during protracted labor negotiations earlier in the year.
On the East Coast, imports are less likely to be moved to inland destinations by rail, IANA said, in effect tugging on international intermodal volume. The international market segment showed some volatility in the third quarter: Volumes climbed 3.3 percent in July and 6.4 percent in August, then slowed to 1.6 percent growth in September. Nevertheless, the segment closed the quarter with a 4 percent increase.
The international segment could stand to see a healthy uptick in 2016 and perhaps even in the fourth quarter, IANA said in its recent quarterly report, "if most freight diverted to East Coast ports returns to the West Coast."
The West Coast did claw back some market share in August, but suffered a drop in container volume and import share in September. It is too early to determine if it is the beginning of a trend or just a one-month anomaly for ports that appeared to be recovering from the loss of business earlier in the year.
Whether that recovery happens sooner, later or not at all will be a "key factor" going forward, the group said.
"The international market segment normalized this quarter after dealing with the lingering effects of first-quarter port congestion that were still felt during the second quarter," Casey said. "Overall we are seeing international container trends approaching pre-recession levels and domestic volume gains returning to numbers that are comparable to international."
Service inconsistency earlier in the year, soft manufacturing output, low fuel prices and more trucking capacity have weighed on the domestic side. The domestic trailer market segment shrank 3.1 percent in a quarter-over-quarter comparison, making the third quarter the fifth consecutive quarter of dipping trailer volumes. This deflated the quarterly gains realized in total intermodal loads. However, September domestic container growth of 6 percent helped boost overall domestic numbers.
The rate of rail-to-highway conversions picked up speed earlier this year, hurting domestic intermodal volume. It's something that some railroads, such as CSX Transportation, say they are now recovering from, while others, such as Norfolk Southern Railway, say they are still fighting.
However, IANA said, "Intermodal service is improving as the railroads work to regain share from the highway. This has potential to accelerate growth, particularly on the domestic side."
According to the group, average intermodal train speed has trended up consistently through the third quarter and is now almost 9 percent better than 2014 figures.
"And railroads are even more sharply focused on intermodal as other commodities, especially coal, continue to pull rail carload volume lower," IANA said.
IANA's statements are in line with results from a recent third-quarter Wolfe Research survey of more than 600 shippers. According to the New York-based transportation research firm, rail service rankings among polled shippers, representing an annual transportation budget exceeding $10 billion, improved to the highest level in two-and-a-half years.
Domestic intermodal volume should also get a boost as the industry enters 2016, when IANA is now expecting the long-anticipated "capacity crunch" in the trucking sector will materialize. The group, however, did express some doubts and said a full-on "crunch" may not be as imminent as some have suggested.
According to IANA, utilization of the active heavy-duty truck fleet has settled at about 96 percent. "While tight in practical terms, this means that anyone who is looking for a truck can find one fairly easily," the group said.
The excess truck capacity in the first three quarters of 2015 hurt domestic intermodal as the so-called "crunch" was delayed after hours-of-service were suspended and deadlines for electronic logging devices and coercion rules were extended, freeing up capacity. Falling diesel prices, now down some 30 percent year-over-year, have also helped make truckload a more viable option.
"That appears likely to change in 2016," IANA said, "and will help push big box gains back on track."
Some big-ticket regulatory legislation, such as mandatory electronic logging devices for vehicles, is in the pipeline and should enter the books in 2016.
"Substantial tightening of capacity won't begin for at least a year given the current anemic economic growth rates," the group said. IANA did add, though, that with the chances of an economic downturn in the U.S. mounting, that tightening of capacity could be muted or even avoided altogether.
"If the timing of a downturn were to coincide with the onset of the new regulations, the worst of the anticipated capacity shortage might be avoided," the group said.
Contact Reynolds Hutchins at reynolds.hutchins@ihs.com and follow him on Twitter: @Hutchins_JOC.