JOC Staff Report | Sep 10, 2016 9:00AM EDT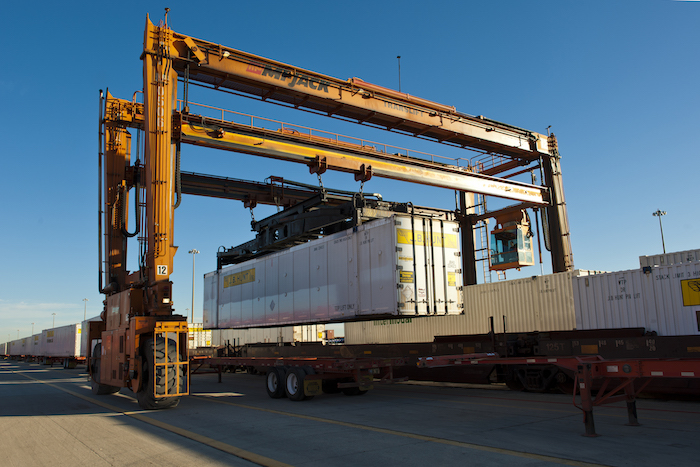 On Aug. 17, Mark Szakonyi, JOC.com executive editor, and Reynolds Hutchins, JOC.com associate editor, discussed intermodal service, over-the-road conversions, and the impact of US federal regulations on the transportation sector with Joni Casey, president and CEO of the Intermodal Association of North America; Katie Farmer, group vice president of consumer products at BNSF Railway; Adriene Bailey, chief strategy officer at Yusen Logistics' Americas division; David W. Manning, president of TCW; and Michael B. Wilson, senior vice president of Hamburg Sud North America.
What follows is part 2 of the JOC.com roundtable discussion. The conversation on major intermodal trends will continue at the 2016 Intermodal EXPO hosted by the Intermodal Association of North America (IANA) in Houston, Sept. 18-20.
JOC: Tell us what we're seeing service-side.

Farmer: What it really comes down to for customers is service. We have to capture every efficiency opportunity that we can. Not only are we going to leverage the significant investments that we have in our infrastructure, but we have to continually look for ways to draw waste out of the supply chain and capture every efficiency. It's also about velocity and on-time performance. It's about consistency in the product. What we like to talk about is that, it's truly about being more truck-like with our intermodal rail product.
We have to focus on our customers' freight demands and work hard to demonstrate value to our customers. But we have to be consistent, and we have to be flexible, and we have to be efficient. Right now at BNSF we're working on technology solutions. We have to focus on things that make it easier for our trucking partners to move freight in and out of our facilities. We just introduced the new RailPASS mobile application for the drivers coming into our facilities to help expedite their in-gate and out-gate processes. It helps them pick up units. It helps them locate equipment inside the facilities.
But most of all, it reduces their time inside the facility and gets the driver back on the road, making them more productive, and in the end, it delivers a better product for the beneficial cargo owners. In addition, along the lines of "more truck-like," we're working on a technology that helps give our customers more accurate ETAs for deramp time to the hub. And again, that's all focused on really delivering consistency in speed and our intermodal product. So, we have a lot of exciting things that we're working on that really drives toward taking waste out of the supply chain, driving efficiency into the product, and giving customers a very reliable and fast intermodal product.
Wilson: I don't want to single Katie out, but BNSF has a very well-developed intermodal product. They've had a very high focus on intermodal for many years now. I think some of the other railroads are now focusing more on intermodal, so it's getting more investment dollars and more senior management focus as a core operating center for the railroads. I think we're seeing improvements in a lot of railroads because of that, and I think that the intermodal product is very reliable; I think it's going to continue to improve.
Bailey: I would add, too, the fact that we see a lot of positivity in the actual service product on rails and don't hear a lot of issues from the shipper community with regard to that. That doesn't, from my perspective, resonate as a top-of-line issue. The other thing I wanted to point us toward other than the rails is there're still lots of opportunities on the street side to get better and, to Katie's point, even get more "truck-like" and make that more seamless behind the scenes.
There's a lot of empty miles that are still in the intermodal network, on the street side. And one of the things the industry did through IANA is to create a street interchange app that's making it easier for the variety of dray carriers and providers out there to move a box from one load to another without having to go back to a rail ramp or back to a container yard. That creates a lot of value on many different levels — empty miles, internal congestion, just a waste of time and energy. That eventually will find its way back in to shipper value in terms of lowering the cost structures that we have and attracting more boxes to the intermodal network. It's about where a differential point is between the truck and the rail. There's good, and exciting things are going on at the operating level in the industry to continue to try to bridge the gaps that have been there historically.
Manning: One of the things I think still exists is the opportunity for better information sharing and predictability. We don't like appointments as truckers, but I do think we can do a better job of informing, whether it's at the rail or the port level, as to what the priorities are for pick-up, what trucks are coming to get, or what customers are expecting. We did a real simple thing with Georgia Ports Authority, where we just started sending a spreadsheet every day of the order that we were going to be picking up loads. It means a lot more opportunity, if we share information to try to make the service more "truck-like," more predictable, and everybody is not looking from a siloed perspective within their own segment.
JOC: Is rail still losing domestic volumes to trucking? And if so, what lanes are particularly vulnerable to that?
Farmer: First of all, we don't consider truckers our competition. We consider them our partners. We work together to take freight from over-the-road long haul. We are continuing to see good growth across the Transcon and, in particular, against our Northern Transcon. Again, low gas prices certainly are putting pressure on those routes, but when we visit with BCOs, we share a real commitment to maintaining intermodal as a capacity option even though excess truck capacity exists as well as lower fuel prices. We really see the BCOs sticking with intermodal as a long-term strategy. They're going to need capacity long-term, and they're keeping intermodal as one of those options.
JOC: Do you think the federal trucking regulations that are about to hit that industry are going to be playing a significant role in where that market share goes?
Farmer: Obviously, the federal trucking regulations have the potential to drive truck capacity shortages, including electronic logging devices and other regulatory mandates. But even if those regulations were delayed or didn't come to fruition, we still believe that domestic intermodal has a really strong value proposition. If you look back, over-the-road conversions on the domestic side have continued through a variety of economic conditions and legislation, and we've predicted that that's going to continue in the coming year and beyond. We're investing with that in mind. We have a bias toward growth in domestic intermodal, and we believe with or without that, the domestic volumes will continue to grow.
Manning: I think what's most on our minds is the 34-hour restart and the restrictions the FMCSA tried to impose on that. It's currently rolled back, and I think it's the intent of Congress that the 34-hour restart stay in place without those restrictions.
The electronic logs: who knows what's going to happen with the OOIDA lawsuit? We still believe that everybody should be prepared. For companies that are running legal to begin with, there's no impact. My company has been on electronic logs for about five to six years. Our drivers love it. We've seen no productivity losses, but we were running a legal operation to begin with. Truckers who have been cheating on hours of service, there is some productivity loss as a part of ELDs.
But it's all about the driver shortage. It's real. It's masked a little bit with the softer volumes, but I think we're going to continue to see pressure on being able to hire drivers if the economy picks up and freight volumes increase. I think we're in a good position to make the intermodal industry a segment of choice for drivers. Intermodal should have adequate drivers if we take care of delays and the equipment issues that exist. With the short length of haul and a driver's ability to be home at night, intermodal should be the segment of choice. Today it's not necessarily. Today we lose drivers to over-the-road trucking, primarily because of the delays they encounter and the poor quality of the equipment they have to pull.
Bailey: I firmly believe that intermodal will continue to be a growth engine and that domestic will lead. But there's a truck on either end of an intermodal move. All of these regulations that affect drivers affect intermodal in addition to the over-the-road truckers. I think that the issue is going to be about the ability of our industry to generate quality drivers at the level that we need them to support the business. And I think there are all sorts of reasons why the conversion to rail is going to continue for the medium- to longer-term: highway infrastructure congestion, the pricing advantage that intermodal gives in most cases, the fact that it burns less CO2 [carbon dioxide] and also gives drivers the opportunity to be on these shorter haul moves. There's lots of value proposition reasons why intermodal is going to continue its growth.
JOC: You talked about how ELDs are going to have headwinds not only for trucks but also for the trucking segment of intermodal. Do you think that it's going to be a zero-sum effect?
Bailey: If I'm a smart trucker, I already have that ELD capability, and I've already earned efficiency in my operation through automation and optimization.
There's a tremendous cascade of value that comes with digitizing your cab that goes above and beyond the issue of hours-of-service recording. I think that once people migrate onto the ELDs, they're going to find out that there're all sorts of opportunities to create value where there wasn't before. It's going to be a painful conversion process, but I do think a lot of people have already made that step. I can't predict what legally is going to happen in the United States from a regulation standpoint, but if it were me, I'd say, if I'm the trucker, I'd be jumping on that bandwagon already. I do feel like it's going to affect the truckers and the intermodal segment fairly equivalently.
There are opportunities if you have an electronic and digital cab. You could communicate back and forth more than just your hours of service. There's a lot you can do with regard to optimizing dispatch. Just simply not having all the manual logs is a productivity saving in and of itself.
Manning: Our drivers saved about 2 and a half hours a week when we switched to electronic logs because under the manual logging system, they rounded to the nearest 15 minutes. That's just where the line is drawn. Under the new electronic system, they round to the nearest minute. So, they gain 2 and a half hours a week just because of rounding.
It also lets dispatch put together a lot more productive trips for them. Our dispatchers are constantly looking at the logs to see what amount of time drivers have left. If they have enough hours to run another short trip, they know to plan for that. It puts a lot more predictability into scheduling that driver and making as good a use as we can out of the 11 hours driving and the 14 hours on duty time they have. Another thing that's really important to point out is that we can get a lot more freight hauled if we're being more productive and making sure drivers are spending 11 hours driving. Currently, it's about six hours a day a driver is able to drive. The rest of the time they're on duty waiting.
Manning: Another important factor to keep in mind, it's phased in over a two-year period. Like I've said, somebody'd be crazy to be waiting until December to adopt ELDs. More and more carriers are phasing it in over time. The (OOIDA) lawsuit might have slowed this down some, but quite honestly, the ATA doesn't think there's a lot of merit in the OOIDA lawsuit. They're hinging it a lot on the Fourth Amendment, which is unreasonable search and seizure, which seems to be a big stretch. Also, they're saying that there are no safety benefits. There are studies that show that drivers that are on ELDs have about 50 percent fewer logging violations and — they didn't quantify the number of accidents but — fewer vehicle accidents as well.
JOC: While on the topic of federal regulation, do you have any idea at this point what the proposed switching rule could mean for intermodal service in the future?
Farmer: We continue to review the STB's recent decision on reciprocal switching. The decision proposes significant changes to the board's existing rules regarding when a competing carrier can gain access to the facility of another railroad. BNSF believes the transportation board did do the right thing in rejecting the NITL petition, which basically advocated for a formula for a regime of arbitrary open access with significant consequences for investment and service to all the customers who rely on our network. However, the board's congressional mandate is to allow market forces to govern to the maximum extent possible and to substitute regulation for the market only when necessary.
At BNSF, we have concerns that the current STB proposal does not sufficiently account for the highly competitive transportation environment that exists for the vast number of commodities that we serve. We believe regulation that ignores market reality is not in the interest of our shipper community or the public because it distorts market signals, disrupts traffic rules, and it undercuts our incentives. Our customers have raised their own concerns with us. They also have reviewed the STB's proposed rule. We plan to address these issues in the comment round that the board has scheduled, and we have encouraged our customers to do the same.
JOC: We started this conversation on kind of a down note. The group has highlighted a lot of opportunities and ways that the industry is taking on the challenges ahead. Can you give us an outlook of where you're seeing 2017 shape up, since we are heading into the last months of 2016 in terms of where the peak will be?
Wilson: Given the current order book, we continue to see capacity growing faster than cargo. The capacity challenges will continue to exist, and depending how the economy develops globally, could actually be exacerbated. As these new ships come online, the midsize ships will be cascaded into some of the traditional smaller markets, causing additional capacity issues in those markets. And I think the realignment of the alliances will cause a lot of restructuring of work processes and procedures both on the liner side as well as on the terminal side. There's going to be a lot action going on, and we could reduce the confusion with proper planning.
Farmer: When we look at 2017, I think we're going to see modest growth in international moving forward, and we still think we'll see good growth in domestic. When I think about where that growth is going to occur, we believe that our strongest presence is still occurring on the Southern Transcon route between California and Midwest, and so that's inclusive of Kansas City, Chicago Proper to the Northeast with our carrier interline partners. And that's really why we have continued, even in a relatively modest economy with modest volume growth, to complete projects such as the Pecos River Ridge, which positions us to have double track capacity and be able to handle that growth in 2017 and beyond. Almost 99 percent of our Southern Transcon route is double tracked. We continue to invest in projects like that to be in a position to handle where we think the majority of growth in intermodal is going to occur, which is on that Southern Transcon route. It also allows us frankly to be able to protect and provide good service for other shippers across our railroads that are using network.
Bailey: Well I was looking in my file drawer for my crystal ball, but it's not there. We are pretty optimistic as a global logistics provider in a fairly good market position. We think shippers will continue to look to logistics providers in an increasing way as they try to focus on their core business and look for health in the increasingly complex transportation environment. From that perspective, we're in a pretty positive frame of mind, but I think I would echo everyone's outlook that, from just a pure rate perspective and a pure global growth perspective, it's probably going to be another challenging year.
JOC: Do you think IANA can give us a little bit of a range when we talk very moderate international growth or domestic growth?
Casey: We do not forecast per se, however, we can speculate based on other people's forecasts including JOC's and others. We're looking at lower single-digit percentage growth on the international side and 4 to 6 percent growth on the domestic, at least from our indicators. I think it's all going to hinge on what happens in the last half of this year.