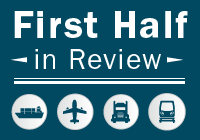 Inland 40-foot container capacity was at a premium in the United States in the first half of 2014, although space is becoming more available as the second half advances.
In the first 26 weeks of 2014, demand outweighed availability at three of five inland points covered by the U.S. Department of Agriculture's weekly Ocean Shipping Container Availability Report, or OSCAR — Chicago, Kansas City and Minneapolis. Statistics from OSCAR showed that on average, the weekly available containers fell short by an average of 454 containers at the Port of Chicago. OSCAR data for the ports of Kansas City and Minneapolis told a similar story, with 294 and 190 fewer containers available on average than needed, respectively.
Denver reported an average of 78 40-foot containers available weekly in the first half of 2014, down from a first-half average of 114 in 2013. The only inland port to report a year-over-year increase in available 40-foot containers was Memphis, which averaged 413 containers available per week, up from an average of 363 in the first half of 2013.
In the early weeks of July, data at the Port of Chicago, the U.S.'s largest inland port, available 40-foot container jumped to 1,000 for two weeks straight, signaling a major influx of open containers available to meet demand.
The situation was different for 20-foot containers, as OSCAR data showed they were readily available at most of the inland locations. For example, in Chicago, 1,295 20-foot containers were available each week, higher than the 2013 first half average of 1,240. Averages in Denver and Kansas City rose year-over-year in the first half, but in Memphis, average 20-foot container availability dropped 22.6 percent year-over-year to an average of 240 containers. Availability fell over 85 percent in Minneapolis, which averaged just ten 20-foot containers available per week.
The USDA's OSCAR report is compiled from data provided by six carriers: COSCO, Evergreen, Hanjin, Hapag-Lloyd, Yang Ming Transportation Company and OOCL. The carriers determine container availability by comparing current supplies at each of the 18 intermodal locations with demand by comparing it to booking and reservation information.
Contact Corianne Egan at cegan@joc.com and follow her on Twitter: @CEgan_JOC.