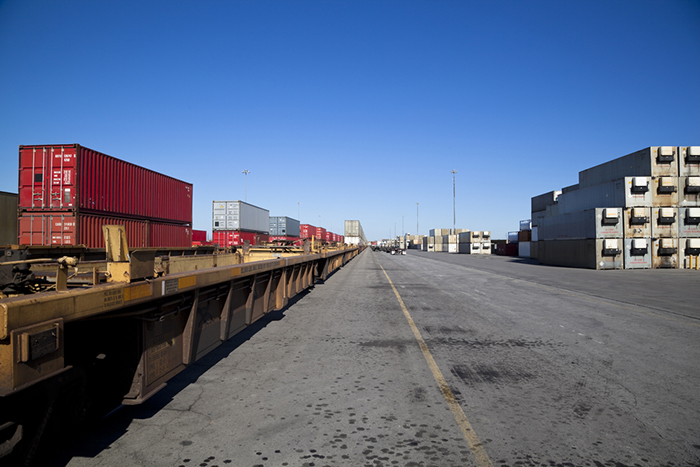 U.S. domestic intermodal spot rates aren't rising, suggesting the traditional surge of imports ahead of Chinese New Year, when Asia factories close for about two weeks, is weak.
Average intermodal spot rates for the top 18 lanes in the week ending Feb. 8 were down 0.9 percent week-over-week and 12.3 percent year-over-year at $1,777.78, according to data on all-inclusive 53-foot door-to-door spot pricing quoted by railroads and provided by third-party logistics provider IDS. U.S. retailers' high inventories may have dampened import demand tied to the massive holiday, which kicked off Feb. 8.
"We continue to see very little movement on the rates as we work through a slow February," Shelli Austin, president of transportation at IDS, told JOC.com. "I don't expect to see very many changes on the rates through the rest of February especially with the slowdown created by Chinese New Year."
Spot rates from Los Angeles to Chicago were down 0.8 percent week-over-week for the week ending Dec. 21, a $15 decrease. Spot rates on that lane were also down 16.7 percent year-over-year, a decrease of $305. Spot rates to move a container from L.A. to Dallas were down 0.7 percent week-over-week, or $15. Those rates were also down 10.1 percent year-over-year, a $215 decrease.
Inventories at retailers nationwide have been much higher than they typically are this time of year after shippers retooled their promotional calendars before and during the protracted labor negotiations between the International Longshore and Warehouse Union and the Pacific Maritime Association and a warmer-than-usual winter stuck some retailers with excess winter clothing and supplies.
Seasonally adjusted retail inventories rose 0.4 percent from November and 5.4 percent year-over-year in December to $588.8 billion, according to the U.S. Census Bureau. Retail sales in December were roughly flat at $395.3 billion, the Commerce Department bureau said. That pushed the retail inventory-to-sales ratio from 1.48 in November to 1.49 in December.
The pre-Chinese New Year surge does appear to have taken hold at the ports of Los Angeles and Long Beach, with imports on a year-over-year basis rising 41.6 percent and 30.3 percent, respectively. Granted, the comparisons were strengthened by a weak January 2015, when the ports were at the brink of gridlock as the showdown between longshoremen and employers intensified.
The result was a less traditional peak season and less predictable spot rate market altogether. It's contributed to a general decline in demand for intermodal services. Intermodal volume growth ground to a near-halt in 2015 and traffic was up a solid, but not spectacular, 3.4 percent year-over-year in January, according to data from the Association of American Railroads. That decline in service demand, in turn, has contributed to falling spot rates.
It has led some to question if "peaks" might now be a thing of the past.
The shorter length and diminished impact of last fall's peak season have some, like David Wedaman, founder and CEO of Re Transportation, convinced that is the case.
"I'm about decided that there's not going to be any more peaks… You now have a plateau," Wedaman said in Memphis at the JOC Inland Distribution Conference back in November, at the peak of the non-peak season, as it were.
"I don't think 'peaks' have gone away forever," Austin told JOC.com Wednesday, "but I do think we are on a down cycle of traditional constrained markets."
Austin said she remains confident that demand will rise, capacity will tighten and rate changes will return to a more normalized pattern by mid-2016. Her remarks echo similar projections made by Class I railroad executives on fourth-quarter earnings calls last month.
"I still believe there is going to be a turn this year and, yes, more towards the middle to end of the year," Austin said. "June and July is usually when we see the rail lines start to slowly increase rates in preparation for peak season."
What's worrying, she added, is those in the industry who believe peaks are gone for good won't be prepared.
"The bad part is, when they do hit, it will take everyone by surprise and many of the shippers that have moved away from the protected rates to gamble on the spot market will suffer on finding capacity and when they do find it, the rates will be really high," Austin said.
That said, Austin added there is always a chance the industry won't hit the tipping point this summer. "But right now, my gut feeling is that we will."
Contact Reynolds Hutchin at reynolds.hutchins@ihs.com and follow him on Twitter: @Hutchins_JOC.