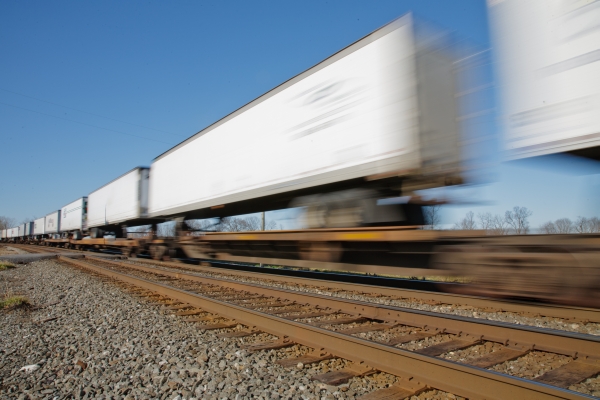 How fast U.S. and Canadian railroads can improve their intermodal services over the next several weeks after a devastating winter will determine how much domestic volume growth they will see this year.
The railroads are at a "critical crossroads" in which they will have the generally slower month of May to rid backlogged cargo, boost train speed and reduce terminal dwell time before traffic picks up again next month, Larry Gross, senior consultant at FTR Associates, said during a webinar last week. Following a severe winter that forced many railroads to slow trains and prevented them from regaining operational fluidity, intermodal services have improved, but the progress has been slow, he said. The average intermodal train speed used to be around 32 to 33 miles per hour, but in the week ending May 9 it was 29 mph.
Slow service on some railroads has spurred competitors to add new, faster services. Union Pacific Railroad, for example, this week launched a service between Portland and Chicago to take advantage of longer transit times on BNSF Railway's services from the Pacific Northwest to Chicago.
Intermodal speeds and average terminal dwell time are only indicators of service, not a full measure of rail reliability. Railroads' ability to consistently deliver goods when they say they will has been a bigger draw for shippers than shorter transits, Gross said. Unfortunately, a broader service reliability index — like those found in the ocean container industry — isn't yet available. Still, there is anecdotal evidence that more shippers are seeing intermodal service as more reliable than over-the-road trucking on certain lanes.
"In conversations with shippers, they are most concerned with the changing trend of over-the-road capacity failing to meet commitments," said Adriene Bailey, vice president of strategic business development at Yusen Logistics (Americas).
She said shippers want providers who deliver reliable committed capacity, and intermodal is proving to be a good option on these dimensions. In some lanes, shippers are even paying more to secure a committed intermodal service than what they would pay at base truckload rates — where that truckload capacity is not available on a regular basis. Intermodal is increasingly viewed by shippers as a way to secure capacity and more reliable service as trucking becomes more constrained. That's a shift from the mode's original selling point: saving shippers up to 10 to 20 percent on transportation costs.
But those changes in shipper perception can fade if railroads don't have enough capacity when demand rises, as many expect. The U.S. economy appears to be expanding at a slightly faster clip than in years past, and tightening truck capacity is pushing up rates, potentially pushing shippers to put more freight on the rails.
The railroads this winter got a reminder of just how sensitive their networks can be to weather and surges in freight demand. Non-intermodal volume increases — namely a bumper grain crop and shipments tied to the domestic energy boom — and shorter and slower trains, resulting from the cold weather, delayed shipments for weeks.
Railroads' inability to reposition domestic containers in the first three months of the year spurred shippers and transport providers to turn to trailers. North American trailer volume in the first quarter jumped 7.5 percent year-over-year. Uniquely, trailer volume outpaced domestic container traffic, which expanded 3.2 percent. The bump in trailer volume, which had slipped 0.7 percent in 2013, was also magnified by the equipment type's small base, equating to about a fifth of all domestic traffic last year, said Joni Casey, president and CEO of the Intermodal Association of North America.
But it's too soon to determine whether there will be a capacity crunch on the railroads. Casey said there aren't capacity limitations now and noted that those that occurred earlier in the year were due to cyclical causes, such as freezing temperatures and healthy grain traffic. The domestic container industry continues to expand, she said, pointing to statistics from TTX, which purchases rail equipment on behalf of the railroads. The domestic fleet is about 242,000 53-foot units, a 3.8 percent increase from last year, according to TTX estimates.
Plenty of equipment capacity doesn't necessarily mean there will be enough capacity on the track, though. And if there is a window for a capacity crunch, it will likely be over the coming months as volume rises amid slowly improving services. U.S. intermodal traffic rose on a year-over-year basis for the 53rd straight month in April, hitting the highest volume ever for the month and the second highest monthly traffic count in history, according to the Association of American Railroads. U.S. intermodal volume in the first four months of this year was 5.3 percent higher than during the same period in 2013. Despite the weather delays, intermodal traffic increased 2.6 percent in the first quarter compared with the same period in 2013, according to IANA statistics.
While domestic intermodal growth is mainly fueling the surge, international volume has been climbing at a faster pace since March, Gross said. Intermodal traffic rose only 2.7 percent in the first three months of the year, but he expects the pace to hit 5.5 percent in second quarter, 5.4 percent in the third quarter and 3.6 percent in the final three months of the year. Domestic intermodal increases will propel the gains, but international traffic growth is expected to rise from 1.2 percent in the first quarter to 3.2 percent in the second.
Drayage tension and longshore labor actions at U.S ports could restrain international intermodal growth, Gross warns. He doesn't expect the International Longshore and Warehouse Union to strike as it negotiates with waterfront employers, but slowdowns or other labor actions are possible. The ILWU and the Pacific Maritime Association are set to start contract negotiations today, but few observers expect them to reach a labor deal before the existing six-year contract expires June 30.
"We think drayage is going to be a real flashpoint," said Gross, referring to a recent increase in delays and gridlock at and outside of U.S. terminals on both coasts.
Gross expects intermodal pricing to accelerate modestly with a potential for mid-digit growth. Domestic intermodal spot pricing tends to lag truckload spot pricing, and the latter's rates tend to rise and fall faster than the former, Bailey said. Domestic intermodal pricing in March rose 1.8 percent year-over-year and 2.5 percent from February, according to the Cass Intermodal Price Index.
Comparatively, linehaul truckload pricing in March jumped 6 percent year-over-year, the largest spike in 35 months, according to the Cass Truckload Linehaul Index. Truckload pricing rose 3.7 percent from February. The indices, which include data from Cass clients whose freight invoices totaled more than $23 billion in 2013, are more weighted toward contracts than spot pricing but include both.
Gauging how much intermodal contract pricing is rising is far trickier, as the railroads and intermodal marketing companies give little indication where prices are heading other than saying that they will rise. Service performance and how tight truck capacity gets will play into intermodal contract negotiations through this year and into 2015.
Norfolk Southern Railway last month told investors it expects to "get some uplift in intermodal pricing" for about a third of its intermodal business, largely because the railroad predicts over-the-road rates will rise.
Contact Mark Szakonyi at mszakonyi@joc.com and follow him on Twitter:@szakonyi_joc.