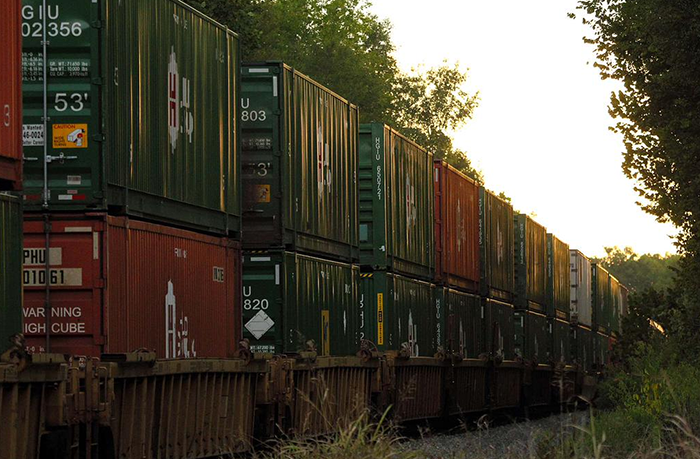 Hub Group profit rebounded in the third quarter after a management shake-up and intermodal volume declines. The strong quarter was partly thanks to increased intermodal and truck brokerage freight volume and incremental rail service improvements, the company said.
Net income at the Oak Brook, Illinois-based firm rocketed 340 percent year-over-year to $19.8 million in the quarter, as revenue slipped 1 percent to $900 million, primarily due lower fuel surcharge revenue, the company said on a Wednesday call with investors.
Hub Group, especially its intermodal business, has struggled over the past year due in large part to slowdowns on the U.S. West Coast and the slow recovery of intermodal rail service since network reliability took a nosedive during the harsh 2013-2014 winter.
In the company's second quarter, Hub reported a 1 percent year-over-year decline in net income, at $18.5 million, despite intermodal volume jumping 6 percent.  Still, it was a noticeable improvement from the first quarter, when net income fell 16.5 percent to $10.3 million, revenue shrank 1.5 percent and intermodal traffic inched up only 1 percent.
Adding another element of instability this year, Mark Yeager — the company's chief operating officer, son of Hub founder Phillip Yeager and brother of company Chairman and CEO David Yeager — stepped down from his post in August. The departure was characterized as a personal or personnel matter, but nevertheless contributed to Wall Street forecasts.
Forecasts the company managed to beat, David Yeager said Wednesday.
"We're pleased with the third quarter," Yeager told analysts and investors on a third-quarter earnings call, according to a Seeking Alpha transcript. "The price environment maintained its upward direction and we're seeing increased volume in both intermodal, as well as highway."
Intermodal volume rose across all segments and geographic regions for the company. Consolidated intermodal volume grew 4 percent. East Coast volume was up 4 percent, West Coast volume up 6 percent and transcontinental volume up 2 percent year-over-year in the quarter. Individually, the company's intermodal volume grew 3.5 percent within its Hub segment and 6 percent within its Mode subsidiary.
New pricing tools that came into use in the third quarter helped the company expand its margin, grow business and improve its network, company executives said.
"Our new pricing tool that we used this year was effective in helping us get business at the right price and the right mix," said Terri Pizzuto, Hub's chief financial officer, treasurer and executive vice president.
That "right mix" included a 16 percent increase in loads from durable goods customers, a 4 percent increase in loads from retail customers and a 15 percent increase in loads from paper customers.
Slowly improving rail service also gave the firm's intermodal business a boost, Yeager said.
Norfolk Southern Railway, who alongside Union Pacific Railroad is one of Hub's primary rail partners, has said infrastructure improvements and added locomotives are improving network velocity. Train speeds, an indication of network reliability, have been on the mend this year. Yeager, however, noted the recovery has been slow.
"Overall rail service improved incrementally throughout the quarter. On-time service improved in the low double-digits on a year-over-year basis and high single-digits on a sequential basis," Yeager said.
According to Yeager, transit times improved two-tenths of a day year-over-year in the third quarter. Nevertheless, he said, they remain a half-day longer than they were in 2013.
Volume gains, stronger pricing and improved rail service were offset by low fuel surcharge revenue, something that's been seen industry-wide, contributing to relatively flat intermodal revenue in the third quarter. Revenue fell a modest 0.2 percent year-over-year to $460 million.
The company's truck brokerage division also posted strong volume gains in the third quarter, up 14 percent year-over-year despite soft demand, the company said. Like intermodal, however, revenue was flat in the segment, falling 0.5 percent to $84 million.
Flat revenue is still a feat given the soft economy and softer-than-usual peak shipping season this year, said Donald Maltby. Maltby, a former Hub Group supply chain and strategy executive, replaced Mark Yeager as chief operating officer in September.
"Capacity is plentiful right now in peak season and the economy is soft," he said. "So our strategy has been to try to penetrate customers that we haven't in the past."
Hub's third-party logistics provider subsidiary Unyson Logistics saw revenue slide 7 percent year-over-year to $137 million in the third quarter after the division lost two major unnamed customers, one in the second quarter and one in the third. Maltby said the company is forecasting Unyson sales will be down again in the fourth quarter this year.
"Due to the losses," Maltby said, "along with the uncertainty of renewing several legacy contracts that expire in 2016."
Still, Maltby and Yeager said they remain confident that Unyson will be able to pick up the pace by the middle of next year.
"We feel as though the pipeline is strong and that the business levels will continue to recover for the remainder of the year," Yeager said.
Contact Reynolds Hutchins at reynolds.hutchins@ihs.com and follow him on Twitter: @Hutchins_JOC.