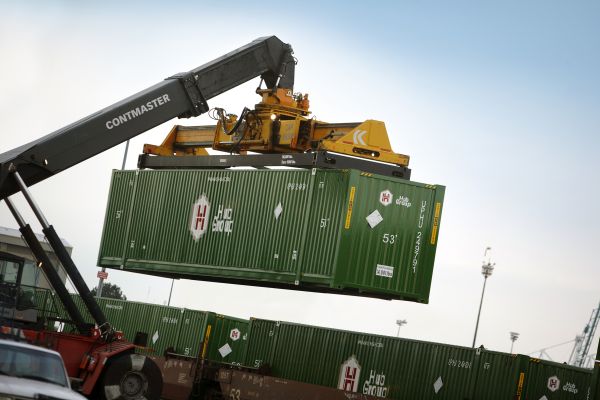 OAK BROOK, Ill. — Hub Group is adding equipment, technology and drayage drivers in an effort to improve intermodal fluidity, as signs increasingly suggest rail capacity is in a delicate balance.
The crippling of railroad networks last winter because of the brutal weather and an uptick in rail volume, both carload and intermodal, provides a chilling reminder of the sensitivity of intermodal networks. The recent jump in intermodal volume — resulting from shippers accelerating imports through U.S. West Coast ports ahead of the expiration of a labor contract at the end of the month — further underscores the need for the likes of Hub to have enough capacity and the ability to quickly turn containers.
By the end of the year, the logistics provider will expand its fleet of 53-foot containers by 2,000 units to 28,000 total. And in an effort to gain better control of its door-to-door intermodal service, Hub is expanding its drayage fleet of more than 2,200 drivers by another 400 drivers by the end of the year, according to Jim Gaw, executive vice president of sales.
Being able to increasingly tap its own drayage fleet instead of relying on others for such short-haul moves also helps the company's margins, he said. Shippers' interest in heavier loading of containers has spurred Hub to add 300 day-cab trucks, which have a larger capacity because they lack sleeping berths.
The company's equipment and drayage fleet expansion will be maximized through the installation of GPS units on each of its containers. The company is adding the GPS units to 500 containers currently and plans to have the entire fleet equipped by late 2015.
"We know where the boxes are now, but this device will tell us whether a box is empty or loaded," Gaw said from the company's new headquarters in Oak Brook, Ill. "Instead of having to scour yard for empty boxes or having to wait for customer to call, we'll know when a box is an empty."
Aside from improving equipment utilization and, as a result, network fluidity, the GPS units will also provide an added level of security. Hub's regional and drayage fleet already is already tracked via GPS units on trucks.
With most annual intermodal contracts finalized or being hammered out, Hub is generally achieving low-single-digit pricing gains, Gaw said. The pricing gains, which are stronger than what Hub achieved last year, come as shippers anticipate higher overall truckload pricing and see over-the-road capacity tightening, particularly in the southeast and Chicago area, he said.
Hub's ability to gain more favorable prices comes after management has told investors that it has chosen not to bid on some intermodal contracts and let other business lapse.
"We're focused on growing, but we're focused on growing profitably, and not just chasing revenue," Gaw said.
Hub's profit in the first quarter fell 22 percent year-over-year to $12 million, partly from the hits its intermodal business took from the cold weather. The company estimated it lost about 2 percent of its potential intermodal volume in the first three months of the year, and thus traffic rose only 2 percent year-over-year in the period. Total intermodal revenue from the Hub segment of the business, which excludes revenue from subsidiary Mode Transportation, increased 1.8 percent, a slowdown from the 3.3 percent rise seen in the prior quarter, according to a Stifel research note. Hub's revenue in the first quarter expanded 10.3 percent to $848 million in the same period.
Despite tougher federal regulations on the trucking industry that are tightening capacity, Gaw believes that the conversion of truck loads to the rails has slowed. The conversion trend still "has a lot of legs," he added. His impression of a slowdown in intermodal conversion parallels the findings of a Wolfe Research survey of roughly 100 shippers in the spring.
Contact Mark Szakonyi at mszakonyi@joc.com and follow him on Twitter: @szakonyi_joc.