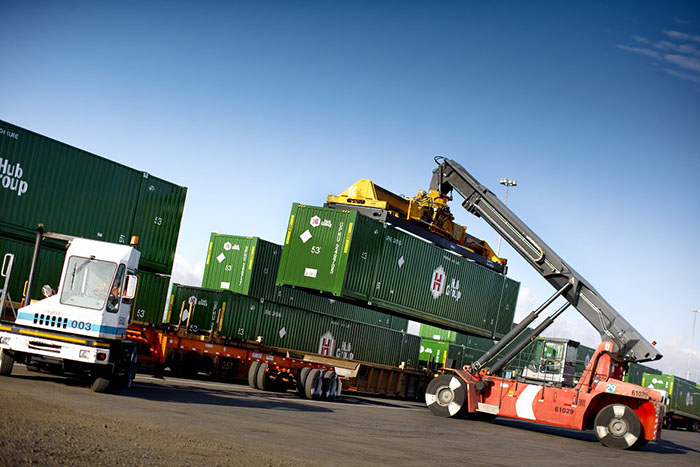 Hub Group says it expects to see more intermodal business than previously forecast for 2016 after the company reported profit growth in the first quarter.
The company estimates it will see intermodal volume rise anywhere from 2 percent to 4 percent, an improved forecast from the 1 percent to 3 percent increase predicted in late 2015. That growth is expected despite fierce competition from trucking and a soft freight economy ahead, the Oak Brook, Illinois-based trucking and transportation provider said.
"We've been working on our operational efficiencies in the company and getting our service levels up to where we'd be more attractive to gain new customers," David Yeager, Hub's president and chief executive, told investors and analysts on an earnings call Tuesday. "Our focus now is growing through target accounts, cross-selling opportunities."
That paid off during the first three months of 2016, with Hub's net income jumping 74.8 percent year-over-year to $18 million. The higher profit came despite $3.1 million in costs related to the closure of the Hub Group Trucking terminal in Los Angeles and $1 million of severance resulting from management changes.
Revenue in the same period decreased 4 percent year-over-year to $806 million, in large part because of lower fuel surcharges, company executives told investors and analysts on a first-quarter earnings call Tuesday, according to a Seeking Alpha transcript.
Lower fuel surcharge revenue dragged down revenue in Hub's intermodal segment some 2 percent year-over-year to $414 million. That was partly offset by a 1 percent uptick in intermodal loads, said Terri Pizzuto, Hub's chief financial officer, treasurer and executive vice president. It is modest growth, but still commendable, executives said, given the tough competition from the over-the-road market.
That competition has been especially pronounced on short-haul intermodal lanes in the eastern United States, said Yeager.
"We're seeing the over-the-road carriers being very aggressive even on what has been traditionally a lot of short-haul intermodal lanes," he said Tuesday. "We have actually seen greater amounts of conversion back to over-the-road from intermodal than we've seen in many, many years."
Hub's response has been diplomatic.
"We're not reacting either downward or upward as quickly or as dramatically as what the truckload sector's doing, but there's no question that there is price competition," Yeager said.
The steady approach appears to have paid off in such a challenging environment. Hub's intermodal volume rose across all segments and geographic regions, except for the East Coast.
For the first quarter, Hub's consolidated intermodal volume increased just more than 3 percent; East Coast volume was down 7 percent, West Coast volume was up 9 percent and transcontinental volume was up 8 percent year-over-year in the quarter. The company's Mexico volume also increased some 24 percent year-over-year in the quarter.
Rail service, at last seeing signs of a full recovery, has given the firm's intermodal business a boost in recent months, Hub executives said. That improved service, alongside internal changes within Hub as the company realigned intermodal operations, has reaped considerable benefits, they said.
"Overall, rail service continues to be very strong. For the first quarter, rail on-time performance improved 27 percent on a year-over-year basis and 8 percent sequentially," Yeager said. "Hub's on-time performance with our customers was up 430 basis points during the first quarter and has improved 200 basis points versus 2013 when rail service was at its best."
The company's truck brokerage division also posted strong volume gains in the quarter. Hub Highway was able to grow its load volume 5 percent despite a soft truckload market, said Donald Maltby, president and chief operating officer. Truck brokerage revenue, however, still decreased 9 percent to $81 million in the last quarter.
"This decline is due primarily to losing a customer in May of last year and customers' business levels being down," said Pizzuto.
Hub's third-party logistics provider subsidiary Unyson Logistics saw revenue slide 10 percent year-over-year to $120 million in the first quarter — a slide the company had anticipated. Maltby has said in prior quarter earnings calls the division will be focused on organic growth in 2016, facing especially tough topline headwinds in the first half of the year.
Hub leadership also reiterated its commitment to growing the company during the call.
Hub announced in late January that it had hired Geoff DeMartino, a former banker, to head a new division devoted entirely to pursuing acquisitions.
DeMartino most recently led corporate development for Thermon Group Holdings, a manufacturer supplying the power and energy industries. He will now lead Hub through the acquisition and integration processes of its future merger and acquisition pursuits.
Yeager has said Hub intends to be aggressive, pursuing at least one major acquisition each year over the next five years. Hub is particularly interested in expanding into the dedicated trucking segment, but that doesn't mean it has ruled out intermodal marketing companies or smaller acquisitions.
"We're not suddenly looking to purchase a large international freight forwarder or a small international freight forwarder, even worse," Yeager said. "We're keeping very focused on the areas we think that are going to be very sellable business lines to our clients."
Contact Reynolds Hutchins at reynolds.hutchins@ihs.com and follow him on Twitter: @Hutchins_JOC.