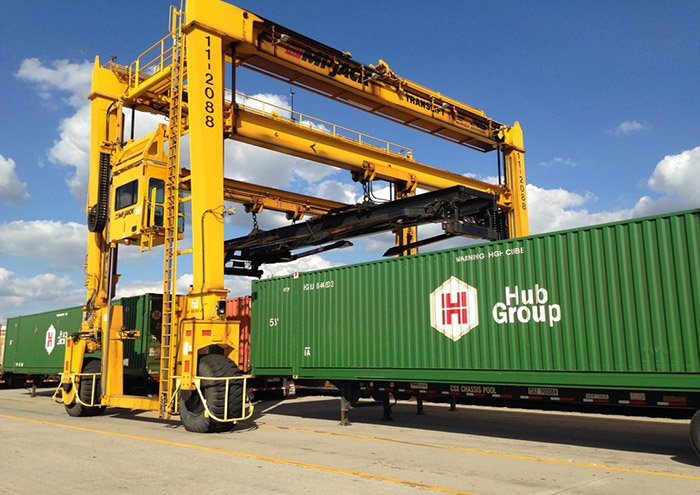 After a tumultuous year that saw a high-profile management shake-up and intermodal volume declines, Hub Group finished 2015 with a strong fourth quarter. Profit jumped double digits in the last three months of 2015 on stronger intermodal and truck brokerage freight volume and recovering rail service, the company said.
It will still be a challenging 2016 for the Oak Brook, Illinois-based trucking and transportation provider, the company said on a Wednesday call with investors. Freight volume continues to decelerate and many have suggested that the industry is on the brink, if not already in the midst of, a "freight recession."
But Hub leadership told investors Wednesday it intends to meet that challenge head-on as Hub pursues an aggressive expansion plan to acquire "one large acquisition per year."
"We are very committed to go down the acquisition path," David Yeager, Hub's chairman and chief executive, said on Wednesday's call.
Hub's net income jumped 36.6 percent year-over-year in the fourth quarter to $22.4 million. Revenue, meanwhile, fell 3 percent to $890 million, due in large part to lower fuel surcharge revenue.
Hub Group, especially its intermodal business, struggled over the past year due in large part to slowdowns on the U.S. West Coast and the slow recovery of intermodal rail service since network reliability took a nosedive during the harsh 2013-14 winter.
Adding another element of instability this year, Mark Yeager — the company's chief operating officer, son of Hub founder Phillip Yeager and brother of David Yeager — stepped down from his post in August. The departure was characterized as a personal or personnel matter, but nevertheless has contributed to Wall Street forecasts.
The dust has settled since the management changes, the company has promised.
"From a senior level, we are done with what we need to do," Yeager said.
Moreover, the company's intermodal business began to see a turn for the better in mid-2015 and Hub has continued to ride that momentum through the year's end.
Intermodal volume rose across all segments and geographic regions, excepting the East Coast. Consolidated intermodal volume grew 2 percent: East Coast volume flat, West Coast volume up 4 percent and transcontinental volume up 2 percent year-over-year in the quarter. The company's Mexico volume also increased some 24 percent year-over-year in the quarter.
Rail service, at last seeing signs of a full recovery, gave the firm's intermodal business a boost, Yeager said. "Despite the intermodal industry slowdown and surplus of capacity," he said.
"Overall rail service is back," Yeager told investors on the line Wednesday. "On-time performance improved 24 percent on a year-over-year basis, 9 percent sequentially."
Norfolk Southern Railway, who alongside Union Pacific Railroad is one of Hub's primary rail partners, has said infrastructure improvements and added locomotives are improving network velocity. Train speeds, an indication of network reliability, have been on the mend. The recovery has been slow, as Yeager said on a number of occasions throughout 2015, but the railways seem to have at last returned to a level of more consistent and reliable service, he said Wednesday.
"That type of consistent service is incredibly important to our large customers," Yeager said.
New pricing tools that came into use in the third quarter continued to help the company expand its margin, grow business and improve its network, company executives said. The "right mix" of customers was also a boost.
Fourth-quarter intermodal revenue, however, still decreased 4 percent year-over-year to $446 million.
The company's truck brokerage division also posted strong volume gains in the fourth quarter, up 14 percent year-over-year, the company said. Unlike intermodal, however, the segment posted an uptick in revenue, increasing 6 percent to $89 million in the quarter.
Hub's third-party logistics provider subsidiary Unyson Logistics saw revenue slide 10 percent year-over-year to $134 million in the fourth quarter, as the company predicted earlier in 2015. The division lost two major unnamed customers, one in the second quarter and one in the third quarter of the past year.
The addition of new and unnamed "opportunities" in the later half of the year look promising for Unyson, though, according to Donald Maltby, the company's president and chief operating officer. Maltby, a former Hub Group supply chain and strategy executive, replaced Mark Yeager as chief operating officer in September.
"In the fourth quarter, we landed a number of opportunities that will be onboarded in the first half of 2016," Maltby told investors on Wednesday's call.
In 2016, Maltby said the Unyson team will be focused on organic growth, facing tough topline headwinds in the first half of the year. However, he added, "We expect topline improvement for the full year."
The industry shouldn't expect to see another leadership change at Hub in 2016, at least not one of the size and publicity witnessed last year, Maltby and Yeager said. What the industry can expect, though, is growth.
Hub announced in late January that it had hired Geoff DeMartino, a former banker, to head a new division devoted entirely to pursuing acquisitions.
DeMartino most recently led corporate development for Thermon Group Holdings, a manufacturer supplying the power and energy industries. He will now lead Hub through the acquisition and later integration processes of its future M&A pursuits.
Yeager has said Hub intends to be aggressive, pursuing at least one major acquisition each year over the next five years. Hub is particularly interested in expanding in the dedicated trucking segment, but that doesn't mean it has ruled out intermodal marketing companies or smaller acquisitions.
It's still very early, Yeager said.
"In all candor, at this point there is not a lot of discussion," Yeager told investors. "We're not putting it off, but we've been waiting for Geoff to come on board to guide us through the acquisition process and then through the integration process."
Contact Reynolds Hutchins at reynolds.hutchins@ihs.com and follow him on Twitter: @Hutchins_JOC.