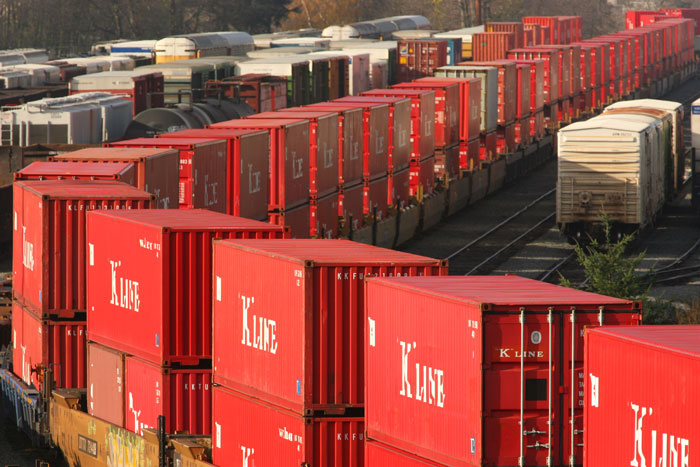 Correction: An earlier version of this story incorrectly stated shippers were shifting more freight from rail to truck. 
For the first time in nearly a year, more U.S. shippers say they are shifting freight from truck to rail than the other way around on improved intermodal service, according to a survey of roughly 600 shippers.
Shippers said their expectations for intermodal volume growth through third quarter 2016 were their lowest in more than three years, despite their belief that pricing gains will decelerate, according to the Wolfe Research survey of shippers whose aggregate transportation budget exceeds $10 billion.
Shippers polled through September and early October this year said they expected a roughly 1.5 percent increase in intermodal volume over the next year, down from just below 3 percent in the second quarter and from more than 4 percent last year.
"This is a material change from last quarter when expectations for domestic ground and intermodal volumes were the highest across all modes," Wolfe said. "Shippers now have the highest expectations for [truckload] and global ocean volumes, both at a touch above 2 percent."
Decelerated volume growth is due largely to "prior rail service issues" and "lower fuel prices" for over-the-road options, Wolfe said. Nevertheless, ongoing improvements to service helped railroads accelerate the rate of highway-to-rail conversions in the third quarter for the first time in roughly nine months.
Shippers polled said they diverted 1.9 percent of their third-quarter volume from truck to rail, up from 1.2 percent in the second quarter. On the flip side, shippers moved 1.2 percent of their third-quarter freight from rail to truck, down from 2 percent in the second quarter. The end result was a net freight diversion to rail of 0.7 percent during the third quarter.
"This ended three straight quarters of net diversions from rail to truck," Wolfe reported.
The rate of highway-to-rail conversions picked up speed earlier this year, as lower diesel prices, down roughly 30 percent year-over-year, and rail service inconsistency made trucking options more viable for shippers. It's something that some railroads, such as CSX Transportation, say they are now recovering from, while others, such as Norfolk Southern Railway, say they are still fighting.
The Wolfe survey is an early sign that after months of net rail-to-highway diversions, perhaps the tides are now turning.
"Our respondents expect the pace of intermodal share gains to reaccelerate somewhat from last quarter," Wolfe added.
Over the next 6 to 12 months, survey participants said they intend to move 0.5 percent of their volume from rails to over-the-road options, below the 2.3 percent that shippers plan to shift from truckload to rail. This implies a net gain of 1.7 percent for the rails going forward, an improvement over the 1.4 percent gain Wolfe's survey found in the second quarter.
"Still, the pace of share gains for intermodal remains lower than what we've historically seen in our survey," the research firm said, pointing out shippers' net gain forecasts were still well below the 2.7 percent a year ago.
"We believe this data suggest that while intermodal growth will continue to outpace other transport modes over time, the growth potential is likely somewhat diminished at lower oil prices," Wolfe concluded.
Shipper rail pricing expectations slowed in the third quarter, but still lead among all forms of transport. According to Wolfe, shippers in the third quarter said they expect a 2.7 percent rate increase from the rails over the next year, decelerated from 3.3 percent in the second quarter. Despite the slowdown, shipper expectations for rail rate increases led all other transportation modes for the 18th time in the past 19 quarters and rail pricing expectations still remain well above what Wolfe's survey forecast throughout most of 2011, 2012 and 2013.
While improved intermodal market share may not be a result of comparable pricing or lower fuel prices, it does reflect improved rail service levels, Wolfe said. Rail service rankings improved to the highest level in two-and-a-half years, according to the research firm.
Asked to rate service improvements, both carload and intermodal products, from 1 to 5, shippers gave railroads an average score of 3.3, a material improvement over the 2.2 rating shippers gave last year and up from the 3.1 rating they gave in the prior quarter.
"This is the highest composite service ranking in our survey in ten quarters," Wolfe said. "Rail service metrics, including dwell times and train speeds, were terrible throughout 2014, but have improved materially this year."
According to Wolfe, the Big Four U.S. Class I Rails — BNSF Railway, CSX, Norfolk Southern and Union Pacific Railroad — averaged a 6 percent year-over-year increase in velocity for both carload and intermodal trains during the third quarter, up from 2 percent in the second quarter and the highest gain since late 2012. U.S. railroads also reported an average dwell time decline of 6 percent year-over-year in the third quarter after a 4 percent improvement in the second.
Average Class I train speeds in North America also increased year-over-year for the third straight quarter after deteriorating in the prior eight quarters. Canadian Pacific Railway led the way, train speeds increasing 20 percent year-over-year in the third quarter.
Improved and improving rail service played a large part in shippers' expectations to continue using intermodal in the future, Wolfe said. On average, about 13 percent of shippers' total over-the-road volumes are currently going through intermodal, up from 8 percent five years ago. And, looking ahead, shippers said they expect 15 percent of total over-the-road volumes to go through intermodal in five years.
"This suggests that even though intermodal share gains have recently slowed due to prior rail service issues and lower fuel prices, the pace of intermodal conversion should continue the next several years," Wolfe concluded.
Contact Reynolds Hutchins at reynolds.hutchins@ihs.com and follow him on Twitter: @Hutchins_JOC.