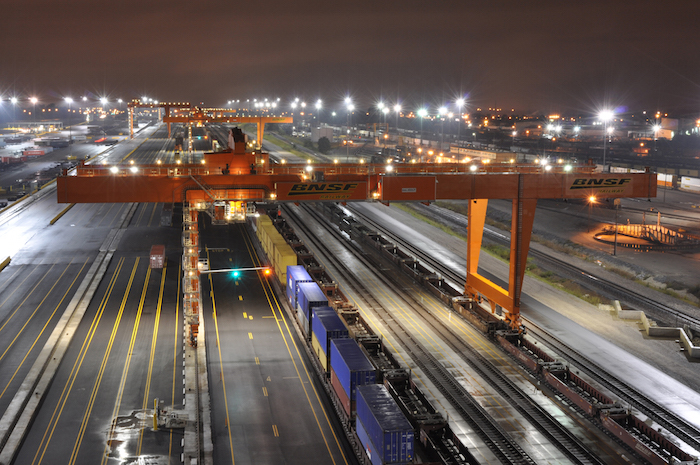 Intermodal volume growth slid to a near-halt in 2015, and the headwinds that stymied growth — high inventories, a strong U.S. dollar, decelerating manufacturing production, low fuel prices and flush truck capacity — show no signs of subsiding anytime soon.
Outlook for the Class I rail industry in 2016 varies from cautiously optimistic to downright grim. Even though intermodal service has generally improved, the railroads are finding competition from the trucking sector — for domestic loads and marine containers — as fierce as ever. Fluid truck capacity and historically low fuel prices have helped keep truck spot rates low. With U.S. crude, gasoline and diesel inventories close to overflowing, fuel prices and surcharges are likely to remain depressed.
BNSF Railway and CSX Transportation's recent crackdown on free time at intermodal terminals, an effort to improve service, according to the railroads, has irked many shippers and sent some into the open arms of over-the-road competitors.
"We made a strategic decision to move away from rail service in the trans-Pacific east- and westbound due to carriers' limited flexibility in free time at the rail destinations," one major beverage shipper said, speaking on on the condition of anonymity.
Despite a rocky fourth quarter, especially for international traffic, the Intermodal Association of North America says it still expects 3 to 4 percent growth for total intermodal volume in 2016. Much of that will be in domestic traffic, as improved rail service helps the industry win back market share from over-the-road competitors, the trade group said.
Overall intermodal volume increased 0.3 percent year-over-year in the fourth quarter of 2015, a 5.2 percent uptick in domestic containers offset by a 15 percent decline in trailer traffic, according to IANA.
"There is promise that intermodal will regain traction in early 2016," IANA said in its quarterly intermodal report, "especially with domestic containers by far the largest opportunity for railroads to replace lost carload volume and improve profitability."
With U.S. West Coast labor disputes resolved and import growth likely to recover after inventories are rebalanced, international volume stands to see an uptick, if only a modest one, as well, the group added.
Noted intermodal analyst Ted Prince is less confident. Prince, chief operating officer of refrigerated intermodal rail provider Tiger Cool Express, said the outlook for 2016 could best be described with a four-letter word unsuitable for print.
"If you're talking about international, that's probably going to be up," Prince told JOC.com. "If you look at other sectors, it's a lot more difficult to predict."
Prince said rail service may have improved substantially on core lanes, but it remains problematic everywhere else. Moreover, low fuel prices are still compressing the advantages of rail. Shippers are still finding advantages shifting their cargo to over-the-road carriers, he said.
"We are still seeing rail-to-truck diversion. No doubt," Prince said.
The word from industry executives has fallen somewhere in between IANA and Prince's assessment.
Many agree that the first half of 2016 will be demanding, as the factors that contributed to fourth-quarter intermodal volume declines will continue to challenge business in 2016.
Canadian National Railway and CSX were the only Class I railroads to report intermodal volume growth in the last three months of 2015, up 5 percent and 4 percent year-over-year, respectively. Fourth-quarter intermodal traffic at the remaining Class I railroads — Norfolk Southern Railway, BNSF, Canadian Pacific Railway, Union Pacific Railroad and Kansas City Southern Railway — fell anywhere from 1 to 9 percent year-over-year.
Meanwhile, transportation providers J.B. Hunt Transport Services and Hub Group both posted intermodal volume gains in the last three months of 2015, though those gains came after less-than-spectacular intermodal reports in prior quarters.
At J.B. Hunt, intermodal loads jumped 6 percent in the fourth quarter, twice the rate of expansion in the third quarter, with eastern rail network loads rising 8 percent after growing 1 percent in the previous quarter. Meanwhile, after a rocky year, Hub Group's consolidated intermodal traffic was also up  some 2 percent. Though East Coast volume remained flat in the fourth quarter, West Coast volume was up 4 percent and transcontinental volume was up 2 percent year-over-year. The company's Mexico volume also increased some 24 percent year-over-year.
CSX forecast flat intermodal growth in the early months of 2016, as the loss of international intermodal business to NS is expected to offset domestic volume increases gained from highway conversions and a key customer shifting loads away from its eastern U.S. rail archrival. CSX CEO and Chairman Michael Ward said on a fourth-quarter earnings call that prior to 2015 the railroad grew its domestic intermodal business 7 percent annually, and he expects long-term annual growth of 5 to 10 percent, with 2016 on the low end of the range.
Other railways are less optimistic.
Despite positive intermodal volume growth, CN leadership said they have little doubt the weak Canadian economy will drag on CN's financials and intermodal traffic, especially domestic volume.
"The Canadian economy maybe will only offer so much opportunity in 2016," said J.J. Ruest, CN's executive vice president and chief marketing officer. "The opportunity is more on overseas than on domestic."
Ruest said CN's status as the sole rail provider at the Port of Mobile in Alabama and the Port of Prince Rupert in British Columbia should propel the company's overseas franchise through 2016.
No doubt the Canadian economy will also hurt CN's archrival CP, and perhaps more so.
CP has prided itself on its domestic intermodal gains in previous quarters, before that push began to lose steam earlier last year. Since taking the reins in 2012, CP CEO E. Hunter Harrison has targeted domestic intermodal growth as a priority, aiming to win over business from both longtime industry rival CN as well as over-the-road competitors. That strategy took a hit after CP suffered a 9 percent year-over-year decline in domestic volume in the fourth quarter.
"I don't see any shining stars out there in the economy," Harrison said.
Due south, bloated inventories and weak holiday retail sales in the U.S. were largely to blame for poor intermodal traffic numbers in the fourth quarter, NS and UP executives said in their fourth-quarter earnings calls. Now, months after the West Coast labor dispute that forced retailers to retool promotional calendars, shippers are still rightsizing their warehouse stocks.
Although manufacturing and trade inventories shrank 0.2 percent month-to-month in November, retail inventories ticked up 2 percent in the same period and are up 5.5 percent year-over-year, according to the U.S. Census Bureau.
Holiday sales rose 3 percent in 2015 to $626.1 billion, the National Retail Federation reported, less than the 3.7 percent increase the NRF expected. And December sales dropped 0.2 percent from November.
"Every (beneficial cargo owner) is looking at rationalizing their inventories," said Eric Butler, executive vice president and head of marketing and sales at UP.
It will take time for the railroad to adjust to the market, UP CEO Lance Fritz said.
"We've been clear historically about time lags in decisions that are just the nature of our business," he said. "Hiring someone to operate a train, that's about a six-month process. When you're talking about capital planning and locomotive acquisition, those lead times get longer."
NS, too, said a rebound in intermodal business will more than likely not be seen until some time in the last half of the year.
"Once those get worked through, we will see some growth," said Mark D. Manion, executive vice president and chief operating officer, at NS.
That rebound won't likely be seen until some time in the last half of the year, NS CEO Jim Squires said. Until then, he said, "It remains a challenging macro-environment … this is why we're so focused on cost savings, on maintaining service."
Service was one bright spot in fourth-quarter earnings calls dominated by discussions of falling carload traffic and decelerating intermodal volume growth.
Train speeds, an indicator of overall rail service, have improved substantially in recent weeks, up double-digits in the first month of the year. According to Larry Gross, senior consultant at transportation research firm FTR, average train speeds for Class I railways, excluding CP, were "really moving" in the first four weeks of 2016, up 10 percent year-over-year at 33 miles per hour.
BNSF was the leader of the pack among reporting railroads. For the four weeks ending Jan. 29, BNSF averaged 37.5 mph. Pulling up the rear was CSX, averaging 29.175 mph.
"BNSF's operation continues to generate solid performance," said Katie Farmer, the railway's vice president of consumer products and the current chairwoman of IANA. "The overall velocity for railcars, trains and locomotives remains strong, and each continues to exceed their respective averages from the previous January by at least 10 percent."
Prince, who has criticized the industry's prior efforts to recover and repair intermodal service, told JOC.com it does seem that now, two years after the 2013-14 winter roiled networks, service on main lines appears to have been restored.
"I would say, in core lanes, service is pretty good," said Prince, highlighting substantially improved service between Los Angeles, Chicago and New York. "Those trains are running everyday, and they're running well."
But if a shipper needs to move cargo from say Kansas City to Los Angeles? "You're really rolling the dice," Prince said. "On non-core lanes, service is problematic because railroads are annulling trains."
It's not so much that the trains running are unreliable or inconsistent, he said. It's that fewer trains are running in an effort to cut expenses.
Many railways have cut their workforce and locomotive fleets in order to save costs during these tight times. NS, for example, said it plans to reduce its active locomotive fleet by 300 this year and another 100 by 2020.
The railways, though, generally pin improved service on their network investments and improvements. There is something to be said for those investments, Prince said, such as BNSF's multibillion-dollar 2015 capital plan.
"Look at the BN Seattle-to-Chicago. That service is running like a Swiss clock," he said. "It wasn't that way two years ago."
But, Prince said there is little doubt that falling carload volume, spurred by a soft energy market and low manufacturing output, has freed up networks, allowing intermodal train speeds to ramp up and the overall network to flow more smoothly.
The question now isn't whether intermodal service has improved or recovered, Prince said. It's whether that level of service is sustainable.
The answer to that question is unlikely to surface in the first half of 2016. But the railways do expect volume to rebound in the last half of the year, testing the sustainability of service improvements and their competitiveness with trucking.
Contact Reynolds Hutchins at reynolds.hutchins@ihs.com and follow him on Twitter: @Hutchins_JOC.