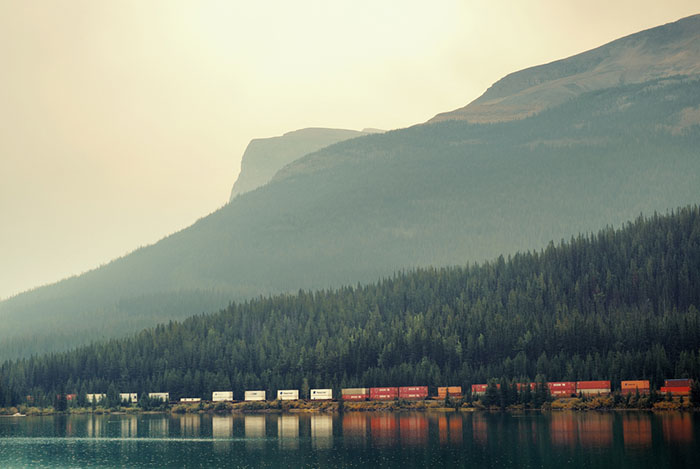 North American intermodal volume growth accelerated in the first quarter of 2016 and is forecast to continue at or above that clip for the remainder of the year, according to the Intermodal Association of North America.
Total intermodal growth increased 2 percent year-over-year in the first three months of 2016, after increasing just 0.3 percent in the fourth quarter of 2015, IANA reported.
Despite the modest uptick, the group still expects 3 to 4 percent growth for total intermodal volume in 2016. It's a not the most optimistic forecast — total intermodal volume was up nearly 3 percent last year — but North American railroads, hit hard by double-digit declines in commodity and coal volume, will take what they can get in what many have called a challenging marketplace.
The group said there is a chance that second-quarter volume could be slower, even flat, since much of last year's results reflected a catch-up from first-quarter port problems. But the pace should quicken in the second half of the year, IANA said, especially in the fourth quarter, thanks to year-over-year comparisons with the last months of 2015 when fuel prices hit all-time lows and inventories hit all-time highs.
In total, container volume advanced 5 percent year-over-year in the first quarter of 2016, a reasonably strong growth rate, according to IANA.
"Total container shipments, domestic and international combined, rose approximately 5 percent during the first quarter of this year," Joni Casey, IANA president and CEO, said in a statement. "And while influenced by comparisons to last year when we were dealing with port congestion issues, we're cautiously optimistic about this year's growth potential."
Domestic container volume performed the best of the different intermodal segments, up 6.4 percent year-over-year in the first quarter.
It's a product of a renewed focus on intermodal business for North American railroads after the weak energy market dragged down profits in 2015 and into 2016.
"The railroads have had a very consistent message in 2016 — the number one way to offset the continued plunge in many carload segments, especially coal, is to aggressively grow domestic intermodal. So far in 2016, that's happened," IANA said.
And it appears likely to gain even more traction as trucking regulations tighten over the next few years and rail intermodal service continues to improve.
Domestic container volume growth is also helped, in part, by steady import strength which drives transloading to larger containers as well as international volume. U.S. containerized imports grew 5.8 percent in the same time period, according to IANA's figures.
Given that steady import volume growth in the first quarter, it's surprising that international container volume growth did not perform as well.  
International growth failed to live up to expectations, IANA said, as volume was up just 3.8 percent year-over-year in the first quarter. The group did note, however, that 3.8 percent growth is better than the 0.6 percent decline experienced in the fourth quarter of 2015 and much of the weakness in international containers came from outside the U.S.
International volume in the fourth quarter declined in both Western Canada and Mexico. Excluding those two regions altogether, IANA said, international intermodal rose a more impressive 6 percent.
So long as the U.S. dollar and consumer spending continue to remain strong, the group said it expects 5 to 6 percent import growth for the whole of 2016.
"For international volumes, the key question is, as always, port choice. In early 2016, share moving to the U.S. East Coast from Asia remained high, which keeps rail gains below those for imports as a whole. Still, if imports maintain their pace, it is likely full-year growth will be similar to the first quarter on the international side," the group said.
The greatest contributor to more modest overall intermodal volume growth in the first quarter, IANA said, was trailer volume. Trailer volume plummeted some 24.4 percent during the same period, reducing total intermodal growth to just 2 percent.
The group pegged the downturn in trailer volume on the restructuring of Norfolk Southern Railway's Triple Crown operations announced late last year. Previously, Triple Crown had operated a special type of railroad equipment known as RoadRailer that consisted of a highway trailer that was specially fitted for intermodal use.
"RoadRailer volumes are counted as trailers in IANA's data, so any change in RoadRailer traffic detracts from the trailer growth rate," the group said in a statement. "Origin regions that had a heavy RoadRailer presence generally showed much larger trailer declines in the first quarter than those that had less exposure to this service."
Still, not all of the decline in trailers is attributable to Triple Crown. Trailer volume declined in every region in North America except Western Canada, suggesting that trailer volume would have dropped even excluding the changes at RoadRailer, just not by as much, IANA said.
There are many other factors that could be contributing to the decline in trailers, the group said.
Fuel prices remain low so intermodal trailer shipping may be facing competition from trucking. Similarly, changing logistic trends, spurred by rising online sales, may be pushing more freight towards trucks and away from intermodal trailers. There has also been a long-term trend to move freight away from trailers. In the first quarter of 2016, there were less than half as many trailer shipments than at the start of the new millennium. In contrast, there were over twice as many container shipments in the first quarter of 2016 than in the first quarter of 2000.
Contact Reynolds Hutchins at reynolds.hutchins@ihs.com and follow him on Twitter: @Hutchins_JOC.