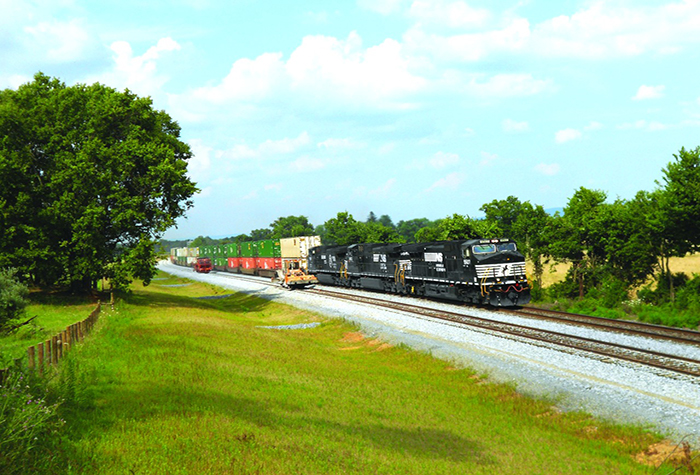 Norfolk Southern Railway's second rejection of a takeover bid from Canadian Pacific has ignited talk of a potential hostile takeover — something the Class I railroad industry has never seen and is unlikely to occur, according to an intermodal analyst.
"There hasn't been a hostile takeover of a railroad to my knowledge," intermodal analyst Tony Hatch told JOC.com Tuesday following NS's rejection of the roughly $42 billion bid. The Virginia-based railroad called the latest offer worse than the first and "grossly inadequate" just 40 minutes after CP made the pitch Tuesday morning.
The last merger between Class I railroads was completed in 1999, when NS and CSX Transportation acquired Conrail and split its assets between themselves. Just a year ago, CP tried and failed to acquire CSX. That deal fell apart due to shareholder pushback. There was never any attempt at a hostile takeover.
Hatch said the closest the industry has come to a hostile takeover was when Bill Ackman's Pershing Square hedge fund installed E. Hunter Harrison as chief executive at CP in 2012.
"The proxy fight that resulted in Hunter's arrival at the CP is probably the closest, but I don't see that happening here," he said.
Ackman, however, disagrees. The activist investor, himself, has said that a proxy fight is now "reasonably likely."
Calgary-based CP's original takeover bid for NS issued in early November valued NS at $28 billion, and was rejected by the NS board three weeks later.
CP upped its offer Tuesday morning to $32.86 in cash per share and 0.451 of a share in a new holding company. The revised bid cuts the cash component, but increases the stock that NS shareholders would have from 41 percent to 47 percent.
The holding company, unique to the latest offer, would run the two railways as independent entities until the U.S. Surface Transportation Board can rule on the merger. Under the so-called "voting trust," an independent trustee would be appointed to oversee either CP or NS while in trust. Whether CP or NS is in trust, Harrison would become CEO of NS and sever all economic and other ties to CP including stock and pension, according to the proposal.
On a Tuesday morning conference call with Harrison and Ackman, CP's largest shareholder, the duo said the voting trust model would "dramatically" alleviate any regulatory concerns. They also reiterated their willingness to accept all risk involved as the merger jumped through the regulatory hoops in both the U.S. and Canada.
"We remain ready to work with you and your team immediately on this transformational opportunity," Harrison said.
CP said it expects the transaction could close as early as May 2016, a deadline the company hopes will allay any fears on the NS board of a prolonged regulatory review process.
NS, however, remains unsold.
NS CEO, Chairman and President James Squires said CP's revised offer is not only less than the previous one that NS had dismissed, but "even more uncertain and risky."
"In addition to being grossly inadequate, the proposal is based on a voting trust structure that we reviewed and do not believe would be approved by the STB," Squires said in a statement.
NS released a report a day before CP's most recent bid, detailing the findings of two former STB commissioners who reviewed CP's first offer. According to NS, the commissioners concluded that, at least the original proposal, was "highly unlikely to be approved."
The company has also said it believes the STB would find fault with the overstated synergy targets in CP's offer, which imply significant reduction to investment and employment levels, which the board believes would harm service levels.
While NS has promised to give the latest offer its due diligence, given the level of pushback shortly before and after Tuesday's revised bid, it seems NS may yet derail CP's plans for acquisition.
There has been some indication that Harrison may be trying to reach out to activist NS shareholders, leveraging NS's ongoing woes, to curry favor for a hostile, or less-than-hostile, takeover.
On Tuesday's conference call, Harrison said he felt shareholder activism was "long overdue" at some U.S. railways, according to a Reuters report.
Squires and the NS board have taken issue with what they say appears to be a strategically timed takeover to coincide with NS's recent struggle to implement cost-cutting measures amid ongoing  declines in carload volume, especially coal traffic.
NS has said it is already successfully executing a strategy, improving network performance and implementing efficiency measures, including managing headcount, increasing locomotive productivity and integrating technological innovations.
"You don't need to turn the North American railroad map upside down in order to change out NS management, if that is what the shareholders want," said Hatch. "If it is a matter of applying certain management practices as already in place on CP to NS, it doesn't take a merger to do it, and I think the STB will be reluctant to approve a merger in such an instance."
Harrison himself has said he is resistant to pursuing a hostile takeover of NS, especially so early in their talks. Harrison, though, has been a longtime proponent of consolidation in the industry and after three unsuccessful bids, one for CSX and two for NS, he remains undaunted. His position, though, is a minority view.
According to a recent Cowen and Co. poll, rail shippers by and large oppose Harrison's proposed acquisition of NS. The Wall Street research firm found that 71 percent of respondents opposed a merger between the two companies, citing fears over fewer options and higher pricing. Nearly half said they would officially voice their opposition to the STB, should NS take CP up on its offer.
Contact Reynolds Hutchins at reynolds.hutchins@ihs.com and follow him on Twitter: @Hutchins_JOC.