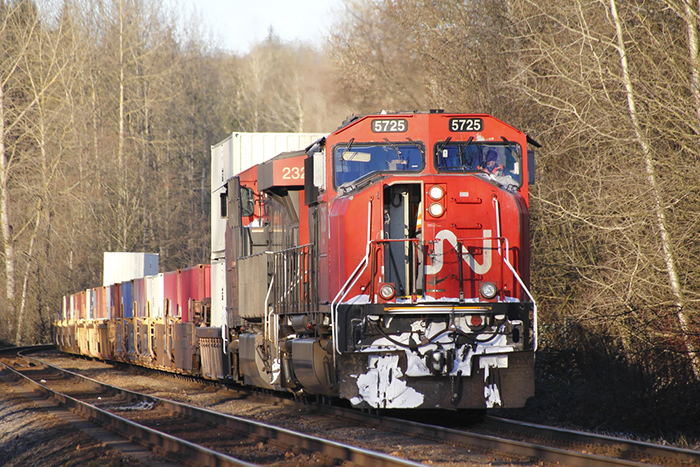 Shovels could be in the ground on Canadian National Railway's planned $196 million intermodal and logistics hub outside of Toronto as soon as 2017. That is, if a recently submitted environmental impact statement passes muster with Canada's Environmental Assessment Agency.
Canada's largest railroad has said the hub in Milton, Ontario, roughly 30 miles west of Toronto, will give shippers in the greater Toronto and North Hamilton region better access to the transborder market and ports on both coasts. Milton is roughly 80 miles from Buffalo, New York, the second-largest port of entry for U.S.-Canada trade. Aside from cross-border intermodal volume, CN also handles domestic east-west shipments, and imports and exports from the port of Halifax, Montreal, Prince Rupert and Vancouver to the GTNH region.
But the facility has faced its share of opposition.
Milton's mayor and chief administration officer have pledged to fight the project, saying it derails the town's growth management strategy, according to the Toronto Sun. Milton officials said CN pitched a similar project in 2001, but pulled back from its plans after issues were identified.
There are also environmental concerns regarding the hub's impact on fish, migratory birds and other fauna in the area; archeological and cultural resources; socio-economic conditions; as well as human health.
Those are all concerns, however, that CN has said it has addressed in its latest environmental impact statement.
"The EIS outlines design features and mitigation measures to be incorporated into the project to prevent or reduce potential environmental effects," CN spokesperson Mark Hallman told JOC.com.
Those measures include an approximately 1-mile private road to be constructed on CN property to avoid truck queuing on public roads and a new underpass to be built to minimize the impact on commuters traveling east and west past the hub. They also include raised berms topped off with native Ontario vegetation and trees to reduce noise pollution that blend into the natural environment of the area. Solar panels, rainwater capture, and natural and LED lighting will also be part of the project.
"Overall," Hallman said, "it is concluded that with planned mitigation and the implementation of best management practices, the environmental effects of the project, including those during the construction and operation phases, will not be significant."
In early 2016, CN said it expects the Environmental Assessment Agency to invite the public to comment on the draft terms of reference for a review panel on the project. The terms of reference will set out the mandate of the review panel including the scope of the environmental assessment and the process and the timelines for the review panel to complete its review.
"Terminal construction is expected to begin in 2017 and should take approximately 18 to 24 months, with opening anticipated in 2019," Hallman said.
Once operational, the new terminal, located on the railroad's main line, will initially be able to handle roughly 300,000 container units annually, and at full capacity will be able to handle 450,000 container units a year, CN has said. The Milton terminal will operate as a satellite to the  Brampton Intermodal Terminal, which serves the greater GTNH region and handled about 1 million container units last year.
CN said the project comes as Milton experiences a spurt of distribution center activity in recent years, thanks to the availability of land and its connections to a highway network, particularly Highway 401, the country's busiest throughway. Exporters in the southwest of greater Toronto and North Hamilton region are also poised to benefit from better intermodal access.
Intermodal volume, consisting of the shipment of ocean containers and domestic equipment, has been one of CN's fastest growing businesses. The railroad was one of the few Class I North American railways to post volume gains in the third quarter of 2015. Total intermodal volume increased 4 percent year-over-year in the third quarter to 764,000 units. Intermodal revenue, likewise, was up 5 percent to $764 million Canadian dollars.
Intermodal gains were thanks in large part to the positive translation impact of a weaker Canadian dollar, higher shipments through the Pacific port of Prince Rupert, where CN has on-dock rail service, and increased domestic volumes serving retail and wholesale channels, the company said.
Contact Reynolds Hutchins at reynolds.hutchins@ihs.com and follow him on Twitter: @Hutchins_JOC.