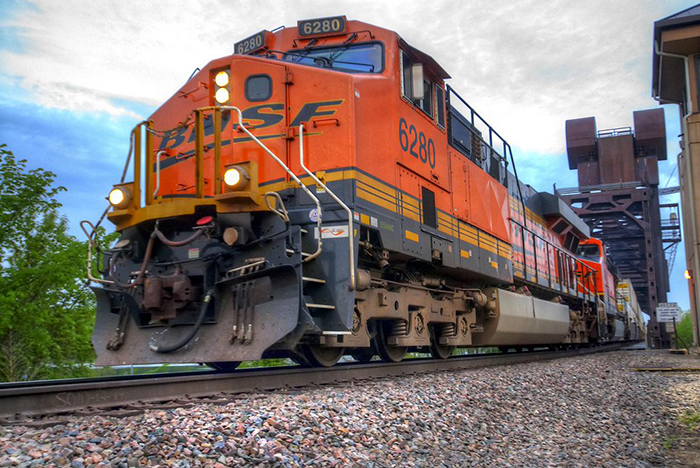 A decision on whether BNSF Railway will be allowed to build an intermodal container transfer facility considered crucial to growth at the ports of Los Angeles and Long Beach could be made next spring.
The decision hinges in part on a hearing last week on procedural issues involving a project that has been under study for the past decade.
BNSF's proposed 153-acre Southern California International Gateway would be constructed about five miles from the largest U.S. port complex. The location is adjacent to Union Pacific Railroad's Intermodal Container Transfer Facility that has been in operation since 1986. Intermodal yards such as the ICTF and SCIG transfer containers between vessels and trains.
Contra Costa County Superior Court Judge Barry Goode last week heard arguments pertaining to certain civil rights claims involving the SCIG project under the California Environmental Quality Act. Judge Goode also set Jan. 28 to hear arguments involving CEQA's fair-hearing provision. He is expected to rule about two months after that on the environmental challenges to the facility, which would determine if the project can move forward.
Environmental groups led by the Natural Resources Defense Council, the city of Long Beach, the Long Beach Unified School District and other community groups charge that the SCIG's environmental impact report does not adequately account for the harmful diesel emissions that would result from truck and rail operations at the facility.
The Los Angeles City Council in 2013 approved the EIR, referencing the joint Los Angeles-Long Beach Clean Air Action Plan of 2006 that has reduced overall port-related emissions by more than 80 percent. The BNSF transfer facility would serve both ports. The site is within the city limits of Los Angeles, but it is adjacent to a residential neighborhood in west Long Beach with schools and playgrounds.
UP's international intermodal trains are assembled at the ICTF five miles from the Los Angeles-Long Beach port complex. However, BNSF's international containers must be trucked to its Hobart yard about 24 miles up the I-710 freeway to downtown Los Angeles. Trucking 1.3 million international containers each year to Hobart costs more and generates much more pollution than would be involved in the five-mile dray to the SCIG.
SCIG supporters also note that the 2007 and newer-model trucks mandated by the ports' clean-truck programs have reduced diesel emissions by 90 percent compared to older trucks. Also, railroads are phasing in much cleaner Tier Three and eventually Tier Four locomotives.
Morgan Wyenn, an NRDC staff attorney, said that while these developments are certainly positive, the emissions generated by existing intermodal operations, and especially the projected truck and train traffic that will come with growth, are still at an unacceptable level. "They're nowhere near where they have to be," she said Tuesday in an interview.
Another significant problem associated with the project is that BNSF has no intention of shutting down the Hobart operation when the SCIG is up and running. BNSF handles a large amount of domestic intermodal freight in Southern California. "BNSF isn't moving its operations to SCIG. It's doubling its operations," she said.
The ports of Los Angeles and Long Beach have plans to move as much cargo as they can both at the on-dock rail facilities that serve all of the 13 container terminals in the harbor, and the ICTF and SCIG near-dock transfer yards. Greater use of rail will reduce costs in the international supply chain, and rail is a much greener form of transportation than trucks.
Contact Bill Mongelluzzo at bill.mongelluzzo@ihs.com and follow him on Twitter: @billmongelluzzo