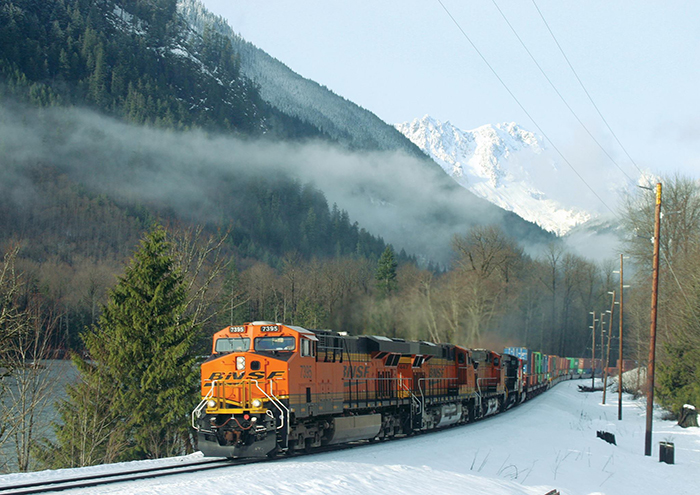 Despite healthy international intermodal growth — albeit not as much as the railroad had hoped considering easy annual comparisons to when U.S. West Coast ports were at a near-standstill —  BNSF Railway profit plummeted in the first quarter.
Profit at the Fort Worth, Texas-based railroad fell roughly 25 percent year-over-year in the first three months of 2016 to $784 million. Revenue also fell, some 15 percent during the same period to $4.76 billion.
The Class I rail industry is having a tough go of it, and Warren Buffett, chief executive at BNSF's parent company Berkshire Hathaway, doesn't see it getting any better largely due to dramatic declines in coal and other energy-related commodity volumes.
"Railroad carloadings throughout the industry — all of the major railroads — were down significantly in the first quarter, and probably will continue to be down for the balance of the year," Buffett said at Berkshire Hathaway's annual shareholders meeting at the end of April.
But Buffett's forecast is largely colored by recent carload commodity performance. BNSF coal volume in particular fell 33.2 percent year-over-year in the first quarter. That decline was "attributable to reduced utility demand for coal driven by high customer inventories, low natural gas prices and reduced electricity generation in part due to historically mild winter weather," Berkshire Hathaway said in a statement.
BNSF's intermodal business, though, fared much better.
Intermodal carloadings were up 6.29 percent year-over-year to 1.2 million units, including containers and trailers, in the first quarter, according to BNSF's weekly carloading reports.
It's an improvement over the railway's fourth quarter, when intermodal volume was down roughly 1 percent year-over-year to 1.13 million. It's also comparatively better than the intermodal volume handled by five of the six other Class I railroads in the first quarter of 2016.
Only Canadian Pacific Railway posted stronger intermodal traffic figures. Meanwhile, BNSF's No. 1 competitor, Union Pacific Railroad, saw intermodal volume decline 3 percent in its first quarter.
Berkshire Hathaway pegged its favorable year-over-year comparisons to increased international business a year after that business took a hit during the worst of the 2014 to 2015 U.S. West Coast port congestion.
"The comparative increase in volumes was primarily due to increased international intermodal volumes received from the U.S. West Coast ports," the company said in a statement. "During the first quarter of 2015, unit volumes were negatively impacted by a diversion of freight from the U.S. West Coast ports to other import gateways caused by U.S. port labor disruptions."
North America's international intermodal volume growth in the first quarter failed to live up to most expectations, according to the Intermodal Association of North America. Volume was up just 3.8 percent year-over-year. The group did note, however, that 3.8 percent growth is better than the 0.6 percent decline experienced in the fourth quarter of 2015 and much of the weakness in international containers came from outside the United States.
Unlike Buffett's generalized forecast for railroads in 2016, IANA said it expects intermodal volume growth to maintain its current pace. So long as the U.S. dollar and consumer spending continue to remain strong, the group said it expects 5 percent to 6 percent import growth for the whole of 2016.
Contact Reynolds Hutchins at reynolds.hutchins@ihs.com and follow him on Twitter: @Hutchins_JOC.