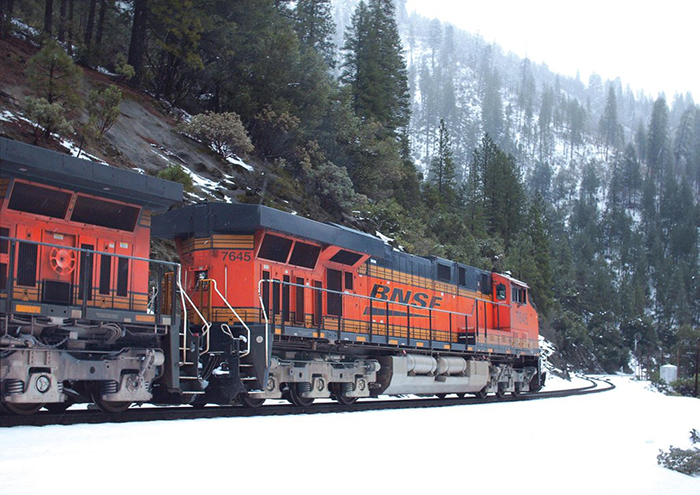 BNSF Railway's profit fell 9 percent year-over-year to $1.08 billion in the fourth quarter due in large part to weaker intermodal carload volume, according to parent company Berkshire Hathaway.
The silver lining: The Western railroad rounded out the year with net gains on improved service and well-placed investment, the company said.
"Our intermodal velocity, in particular, is currently almost 20 percent faster than the average of all Class I railroads," Katie Farmer, the railroad's group vice president of consumer products, told JOC.com earlier this month. "Our railroad is in the best shape it has ever been. Our current service levels reflect our success in adding more capacity to our network and to keep our railroad infrastructure in top condition."
Fourth-quarter intermodal volume for the week ending Dec. 26 was down roughly 1 percent year-over-year to 1.13 million units, including containers and trailers. Despite the traffic decline, BNSF's intermodal business still outpaced its No. 1 competitor, Union Pacific Railroad, which saw traffic decline 7 percent year-over-year to 836,000 units.
While full-year revenue fell 5.5 percent due to declining freight volume, full-year profit was still up 10 percent to $4.3 billion on improved operational performance.
That double-digit uptick was thanks in no small part to the roughly $5.8 billion BNSF poured into upgrades to its rail network and equipment, Berkshire Hathaway CEO Warren Buffett said in a letter to investors. In late 2014, the railway announced it had budgeted the nearly $6 billion, including $2.9 billion on replacing and upgrading the railroad's existing network and some $1.5 billion spent on expansion projects
"It was money well spent," Buffett said.
Buffett was frank that service through much of 2014 failed to meet shipper and company expectations after a harsh 2013-14 winter roiled rail networks nationwide.
"The most important development at Berkshire during 2015 was not financial, though it led to better earnings. After a poor performance in 2014, our BNSF railroad dramatically improved its service to customers last year," Buffett said.
BNSF executives have prided themselves on much-improved train speeds in recent months. BNSF's average intermodal train speed for the fourth quarter of 2015 was roughly 35.5 miles per hour. The average train speed for January 2016 was 37.5 mph, at least 5 mph faster than every other Class I railroad, excluding Canadian Pacific Railway which does not publicly report its speeds.
BNSF expects to continue to see return on investment, this year budgeting for a $4.3 billion capital improvement plan.
"The largest component of this year's plan, approximately $2.8 billion, is to replace and maintain core network and related assets to keep BNSF's railroad infrastructure in top condition," Farmer said.
The plan also includes approximately $500 million for expansion, including several projects that BNSF began last year, such as a new bridge and secondary track to cross the Pecos River on its Southern Transcon route in New Mexico.
"Finishing up the bridge and double track projects in New Mexico will mean that all but four miles of our more than 2,000-mile Southern Transcon route connecting the West Coast to major intermodal markets such as Chicago, Dallas/Fort Worth and Kansas City will be double tracked this year," Farmer said.
The outlook for 2016 remains less-than-stellar for BNSF, a sentiment that has been heard from railways industry-wide.
Carload will continue to suffer at the hands of a soft energy market, Buffett said.
"To begin with an obvious threat, BNSF, along with other railroads, is certain to lose significant coal volume over the next decade," he wrote to shareholders.
The railway's intermodal business stands to perform better, said Farmer.
"Our domestic intermodal volumes continued to grow and were positively influenced by investments made by BNSF to handle our customers' long term growth," she said.
BNSF's international intermodal volume in particular have been hurt by higher-than-average inventory levels in the wake of U.S. West Coast port congestion last year. Protracted labor negotiations between the International Longshore and Warehouse Union and the waterfront employers on the Pacific coast crippled port operations and many shippers diverted cargo to the East Coast in an effort to avoid costly delays and congestion.
As a result, the Western railroad said it saw international intermodal volume decline in the early half of 2015 as it lost market share to its eastern counterparts. Shipper inventories also skyrocketed, as they retooled promotional calendars before and during the West Coast congestion, challenging traditional intermodal business patterns. But, the tides are turning, Farmer said.
"There are no major longshore worker agreements expiring in 2016, so the ports should be able to remain focused on continuing to work to decongest their operations," she said. "The trend to keep an eye on in the coming years for international cargo will be the growing use of mega-ships by our ocean carrier partners."
Farmer said BNSF will continue to work with the ports and carrier partners to provide direct access to the nation's largest and fastest-growing markets. The railway in December of last year, in fact, partnered with CMA CGM to efficiently transport cargo from the Benjamin Franklin, the first ship with a capacity of 18,000 twenty-foot-equivalent-units to dock and unload at the West Coast ports.
Contact Reynolds Hutchins at reynolds.hutchins@ihs.com and follow him on Twitter: @Hutchins_JOC.