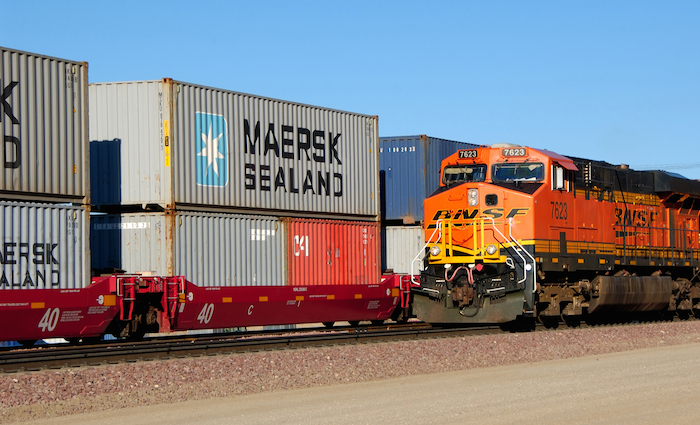 BNSF Railway is lifting its embargo on interchanging westbound ocean containers headed to U.S. West Coast on-dock facilities two days after the railroad implemented the ban.
The railroad said westbound intermodal freight movement has "become more manageable" even through labor issues limiting U.S. West Coast port productivity persist. The embargo will end 5 p.m. Central Time today, BNSF said in a customer notice.
"BNSF Railway is encouraged that parties involved have agreed to mediation, and urge prompt restoration of full production levels necessary to avoid further disruptions," the railroad said in its notice to international intermodal customers.
In announcing the embargo on Jan. 2, BNSF said it would be done in "anticipation of further slowdowns and marine terminal congestion."  BNSF said it had heard from Oakland, Los Angeles and Long Beach marine terminal operators that they had planned to limit terminal labor calls. The railroad told customers that Pacific Northwest terminals had taken similar action.
The embargo announcement came after the Pacific Maritime Association told the International Longshore and Warehouse Union that it would reduce the number of night shift longshore crews assigned to work vessels at the ports of Los Angeles and Long Beach. The PMA, which represents West Coast waterfront employers, says it doesn't make sense to discharge hundreds of containers into already congested yards. The PMA says ILWU slowdowns have exacerbated congestion at major U.S. West Coast ports as the two sides negotiate a labor contract. The ILWU rejects that it's engaging in slowdown tactics, and places the blame on high volume, chassis dislocation, marine terminals' inability to handle larger vessels and other factors.
The outlook for the two sides reaching an agreement after eight months of talks brightened Monday night when the ILA agreed to invite federal mediators to the table. The PMA had asked for the aid of Federal Mediation and Conciliation Service in late December, but both negotiating parties have to ask for involvement from the federal agency to get the process started.
If the embargo lasted, U.S. eastern exporters could have lost access to U.S. West Coast ports and western shippers might not have been able to find empties to load their Asia-bound shipments. Chinese shippers could have also found it harder to secure container capacity, as some of the empty containers normally interchanged would be put on round-the-world service, meaning they would have gotten to Asia slower than if they were railed to West Coast ports and shipped over the Pacific, said Tom Finkbiner, a noted intermodal expert.
Still, Chinese shippers might not have felt a capacity strain at all because Chinese factories typically dramatically slow output when the roughly 15-day Chinese New Year celebration kicks off — this year on Feb. 19.   
Contact Mark Szakonyi at mszakonyi@joc.com and follow him on Twitter: @szakonyi_joc.