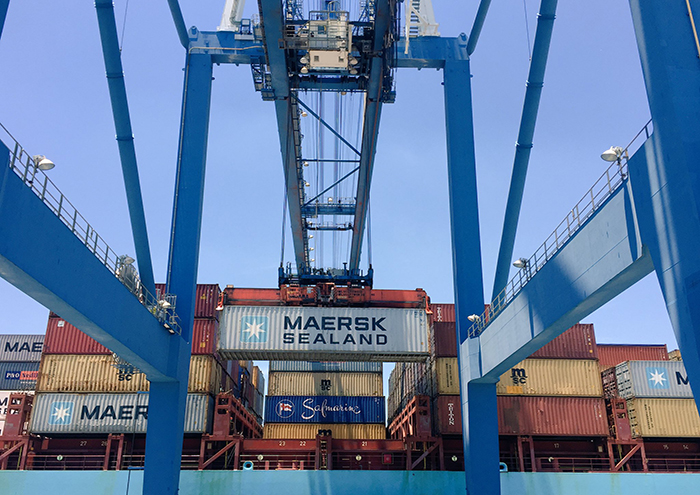 Total container volumes at U.S Southeast ports took it on the chin last month, due in large part to less-than-favorable comparisons to record-setting May last year and a soft economy.
Overall twenty-foot equivalent unit container traffic was down at each of the the top three Southeast ports in May — something several port authorities said they expected given the circumstances.
Laden container imports were down 5 percent year-over-year in May at Georgia's port of Savannah at 141,051 TEUs, up just 1.5 percent at the Port of Charleston at 77,225 TEUs and down 2.3 percent at the Port of Virginia at 92,439 TEUs. Laden exports were up less than 1 percent at Savannah at 111,687 TEUs, up just 1.3 percent at Charleston at 66,552 TEUs and down 12 percent at Virginia at 80,729 TEUs.
Total container volume, meanwhile, was down for each of the ports: down 7.3 percent year-over-year at Savannah at 313,485 TEUs, down 2.2 percent at Charleston at 177,865 TEUs and down 4.8 percent at 219,398 TEUs.
It's reflective of what has been reported at other East Coast ports, according to data from PIERS, a sister product of JOC.com within IHS. May figures at East Coast ports, in general, have suffered from less-than-favorable comparisons to last May and the general market economy. Total East Coast container traffic was down 1.96 percent year-over-year in May. West Coast ports traffic, by comparison, increased 2.01 percent.
May 2015 was for several — including Savannah, Charleston and Virginia — a record-setting month, fueled in part by the diversion of cargo from West Coast ports embroiled in a protracted labor dispute.
"Volume for May was not as high when compared with last year, but that was anticipated," John Reinhart, CEO and executive director of the Virginia Port Authority, said in a statement. "We are still tracking for a very modest gain for the fiscal year and our volume expectations for the balance of the calendar year are realistic."
Jim Newsome, South Carolina Ports Authority president and CEO, agreed that the current fiscal and calendar year face tough comparisons to the prior year.
"Our volumes this fiscal year have flattened when compared to FY2015, and although we expect growth to continue to keep pace above the U.S. port market average, the plan for FY2017 reflects modest increases in pier container volumes," Newsome said in a statement.
Newsome has said the cargo windfall in the spring of 2015, a product of the West Coast labor dispute, coupled with a strong U.S. dollar and soft economy have produced what can only be characterized as lukewarm performances across the Eastern Seaboard.
This, after the East Coast made considerable gains in their market share of laden Asian imports, which grew 2.72 percentage points between the nine-month period from July 2013 through March 2014, before West Coast congestion and from July 2014 through March 2015, when delays were most severe.
After the crisis on the Pacific Coast subsided, East Coast ports continued to increase their share of Asian imports another 0.76 percentage points, to 31.4 percent, between the nine-month period ending March 2015 and the one ending March 2016.
But container traffic in general is now not only slowing but dropping at Southeast ports.
"The export performance could best be described as tepid," Newsome told JOC.com in April. "Imports are down. It's just a reality."
The port authorities in South Carolina, Georgia and Virginia have all said they expect traffic to begin to rebound in the second half of the calendar year. They have each said 2017 looks considerably brighter compared to the current year.
Contact Reynolds Hutchins at reynolds.hutchins@ihs.com and follow him on Twitter: @Hutchins_JOC.